A few months ago, we asserted that the value of a mile (when redeemed for a flight) is 1.5-2 cents per mile. While we had just written that article at the start of this year, it might as well have been in a completely era – one where you readily redeem your miles at any time for a nice weekly/week-long getaway…
In the post Covid-19 world, there is definitely much more uncertainty around the fair value of a mile. This is because all airlines are hemorrhaging cash now and air travel is not expected to return to normal for some time. Is a mile truly still worth 2 cents? Is it worth lesser? What is the fair value of a mile now that travel has been rekt-ed?
No way to know for sure, but our view is that the fair value of a mile has definitely fallen somewhat, we would peg it as probably somewhere around 1-1.1 cents currently. Here's why:
The supply outweighs demand for miles today
While you can use miles as a currency for a myriad of transactions, the number one use case for miles is to be redeemed for a flight ticket. With the number of passenger jet flights globally declining between 50 to 90% versus a year before and governments (such as Japan's) imposing travel restriction within the country for leisure travel,it is not worth it for Singaporeans to make any sort of travel plans at the moment, given severely limit options for flights, travel destinations and a 14 day quarantine requirement (even for a short trip to Thailand!)
For those who had already booked flight tickets with miles for their travel plans before Covid-10 struck, their flights would most likely have been cancelled or postponed. I imagine that there are many such people and there is a glut of miles in the market today – e.g. within our team itself, @Glenn had a pair of business class tickets to New Zealand originally scheduled to fly in March (that was redeemed for ~120k miles each) cancelled and is now wondering what to do with all his excess miles! The world is awash with unconsumed miles now.
Furthermore, for those who have been furloughed or lost the jobs they had prior to the outbreak of Covid-19 virus, discretionary expenses (such as travelling) will be an extremely low priority. Any existing miles they they have collected are therefore useless (for the time being). They will likely seek a way to sell these assets when flights resume to raise some extra cash over this tough period. In fact , a quick search on Google Trends show a spike in internet users' interest in selling miles since ~Feb this year.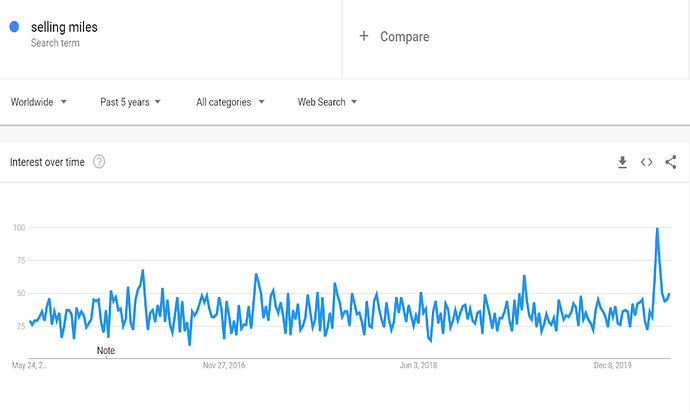 Google search trend for "selling miles"
Airlines are likely to decrease flight ticket prices / offer promotions
Even when flights do resume, our sense is that prices are likely to remain depressed for some time as airlines offer promotional rates and big discounts to get all their flights filled once again. This is great news for those who are looking forward to travel after being cooped up at home for so long, but also means that any miles you have stored will be worth less since flights overall are cheaper.
In our previous article posted in Feb, we had checked prices for SQ flights to Tokyo in August - to see how much it has changed we checked the SQ website again recently and found that for the same flights in August, the price today is anywhere from 5 to 33% lower than back in Feb. At minimum, we are looking at an average of 15% decline in value, and there are probably more price declines to come.
| Class of Travel | Cost of flight to Tokyo (Feb) | Cost of flight to Tokyo (May) | Miles required to redeem a flight to Tokyo | Value per mile in Feb (cents) | Value per Mile in May (cents) | Change in value % |
| --- | --- | --- | --- | --- | --- | --- |
| Economy | $649 | $612.80 | 50,000 | 1.3 | 1.2 | -6% |
| Business | $3099 | $2939.80 | 94,000 | 3.3 | 3.1 | -5% |
| Suite/First | $8699 | $5814.80 | 140,000 | 6.2 | 4.1 | -33% |
Promotional rates on miles purchases
Just a few days ago, Air Canada, a Star Alliance member (like our very own SQ) sold miles at a rate of between 1 to 1.3 cent. We think that this sets the benchmark rate for miles today in the "primary" market. Therefore, for people with existing miles in the "secondary" market, you likely have to transact at a small discount to this value in order to entice buyers to buy from you instead of the airlines directly.
Similarly, MainlyMiles wrote about a list of 12 transactions that people with existing miles can salvage the value of their miles (before it expires worthless). The median value of a mile in this list is close to 1 cent / mile. While extension of miles expiry dates might help you get your miles past this immediate Covid period, it might not fully protect the value of your miles since airlines generally devalue their miles every 2-3 years, and given all the financial pain they are suffering during this period it is not hard to imagine another round of devaluations upcoming…
Should you be buying miles now?
We took a look at the ask prices on Carousell, our favourite marketplace, to determine the current pricing for miles. The current ask price is $16-$17 per 1000 miles, which is 1.6-1.7 cents per mile. There are also other sellers listing their existing inventory of miles at similar rates going 9-10 weeks back. This implies that the inventory is not moving. Therefore, 1.6 to 1.7 cents per mile is the price ceiling; as a buyer, you don't want to touch this level with a 10 foot pole.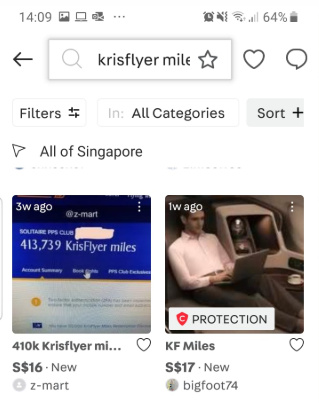 EDIT: In a recent webinar hosted by Milelion, other attendees were polled their valuation of a mile as well. Using the upper-bound as the integer value (to calculate the weighted average), the audience collectively thought that the value of a mile is 1.69 cents per mile.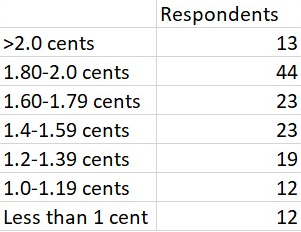 Summary
If you have a surplus inventory of miles that may expire soon or are strapped for cash, we think that it is unlikely for you to be able to sell it at the 1.7 cents per mile in today's environment. Given comparable sale of miles at Air Canada, we think that Krisflyer miles on Carousell will probably go for around 1 cent per mile. However, we recognize that when travel demand invariably return, the value of a mile will probably recover back to ~2 cents. Hence, if you have the holding power (miles not expiring anytime soon) or manage to scoop up miles below 1 cent per mile, your "investment" in miles may be able to score you an even bigger discount flight ticket in the future!
---
If you would like to get the maximum rewards from your credit cards, do consider integrating WhatCard into your lifestyle to help you optimize your credit card rewards, and follow us on Facebook to stay updated on the latest tips, tricks, and hacks (like this article!) to get the most out of your credit cards
If you enjoyed this article, you may also be interested in: