It has been about two months now since new sign-ups were stopped for the Standard Chartered X Card, and after a long wait, they are FINALLY accepting new applications for the X Card again; the card was only available to sign-up for about a month after its initial launch before the cards team cancelled sign-ups abruptly.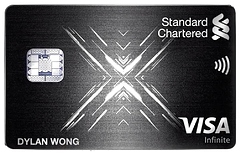 The Standard Chartered (Metal) X Card
This article is an ongoing series of updates around the Standard Chartered X Card that launched with a massive 100,000 miles sign-up bonus. For those who are not up-to-date, you can read our earlier reporting of the initial launch promotion

You can now directly apply for the card again, rather than having to sign up for a waitlist
Surprisingly, for this relaunch, StanChart has decided to keep the reduced sign-up promotion of 60,000 miles, with mandatory annual fee of $695.50 and minimum spend of $6,000 within 60 days of card approval. Internally at WhatCard, we had fully expected the card to be re-launched with a much lower sign-up bonus, so it is great to see that they are still keeping the rather compelling 60,000 miles offer.
While this offer is poorer than the initial launch promo of 100,000 miles that had the exact same set of requirements, it is still a really decent offer and definitely worthwhile to consider if you haven't applied yet and can reasonably spend $6,000 within 60 days. 60,000 miles for $6,000 of spending equates to an impressive 10.0 miles per dollar spent, albeit with an unavoidable $695 annual fee. Coincidentally, this 2 month window would extend into Christmas as well, so you could get rewarded by doing your annual Christmas shopping

A Plastic X Card?
However, as part of this re-launch, all new applications for the X Card will receive a plastic card instead of the usual metal one, apparently because metal X Cards take a longer time time to produce


. This is a temporary measure, and plastic cardholders will be sent a replacement metal cards once they are available.

Official message posted on the X Card Website
I (perhaps ignorantly) always thought that metal cards would be produced using a standard card-making machine that would quickly churn out one card after another, but seems like it is not such a simple process after all… Or maybe, StanChart's metal card producing machine has broken down, which is why they had to stop new applications for the card a few weeks ago.
Our Summary
We think that the X Card, despite this somewhat funny public relations turn of events, is seriously still a decent card to apply for, while the sign-up promotions are still up for grabs.
For those of you who missed the opportunity to get the X Card the first time round - do take advantage of this promotion while it still lasts, as 60,000 miles for the annual fee price and $6,000 of spending is still one of the best credit card sign-up promotions available today. StanChart has not given any timeline for when this promotion will end, but given that it is a pretty outsized bonus, we think that it will probably not last forever.
For the rest of us who have already gotten the card and have met the required $6,000 of spending, there's nothing to do now besides waiting for the miles to be credited around end-November. Will be sure to update you guys once we hear any further information!
---
If you would like to get the maximum rewards from your credit cards, do consider subscribing to our upcoming newsletter and follow us on Facebook to stay updated on the latest tips, tricks, and hacks to get the most out of your credit cards.
If you enjoyed this article, you may also be interested in: