OCBC Titanium Rewards Card
Key Features:
Annual Fee: $192.60/year, first two years waived
Sign up bonus:

$100 for new cardholders via OCBC bank if you apply between 4th to 31st March

Earn rate: 1.6% on all spend
Minimum age: 21
Minimum income: $30,000/year
Earn 10x OCBC$ (4 miles per dollar) for every S$1 in online and retail spend
Interest rate on purchases: 26.9% interest p.a.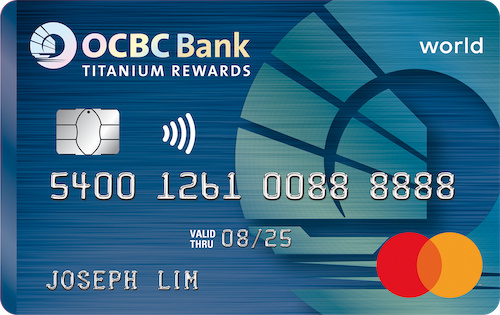 Why We Love the OCBC Titanium Rewards Card
1. 4mpd earned for local, online and retail spending, with no $5 transaction bucket
The OCBC Titanium Rewards is a miles card that is primarily targeted for those who do quite a bit of shopping, whether offline or online. It offers a generous 4 Miles Per Dollar (MPD) at a very wide range of store categories and other selected popular online and offline merchants as listed below from the credit card's homepage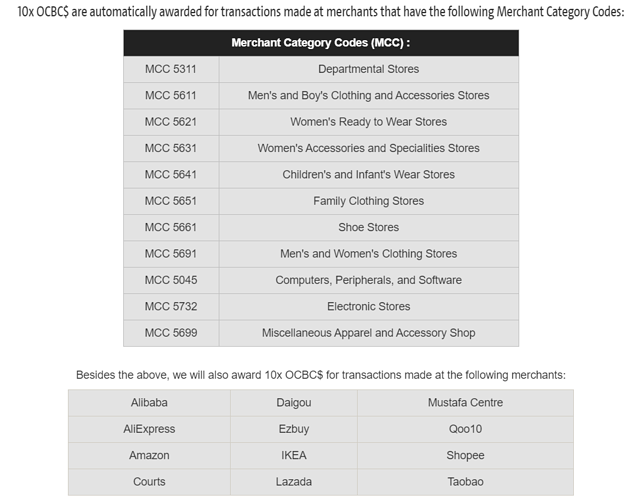 One thing we really like about the OCBC Titanium Rewards is that the bonus miles are awarded for both online and offline spend at these selected merchants, making it more flexible for regular shoppers as compared to other popular cards such as the DBS Womans World Card that may offer 4mpd on all online spend, but does not have any bonus earn rate for offline spend.
If you use our Merchant Search Engine tool, you will often find the competing UOB Visa Signature and UOB PPV card appear that similarly offer 4mpd across a wide range of merchants. However, these cards are limited by their rounding bucket - they round down your transaction to the nearest $5 before awarding miles: if you spend S$14, you only earn miles for S$10 of transactions (i.e. 40 miles). This results in an effective earn of 2.86mpd.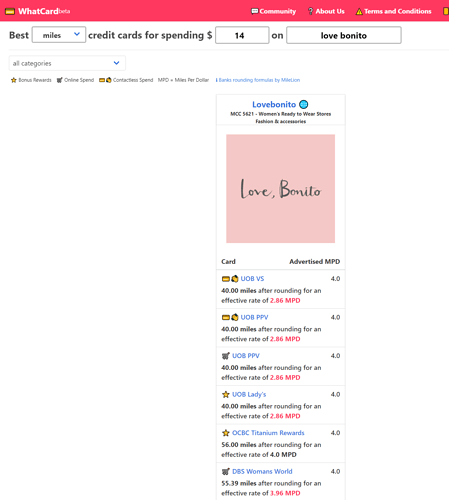 Snapshot of a S$14 transaction using the WhatCard merchant search engine for retailer Love, Bonito
2. OCBC's current promotion
If you do not currently have any OCBC credit cards, you can get $100 if you apply for the OCBC Titanium Rewards card today. This program is administered directly by OCBC - and you simply have to apply by 31st March to be eligible. Eligible users will receive an SMS with a unique code from OCBC to collect their reward.
OCBC is not known to be very generous with sign-on bonuses (and therefore we suspect, OCBC credit cards do not have as great a penetration into Singaporean's wallets compared to Standard Chartered or Citibank), therefore this is as good a time as any to get some cash from a Singapore bank for a change

3. Rewards do not expire, and there is no admin fee to redeem Krisflyer miles
High rewards miles cards (such as the UOB PPV and DBS Woman's World card) have an expiry period between 1 to 2 years from the date that the miles are earned, whereas the OCBC Titanium Rewards card do not have miles expiry. There is also no admin fee to redeem your rewards to Krisflyer miles; therefore, you can stockpile your earned rewards here without being pressured to redeem your rewards!
Limitations of the OCBC Titanium Rewards Card
1. Annual rewards cap
Rewards on this card are capped at 120,000 OCBC $ (or, 48,000 miles) per card anniversary - which amounts to $12,000 at 4mpd. To optimize the rewards from this card, plan to spend only S$12,000 on this card in online / retail transactions.
Thankfully, there is no monthly cashback cap and this means that you can just apply for this card right before you have to make a set of large purchases (as long as you stop after spending ~S$12,000), for example if you had to buy appliances/furnishings for a new house, or are about to buy an expensive bag.
Our Summary
If you make online / retail transactions with a cumulative S$12,000 annual expense, consider applying for this card because it is one of the more generous cards at 4mpd earn-rate for those type of transactions. Moreover, there is no minimum spending bucket, the rewards do not expire and it is a free redemption to Krisflyer. You will also find that our Merchant Search Engine will be extremely useful for you if you do use this card.
However, if you do not spend much on online / retail shopping, consider going with other miles cards such as the UOB PPV or generic miles cards such as the BOC Elite Miles World Mastercard.
If you would like to apply for the OCBC Titanium Rewards Card, please consider supporting the site by applying through the above affiliate link. WhatCard was set up to help the community get the most from their credit card rewards. We have been delivering objective commentary with minimal ads or sponsored content, and affiliate links help us to keep the site running

---

If you would like to get the maximum rewards from your credit cards, do consider subscribing to our upcoming newsletter and follow us on Facebook to stay updated on the latest tips, tricks, and hacks to get the most out of your credit cards.
If you enjoyed this article, you may also be interested in: