As the founders of WhatCard, our users often ask us what credit cards we ourselves use. Hence, we decided to start this new weekly credit card feature where we will be taking turns to share about a card that we ourselves own/use and talk about how we use it and potential limitations. Share with us in the comments below which card you would like us to feature for next weeks #WCOTW!
This is not a sponsored post, and all opinions are from the WhatCard team's personal experiences with the card
Key Features:
Annual Fee: $171.20/year, first year waived
Sign up bonus: Additional 1.5% cashback on first S$5,000 of eligible spend within the first 6 months of signing up
Minimum age: 21
Minimum income: $30,000
Cashback rewards: 1.5% unlimited cashback on all spending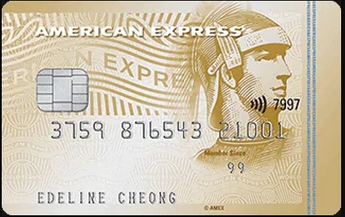 I confess. Unlike @Glenn (a miles chaser), I am a cashback king. For every $100 spent, I'd rather get a cash reward of $1.50 instead of $2.40 worth of miles (that is, if you charge your expense to Citi PremierMiles at 1.2 mpd, and then value a mile at 2 cents). This is why the generic spend cashback card, such as Amex True Cashback, is a permanent resident in my wallet.
Why We Love the Amex True Cashback Card
1. No minimum spending and no cashback cap
The problem with most of the lucrative cashback cards issued in Singapore these days are twofold. Firstly, there are high minimum spending requirements of $600-$1000/month. This is problematic for young working professionals (like myself) who do not have substantial credit card expenses to charge to the card. The moment the credit card spending is below the minimum spend, it will typically give a low cashback rate of 0.3% per dollar spent instead.
Secondly, there is usually a monthly cashback cap. This results in you having to monitor your expenses like a hawk, because any excess spending will also result in a paltry 0.3% cashback per dollar spent. One example of such a card that I just described is the CIMB Platinum Card (see below for details):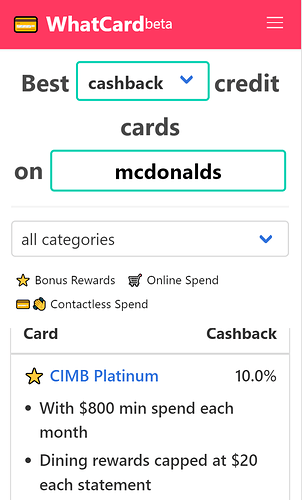 Enter: the Amex True Cashback Card. This card addresses both issues with a base 1.5% cashback rate on all spend, with no cashback cap. This makes it the ideal card for those of you who:
Do not want to be bothered to monitor minimum spending requirements,
Have large monthly expenses to charge to your card, large enough to bust the cashback dollar cap on other cards, and
Do not want to go through the hassle of tracking differing rewards by merchant categories (sadly, if this describes you, our merchant search engine tool is not so useful for you )
2. Generous promotional cashback amount with fast card approvals
To be honest, the cashback on this card matches that of StanChart Unlimited Credit Card and edges out the HSBC Advance Card slightly (because HSBC Advance Card has a cashback cap) in terms of percentage cashback.
The reason why you could consider applying for this card when you have the 2 prior cards is because Amex gives an additional 1.5% (for a total of 3%) cashback for the first 6 months upon card approval on the first $5,000 of credit card expenses. This means that instead of $75 of cashback (1.5% of $5,000), you can get a cashback of S$150 on a $5,000 spending! Do take note of the 6 month timeline when planning for this.
The card approvals are also relatively quick and straightforward. I applied for the card using MyInfo (a Singapore government service that pulls my profile information and CPF statement with my permission), and received my card within 1 week of my application submission.
What this means for you is that you should:
Save your Amex True Cashback Card application until you have some visibility of a $5,000 expense coming up within 2 weeks. Once you do have it (i.e. renovation, wedding, booking plane tickets for family), apply for the card using our affiliate link here.
Limitations of the Amex True Cashback Card
1. Not as generally accepted card among Singapore merchants, compared to Visa / Mastercard
Unfortunately, the Amex True Cashback Card, being a card issued by Amex, does not enjoy the same widespread penetration rate as Visa and Mastercard in Singapore. It has been several times that I'm at the POS machine terminal with my Amex card outstretched, and the cashier shakes her disapprovingly, telling me to pull out my StanChart Unlimited Card instead because of the 4 dreaded words - "we don't accept Amex".
2. Lower cashback than other cards that have category-specific spending
At 1.5% unlimited cashback, the Amex True Cashback Card is exactly similar to the 1.5% offered by the StanChart Unlimited Card. However, these cashback rates pale in comparison to other cards such as the DBS Live Fresh (5% cashback on contactless and online spending) or the OCBC 360 Card (6% cashback on dining, 3% on groceries, and more).
If you have relatively regular spending and willing to put in the effort/energy to manage your spending to hit the minimum spending cap and avoid the maximum cashback cap, you can get higher cashback on your spending.
Our Summary
Readers of this blog will know that I champion this card for an upcoming $5,000 expense; and I still do now. Personally, I applied for this card to make some payments for my home furniture costing several thousands of dollars. The promotional cashback allowed me to get an even higher cashback rate based on the WhatCard search engine results.
After I have maxed out the promotional cashback, my strategy is to prioritize spending on my StanChart Unlimited Card, because Mastercard is more widely accepted than Amex and they both give the same benefits of 1.5% cashback on all spend and no cashback cap. Hence, I intend to cancel my Amex True Cashback Card, wait another 12 months (to be considered a new card applicant), and rinse and repeat this strategy for my next upcoming $5,000 expense

Let us know in the comments below which card you would like us to review for our next #WCOTW!

---
If you would like to get the maximum rewards from your credit cards, do consider integrating WhatCard into your lifestyle to help you optimize your credit card rewards, and follow us on Facebook to stay updated on the latest tips, tricks, and hacks (like this article!) to get the most out of your credit cards
If you enjoyed this article, you may also be interested in: