This is not a sponsored post, and all opinions are from the WhatCard team's personal experiences with the card
UOB One Card
Key Features:
Annual Fee: $192.60/year, first year waived
Sign up bonus:

$150 upon spending minimum of $1,500 within the first 3 months
$20 if signing up through our affiliate partner

Earn rate: Tiered (Cashback of $50/$100/$200 based on monthly spend of $500/$1,000/$2,000)
Minimum age: 21
Minimum income: $30,000/year
Bonus rate:

Get an additional 5% on Grab rides, food and top-ups when you qualify for your quarterly cash rebate. Terms and Conditions apply.
Additional 10% SMART$ rebate at over 300 participating merchants across dining, groceries, shopping and more
Travel Insurance Coverage of up to S$500,000 when you book your air tickets with United Overseas Travel. Terms and Conditions apply.
Petrol savings of up to 20.8% at Shell and 24% at SPC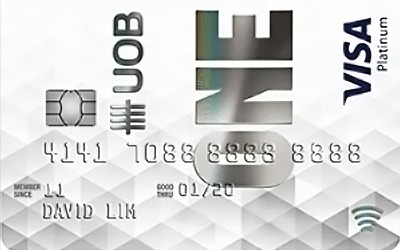 Touted as "Singapore's most generous rebate card", the UOB One Card is the very first credit card that I ever applied for, not by virtue of it being the most generous card, but because as a former staff, I was forced to credit my salary with the bank, so it was the card that was complementary to my strategy of maximizing interest in my UOB One Account.
Now, I will not go into details of how the UOB marketing team always has a "creative" way of advertising their product benefits (i.e. you will never actually get the 3.88% advertised on the UOB website for the One Account), but this is honestly a pretty good card! Before jumping into the pros and cons of the card, lets go through how the UOB One card actually works - because it is the only card in the market with its unique cash rebate structure.
While other cashback cards give a percentage cashback of your spending amount, the UOB One Card instead gives a flat quarterly rebate based on you hitting the minimum monthly spending per month, for every month of the quarter . For example, to get the Q1 quarterly rebate you have to hit the minimum monthly spend each month in January, February, and March, and for the Q2 quarterly rebate you have to hit the minimum spend in April, May, June. There are 3 tiers of monthly spending which give different quarterly cashback amounts as below:
| Spending Tier | Flat Quarterly Rebate | Maximum Cashback of Up To |
| --- | --- | --- |
| $500-$999 per month | $50 | 3.33% |
| $1,000-$1,999 per month | $100 | 3.33% |
| $2,000 and above per month | $300 | 5% |
Given the fixed quarterly rebate, the UOB One card gives the optimal cashback rate if you spend just above $500, $1,000, or $2,000 per month consistently - the 3.33%/5% cashback listed above is based you spending right at the minimum to hit each month's tier.
Why We Love the UOB One Card
1. High cashback dollar amount, without the need to optimize categories
A general rule of thumb for cashback cards is, the higher the percentage cashback rate, the more constraints will be imposed on it (i.e. high minimum spend, category specific cashbacks, monthly cashback caps). For cards with a relatively higher minimum monthly transaction of~$500, the category cashback percentages tend to be in the 5-10% range.
This card is awesome because you still get it a substantial cashback (albeit on the lower cashback end) without the need to optimize your spending categories. You don't even need to split it into online / contactless spending (unlike one of my other favourite card, the DBS Live Fresh Card). As long as you clock $500 over 3 months, you are guaranteed $50 cashback, and hence, it works out to $50 out of $1500 spend, giving a 3.33% cashback.
2. Combos well with the UOB One Account
As mentioned earlier, if you can hit that $500 spending monthly, it makes it very easy for you to meet the conditions for the bonus interest at the UOB One Account as well! The only other things you are required to do is to either:
credit a salary of at least $2000/month, or
Make 3 giro transactions (I fulfill this criteria by making a regular donation, paying for my NTUC insurance and paying income taxes)
Therefore, on savings of $75,000 inside your UOB bank account, you will get an effective annual interest of $1827, which is 2.436%! Definitely a great personal finance strategy than to earn only 0.05% interest on savings in the bank, with quite low hurdles to overcome. It is also a strategy that works for non-salaried people as well; they just need to make 3 giro payments

3. Additional 3.33 to 5% cashback, if combo-ed with GrabPay or using Grab services
As mentioned above in "key features" under the terms and conditions, there is an additional 5% rebate (capped at $100/month) for transactions with Grab. This means that for every $2,000 you put into GrabPay, you get $100 off!
With the ubiquity of merchants accepting GrabPay and Favepay (which can be funded via GrabPay), you can effectively get 10% off these transactions (5% from the UOB One Card's cashback policy, 5% from Grab). The only caveat is, to be able to get the full 10%, you will have to sustain this for at least 3 months, meaning a total outlay of $6,000. Try to plan your spending appropriately or you might end up with a 10% savings but having a ton of cash sitting around in your GrabPay wallet!
Limitations of the UOB One Card
1. High minimum spending requirements, and it must be done over 3 consecutive months otherwise you lose the entire quarterly rebate
This is pretty much the norm for higher percentage cashback cards like the UOB One Card. The lowest spending tier is $500/month, which I think is pretty reasonable. However, I always feel very pressured to monitor my expenses as I near the end of the month, because any failure in planning for my expenses (i.e. managed to clock $500/month for 2 months, but only clocked $300 in 3rd month) means that I would have to forfeit the entire $50 cashback that I was gunning for.
2. Cashback is tied to spending tier
Unlike other cashback cards that really give a percentage cashback, UOB One Card gives a flat dollar value cashback ($50/$100/$300) based on the monthly spending tier ($500/$1,000/$2,000). This means that you really have to optimize around just hitting the spending tiers; if you clock $700/month for 3 months, you still only receive $50 cashback out of $2100 for an effective percentage cashback of 2.38%. Worse still, if you clock $1,300 for 2 months and $900 for the 3rd, UOB only gives you $50 cashback, because you did not hit $1,000 for all 3 months (and so, your cashback dollar amount is demoted to the lower tier of hitting $500 for 3 months). This is why my personal cashback strategy has been to aim for $500 spending first, then sweeping all excess spending elsewhere, such as the Amex True Cashback Card. I reviewed that card some weeks ago, you can read about it here.
Our Summary
It is debatable if the UOB One Card is truly "Singapore's most generous rebate card" because it really depends on your lifestyle. I would say that it best suits users who have very regular monthly spending that can easily hit one of the 3 minimum spending tiers. If you think you will struggle to hit the minimum $500 spending each month (e.g. you have to make additional non-regular purchases just to hit it), the UOB One may not be suitable for you as it is very unforgiving on the minimum spend - if you just miss one month you get nothing for the whole quarter.
Despite this, I would still argue that the UOB One card is among the best cashback cards currently available, especially with the recent collaboration with Grab/GrabPay that provides significantly higher cashback. Enjoy the rebates while you can!
Let us know in the comments below which card you would like us to review for our next #WCOTW!
If you would like to apply for the UOB One Card, please consider supporting the site by applying through the above affiliate link. WhatCard was set up to help the community get the most from their credit card rewards. We have been delivering objective commentary with no ads or sponsored content, and affiliate links help us to keep the site running

---
If you would like to get the maximum rewards from your credit cards, do consider integrating WhatCard into your lifestyle to help you optimize your credit card rewards, and follow us on Facebook to stay updated on the latest tips, tricks, and hacks (like this article!) to get the most out of your credit cards
If you enjoyed this article, you may also be interested in: