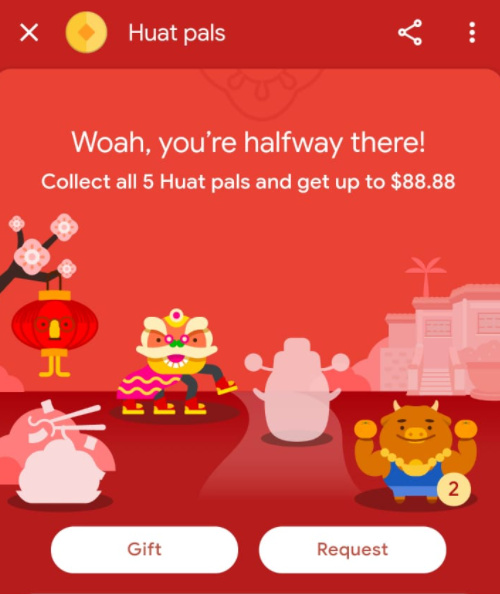 Happy Chinese New Year to all our readers!
Today, the WhatCard team is happy to share with you a new mini-game that is embedded within the Google Pay app. This game is called "Huat Pals".
What is the Huat Pals game about?
This is essentially an extension to current rewards program; we wrote about this last year.
From now till 26th February, do certain actions on the Google Pay app to earn Huat pals (these are festive icons such as yusheng, the lion from lion dance, etc…there are 5 in total). When you collect 5 Huat Pals, you will get a mystery reward of $8.88-$88.88 in cashback.
Do I need to pay to play?
Nope! Just download the Google Pay app (if you don't already have it) to play this game. You can use my referral code here.
How do I get started?
Click on the "Let's Huat!" button in the middle of the app to begin. I doubt you will miss it, but in case you do, it looks like this: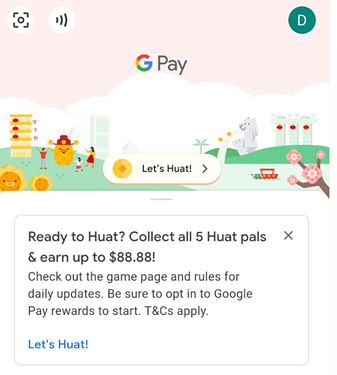 How do I get Huat Pals?
Essentially there are 4 ways to do so:
1) Transfer $10 to friends via the app
If you haven't already done so, you will need to link your bank account to Google Pay. After that, you can transfer funds to your friends once a day to get 3 Huat Pals. What I typically do is do a "$10 exchange program" with friends where we will give each other $10 to earn the rewards. In addition to a Huat Pal, you do get a cashback digital scratchcard for doing this action as well (under a dfferent Google Pay promotion where you also get a digital scratchcard for up to 2 unique friends per week)!
2) Pay $10 or more in a store with NFC-enabled Android device
You can set-up your device to make mobile payments from your credit card for Paywave transactions. Interestingly, there are several transactions you can DIY at home, such as making Grab Pay top-ups. What I did is in the Grab app, I went to "top-up" and "banking app". I then took a screenshot, sent to my friend and opened it in WhatsApp web. Then, I went to Google Pay app to swipe right (or you could go to "new payment" and "scan to QR code". Then just make a $10 top-up (remember to make an adjustment here because the default is $100!) In addition to a Huat Pal, you do get a cashback digital scratchcard for doing this action as well! You can do 3 transactions to unique merchants per day.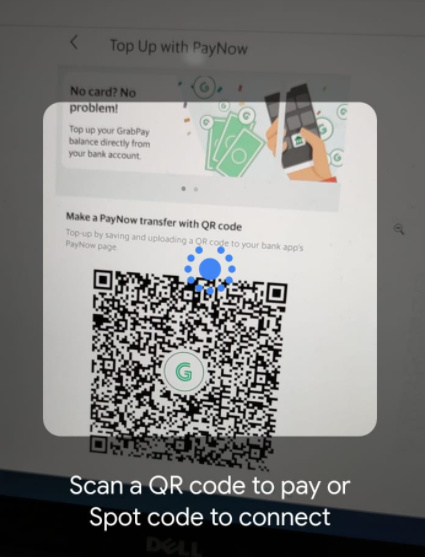 3) Refer a friend
This qualifies you to a $3 reward if you sign up via my referral code here. In addition to that, you get a Huat Pal as well! You can refer up to 3 friends per day to get a Huat Pal.
4) Gift a Huat Pal to friends
You will likely have a surplus of Huat Pals and you can get a replacement Huat Pal if you gift it to your friends! You can get one per unique friend who claims your gift (if they do not claim it, then you will not get it). You can gift up to 8 friends per day to get a Huat Pal.
Summary
The Huat Pals mini-game in Google Pay that lasts from now till 26th February is a good way to earn the cashback of $8.88-$88.88, so take advantage of this campaign to get Huat Pals (you will need 5 unique ones to get the prize) by performing actions such as:
(1) sending money to friends (minimum of $10, but you can ask for it back),
(2) making merchant transactions of at least $10 (Grab top-ups count as well!),
(3) referring new friends to Google Pay and
(4) gifting your surplus Huat Pals to your friends
---
If you enjoyed this article, you may also be interested in: