As the founders of WhatCard, our users often ask us what credit cards we ourselves use. Hence, we decided to start this new weekly credit card feature where we will be taking turns to share about a card that we ourselves own/use and talk about how we use it and potential limitations. Share with us in the comments below which card you would like us to feature for next weeks #WCOTW!
This is not a sponsored post, and all opinions are from the WhatCard team's personal experiences with the card
StanChart Unlimited Card
Key Features: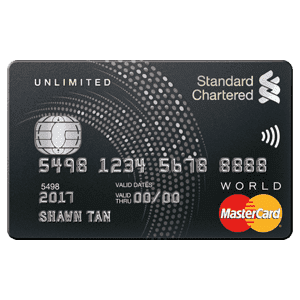 We recently wrote about Singsaver's recent Next Day Rewards on Standard Chartered cards. In summary, if you are new to Standard Chartered (not an existing Standard Chartered cardholder), you will be eligible for $120 cash (transferred to you via PayNow within 1 day from bank verification; bank verification is instantaneous). Undoubtedly, the StanChart Unlimited Card is the best card to apply for under this campaign. In that article, we did a quick summary about it, but in this post, we will go more into more depth as to the reasons why.
Why We Love the StanChart Unlimited Card
1. No minimum spending and no cashback cap
The problem with most of the lucrative cashback cards issued in Singapore these days are twofold. Firstly, there are high minimum spending requirements of $600-$1000/month. This is problematic for young working professionals (like myself) who do not have substantial credit card expenses to charge to the card. The moment the credit card spending is below the minimum spend, it will typically give a low cashback rate of 0.3% per dollar spent instead.
Secondly, there is usually a monthly cashback cap. This results in you having to monitor your expenses like a hawk, because any excess spending will also result in a paltry 0.3% cashback per dollar spent. One example of such a card that I just described is the CIMB Platinum Card (see below for details):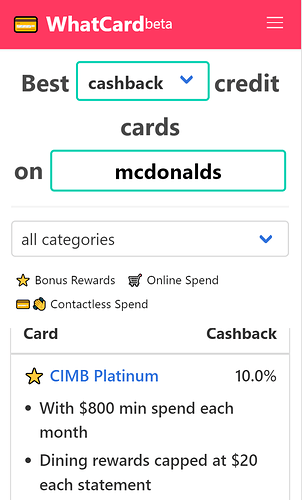 Enter: the StanChart Unlimited Card. Like the Amex True Cashback Card, this card addresses both issues with a base 1.5% cashback rate on all spend, with no cashback cap. This makes it the ideal card for those of you who:
Do not want to be bothered to monitor minimum spending requirements,
Have large monthly expenses to charge to your card, large enough to bust the cashback dollar cap on other cards, and
Do not want to go through the hassle of tracking differing rewards by merchant categories (sadly, if this describes you, our merchant search engine tool is not so useful for you )
2. Generally accepted among Singapore merchants
The fact that Mastercard is the payment gateway behind this card gives it the edge over its other key competitor: the Amex True Cashback Card. In general, American Express is not as widely accepted among the merchants in Singapore. So, this card will be able to cover a larger breath of merchants than the Amex True Cashback Card.
Limitations of the StanChart Unlimited Card
1. Lower cashback than other cards that have category-specific spending
At 1.5% unlimited cashback, the StanChart Unlimited Card is exactly similar to the 1.5% offered by the StanChart Unlimited Card. However, these cashback rates pale in comparison to other cards such as the DBS Live Fresh (5% cashback on contactless and online spending) or the OCBC 360 Card (6% cashback on dining, 3% on groceries, and more).
If regular expenses and willingness to invest effort/energy to manage your spending to hit the minimum spending cap and avoid the maximum cashback cap describes you, you can get higher cashback on your spending on those earlier cards mentioned, and are better off without the StanChart Unlimited Card.
2. Poorer FX exchange rates for foreign currency transactions
If you look beyond the headline 3% cashback on foreign currency transactions (compared to 2.5% at their competitors Amex True Cashback Card and HSBC Advance Card), it seems like a great deal to use this card on your holidays for overseas expenses. However hidden in the fine print is the fact that there are foreign transaction fees of 3.5%, along with a potential 0.5% spread above the spot rate. In short, WhatCard does not recommend using StanChart Unlimited Card for such transactions. Instead, exchange your cash directly at a moneychanger, or use a multi-currency wallet like YouTrip or Revolut.
Our Summary
Readers of this blog will know that the StanChart Unlimited Card is a staple in my wallet. Do take advantage of current promotions now if you haven't already got a Standard Chartered credit card. If you would like to apply for one, please consider supporting the site by applying through our affiliate link below
Let us know in the comments below which card you would like us to review for our next #WCOTW!
---

If you would like to get the maximum rewards from your credit cards, do consider subscribing to our upcoming newsletter and follow us on Facebook to stay updated on the latest tips, tricks, and hacks to get the most out of your credit cards.
If you enjoyed this article, you may also be interested in: