As the founders of WhatCard, our users often ask us what credit cards we ourselves use. Hence, we decided to start this new weekly credit card feature where we will be taking turns to share about a card that we ourselves own/use and talk about how we use it and potential limitations. Share with us in the comments below which card you would like us to feature for next weeks #WCOTW!
This is not a sponsored post, and all opinions are from the WhatCard team's personal experiences with the card
DBS Live Fresh Card
Key Features:
Annual Fee: $192.60/year, first year waived
Current promotion:

$200 with no minimum spending requirements for new-to-bank customers Read on below to find out more!
Promotional 10% cashback this month (instead of the usual 5%) for online spending upon spending minimum of $1,000 by 30th June 2020 (valid for first 10,000 people who register)

5% cashback on online, contactless and other spend (capped at $20 cashback from $400 of expenses charged to the respective categories)
Minimum monthly spending of S$600/month to be eligible for 5% cashback
0.3% cashback on all other spend that exceeds the cashback dollar cap
The maximum cashback excluding promotional rates is $60 cashback based on $1200 of expenses across the three categories
Minimum age: 21
Minimum income: $30,000/year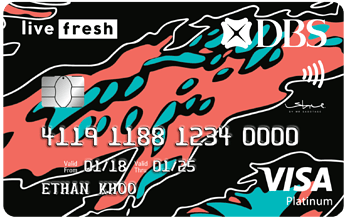 The DBS Live Fresh Card has been one of the cards that feature prominently in my credit card optimization strategy prior to Covid-19, and it has become much more attractive for you to use it in the post Covid-19 world. It belongs to a different group of cards from generic cashback cards; giving a higher percentage cashback (subject to a dollar cap) with a high minimum monthly spending, and has chosen to do so by simplifying the categories. By simplifying categories, what we mean is that instead of choosing to give 8% cashback to dining / retail categories (like the CIMB Platinum Visa Card), the DBS Live Fresh Card chooses three very distinct categories:
online spend,
contactless spend and,
all other spend.
Thus, we thought that it was quite timely to add a review of this card as part of our WhatCard of the Week series!
Why We Love the DBS Live Fresh Card
1. Higher cashback % with categories that are simple to understand
This card is awesome because you still get it a substantial cashback (albeit on the lower cashback end) without the need to optimize your spending categories. You no longer need to bother with Merchant Category Codes, and can just think about optimizing based on your use case. For example, when prompted to make payment at the cashier of Hai Di Lao, opt for "EMV chip payment" or to have your card swiped, so that your spending is considered "other spend". Load your credit card on your phone, so that your NFC payments at 7 Eleven are considered "contactless spend". It is significantly easier to optimize into three distinct categories instead of optimizing based on retail / dining categories or week day weekend spending, and the cashback % is pretty decent at 5% as well!
2. Combos well with the DBS Multiplier Account
Card spending on any DBS credit cards is one of the four categories that count towards your total monthly transaction amount, which decides the interest rate you earn on your Multiplier Account. This makes a difference if your monthly salary credit is just under S$5k, because this would make you eligible for a higher tier of interest rate (at least 0.2% higher) !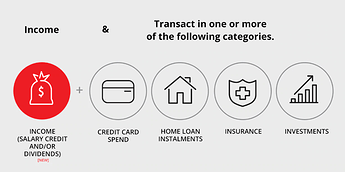 Limitations of the DBS Live Fresh Card
1. High minimum spending requirements
As with all cashback cards that are not generic cashback cards, you are eligible for the 5% cashback only if you can hit a $600/month minimum spending. This hadn't posed too much of a challenge previously, but now that my public transportation expense has dropped drastically due to the Covid-19 imposed circuit breaker, I have been having some challenges meeting this minimum spending. Because I mainly spend the "online" category, a $600 monthly minimum spending only nets me $20 cashback since I do not qualify for the "contactless" or "other spend" categories these last few months, which works out to be a 3.33% cashback. This is not too shabby because this is the same cashback rate for UOB One Card and Maybank Visa Platinum as well, and I don't have to force myself to maintain a minimum spending over a period of 3 consecutive months. The short-term mitigation for this is point #3 above; because of the 10% online cashback promotion these few months, I aim to spend S$1000 so that I can get $40 cashback, giving me an effective cashback of 4% (before my digital lucky draw cashback of $20!).
For those who are not able to meet this minimum spending requirements, an alternative card would be the StanChart Spree Card (2% cashback, no mminimum spend) or the DBS Visa Debit Card (3% cashback, $500/month minimum spend). But, if you thought this minimum spending is high, you should check out BOC's Family Card, CIMB's Platinum Visa or OCBC's 365 Card. Every competitor category cashback card listed here has a way higher minimum monthly spending requirement.
2.Some difficulty within the bank's interface in tracking the spending categories
This is a limitation of the bank's digital interface. For cashback optimizers like myself, I would have liked it if there was a way to categorize my spending into "online", "contactless" and "other", so that I am able to know at a glance what is the shortfall for optimizing my cashback in a given month.
Although this is the same limitation across category-specific cashback cards with higher cashback, cards such as the UOB One Card do not share the same limitation, because it is based on monthly the transaction amount.
Our Summary
I will stick my neck out there and say this is the best cashback card available today for the reasons stated above. DBS has really outdone its rivals with the Live Fresh Card by giving relatively high % cashback, easy to remember cashback categories and lots of promotions to sweeten the deal for users. While I don't really like the low cashback dollar amount cap, this low amount is what its credit card rivals subject their users to as well. If you are not an existing DBS credit card user, consider applying for it now because you can get an additional S$200 sign on bonus (DBS is not generally known to give sign-on bonuses).
Let us know in the comments below which card you would like us to review for our next #WCOTW!
---
If you would like to get the maximum rewards from your credit cards, do consider integrating WhatCard into your lifestyle to help you optimize your credit card rewards, and follow us on Facebook to stay updated on the latest tips, tricks, and hacks (like this article!) to get the most out of your credit cards
If you enjoyed this article, you may also be interested in: