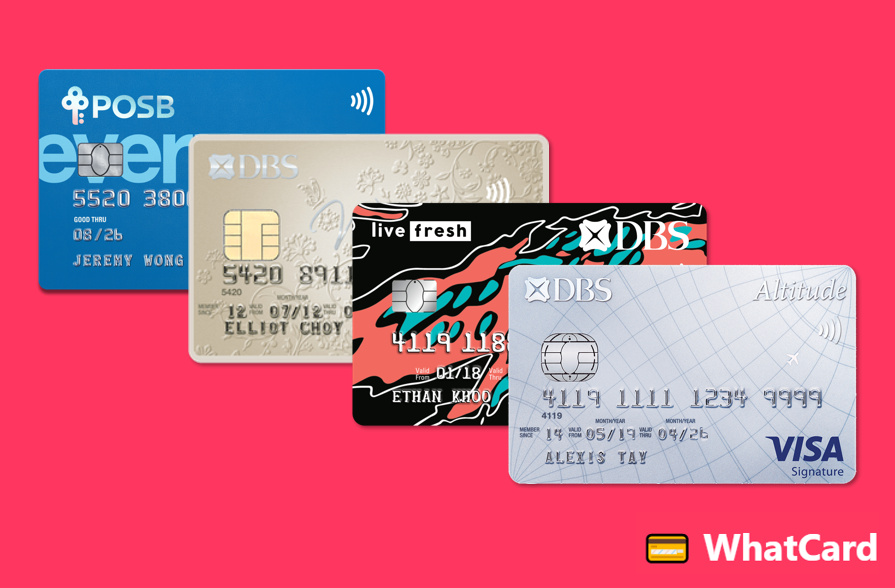 Sign up for any of these DBS/POSB Cards today and get $220 cashback with no minimum spending required!
If you are not currently holding any DBS credit cards (or have cancelled your last DBS card >1 year ago), now is a great time to change that because for a limited 2 week period from now till 19th June, DBS is offering an UPSIZED $220 cashback as sign up promotion for new-to-bank card holders - the earlier promotion in June was for a $200 cashback only.
Best thing about this promotion? There is no minimum spend required or other conditions required to qualify for the gift - you just need to be a new-to-bank applicant (or have cancelled your last DBS card >12 months ago) to qualify.
Likely due to their dominant position in Singapore, DBS has always been notoriously stingy with credit card sign up promotions, and this is definitely one of the most generous sign up promotions we have seen from DBS in a long time, so make sure to take advantage of this opportunity if you always always been wanting to get one of these DBS cards!
I'm interested! But which card should I get?
While there are 6 DBS cards covered under this promotion, our view is that only 3 of these really stand out when compared to other bank's offerings: We would recommend the DBS Live Fresh Card for those who prefer cashback rewards, and the DBS Altitude and DBS Woman's World cards for those who prefer mile rewards.
We have more in-depth reviews for each of these 3 recommended cards as well, check out the links included if you want to have even more details. Read on to learn more!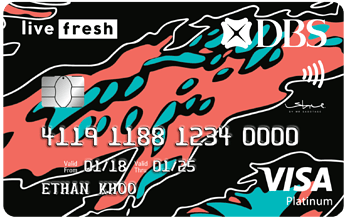 Link to detailed DBS Live Fresh card review
The DBS Live Fresh Card has been one of the cards that feature prominently in our credit card optimization strategy prior to Covid-19, and it has become much more attractive for you to use it in the post Covid-19 world. It belongs to a different group of cards from generic cashback cards; giving a higher percentage cashback (subject to a dollar cap) with a high minimum monthly spending, and has chosen to do so by simplifying the categories.
We will stick our neck out there and say this is the best cashback card available today, DBS has really outdone its rivals with the Live Fresh Card by giving relatively high % cashback, easy to remember cashback categories and lots of promotions to sweeten the deal for users
Why we love the DBS Live Fresh:
Higher cashback % with categories that are simple to understand: 5% cashback for allonline and contactless spend
Combos well with the DBS Multiplier Account - a common point across all DBS cards highlighted here. With other banks reducing their savings account interest rates, now might be a good time to move to the Multiplier Account which still has pretty attractive rates
Attractive card promotions all around
Apply for the DBS Live Fresh Card now
---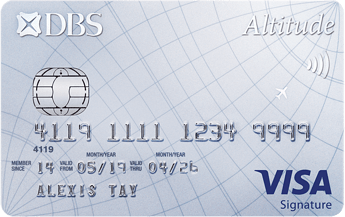 Link to detailed DBS Altitude card review
The DBS Altitude is an all-purpose entry-level miles card that competes in a very crowded category that also contains the Citi PremierMiles, Amex Krisflyer, UOB PRVI Miles, amongst others. And if our user are even somewhat representative of overall credit card ownership, the DBS Altitude is by far the most popular amongst all of these cards.
Why we love the DBS Altitude:
Simple, no-frills card. No minimum spend, no earning cap, miles never expire
Two times per year complimentary lounge access via Priority Pass
Points are pooled with the excellent DBS Woman's World Card (DBS WWMC) - read more below!
Apply for the DBS Altitude Card now!
---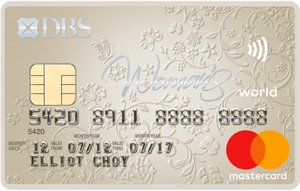 Link to detailed DBS WWMC review
Before we dive into the details, it is important to differentiate between the DBS Woman's Card and the DBS Woman's World MasterCard (DBS WWMC); they have pretty similar features, with the DBS WWMC acting as the slightly more exclusive of the standard Woman's Card. Crucially the DBS WWMC gives 4.0 MPD for online spending while the DBS Woman's Card only offers 2.0 MPD . We will only be reviewing WWMC here because of the significantly higher online rewards rate that makes it such a good card to have.
The DBS WWMC is one our personal favorite cards because it offers a fantastic reward rate of 4 miles per dollar on ALL online spend, unlike other competing cards which might offer a similar reward rate, but just for certain segments of online spending, such as online shopping, travel (e.g. Grab/Go-jek, flights)
If you are currently already using other general spend miles cards such as Citi PremierMiles, UOB PRVI, we would strongly recommend you add on the DBS WWMC as a specialist card for all online spending, a spend category which no doubt has significantly increased in prominence since COVID!
Why we love the DBS WWMC:
It is one of the best online spending miles cards available (4 MPD for ALL online spend), with the broadest range of accepted online merchants
Men can get the card too!
DBS Points are pooled with other DBS cards
---
Summary
As the leading bank in Singapore, it is not everyday that DBS offers such a generous new-to-bank sign up promotion - so if you are even marginally keen on any of these card we would definitely encourage you to take advantage of the latest DBS promotion by applying for any of these credit cards before 10th July to get $220 cashback with no minimum spending!!
---
If you would like to get the maximum rewards from your credit cards, do consider integrating WhatCard into your lifestyle to help you optimize your credit card rewards, and follow us on Facebook to stay updated on the latest tips, tricks, and hacks (like this article!) to get the most out of your credit cards
If you enjoyed this article, you may also be interested in: