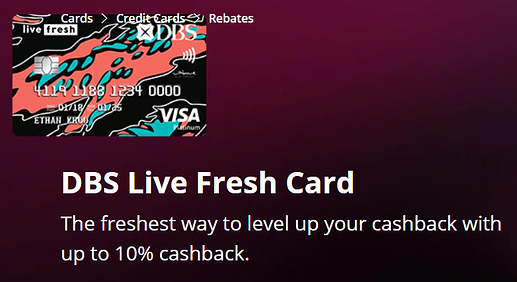 While trying to determine if I am hitting my S$600/month on my DBS Live Fresh card, I chanced upon this 2 month promotion from the bank (and I really apologize to our readers for not spotting it earlier).
You can now get up to $80 / 6.67%cashback from the bank for these two months
DBS is offering an additional 5% cashback on online transactions (capped at $20) if you can hit the minimum spending amount of $1000/month for these two months. Evidently, retail spending has been severely hit during this circuit breaker period, and the bank would like to incentivize transactions. It is quite smart of them to choose the e-commerce category, given that this is the only transaction that is really active over this period.
This is how you can get the maximum $80 cash back:
Spend $400 on e-commerce, get $40 (10% cashback)
Spend $400 on visa contactless spending, get $20 (5% cashback)
Spend $400 on all other spending, get $20 (5% cashback)
So obviously, you can never get a 10% cashback on aggregate spending in the calendar month ($80 out of $1200 is only 6.67%), and you must hit $1000/month, otherwise you will only get 5% in the best case scenario.
Realistically, if you do have a lot of e-commerce transactions, you will get something closer to $40 cashback from 100% of your online transactions if you can hit $1000. 4% cashback…not too bad…This is a pleasant surprise for me because I was thinking of enrolling in some online courses!
How do you do it?
All you need to do is register online. Type in your login credentials (as a precaution, take note of the URL and check that it is really from DBS before you type it in to make sure you are not falling for any phishing scams). After registering, you should see this: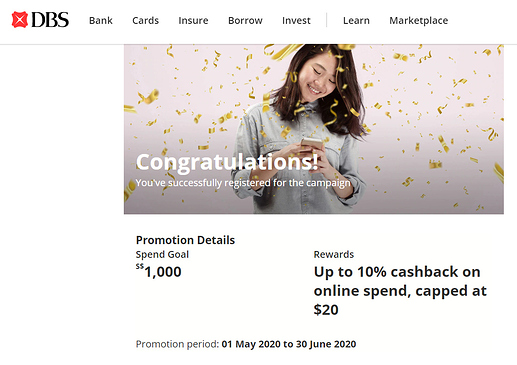 Summary
For those of you who have the DBS Live Fresh card and spending a lot, do register online to be eligible for ~4% cashback if you can spend S$1000 for the next 2 months. If you do not have a DBS Live Fresh card, get S$200 cashback by applying for a new one here.
---

If you would like to get the maximum rewards from your credit cards, do consider integrating WhatCard into your lifestyle to help you optimize your credit card rewards, and follow us on Facebook to stay updated on the latest tips, tricks, and hacks (like this article!) to get the most out of your credit cards
If you enjoyed this article, you may also be interested in: