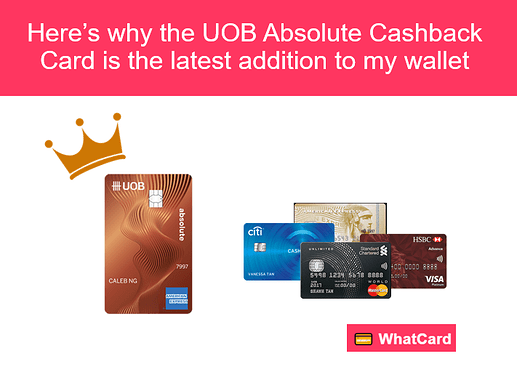 UOB Absolute Cashback Card
Apply for UOB Absolute Cashback Card by clicking here!
Key Features:
Annual Fee: $192.60/year, first year waived
Sign up bonus:
Minimum age: 21
Minimum income: $30,000/year
Why We Love the UOB Absolute Cashback Card
1. 1.7% cashback, no minimum spend! Need I say more?
This card belongs to a category of cards known as generic spend cards. That category has a lower % cashback (around 1.5%), but can be used broadly across broader categories of spending and no cashback cap. There are several other similar cards (Amex True Cashback, StanChart Unlimited, etc) that we wrote about before which are its competitors. However, this card ecked out a small 0.1% higher than the previous cashback king, Citi Cash Back + that gave 1.6% cashback, making it currently the card that gives the highest percentage cashback for generic spending.
2. Not subject to MCC exclusions / can be used for wallets top-up
I recently had to call StanChart's customer service to ask why I was unable to receive cashback for credit card expenses. Apparently, the CSO said that my transactions belonged to excluded MCC categories, which is why I couldn't get my 1.5% cashback on those expenses (should have used the WhatCard tool for it

). For this credit card, the terms and conditions do not state any MCC exclusions! Now this is a rare benefit in today's world, because you typically cannot get any cashback for such transactions nowadays. I haven't received this card yet, but can see a broad spectrum of application, such as: (1) paying for government services, (2) insurance premiums, and (3) health and dental expenses, because these transactions would not normally be eligible to earn cashback due to MCC exclusions.
3. Automatic application of cashback
This is a differentiating factor of the card versus its main competitor, the Citi Cash Back +. Back when I had the Cash Back + Credit Card, I thought I struck gold with the 1.6% cashback, only to learn that it had to be redeemed in $10 denominations using an SMS redemption (it is not automatically applied) . This card incorporates the Amex True Cash Back and StanChart Unlimited mechanism of automatically applying the cashback to your billing statement!
Limitations of the UOB Absolute Cashback Card
1. Amex not accepted at certain merchants
Unlike Visa and Mastercard, Amex cards are sometimes not accepted by certain merchants, which can be quite a source of irritation of you find yourself stuck at the cashier. Thankfully, one way to mitigate this and achieve double-dipping is to use it to top-up your Grab wallet. If you also applied for the GPMC, you can: (1) make your spending on a Mastercard (via GPMC) , (2) earn Grab reward points and (3) still get your 1.7% cashback when you top-up your Grab wallet!
Our Summary
This recently launched card doesn't have sign-on bonuses, but in our opinion, it doesn't need one. With a very generous 1.7% cashback, with no minimum spend and a credit card that can be used to pay for insurance/healthcare/government related expenses etc, this is clearly a superior card available in Singapore today.
Apply for UOB Absolute Cashback Card by clicking here!
---
If you enjoyed this article, you may also be interested in: