Note: As the founders of WhatCard, our users often ask us what credit card we ourselves use. Hence, we decided to start this new weekly credit card feature where we will be taking turns to share about a card that we ourselves own/use and talk about how we use it and potential limitations. Share with us in the comments below which card you would like us to feature for next weeks #WCOTW!
This is not a sponsored post, and all opinions are from the WhatCard team's personal experiences with the card
Maybank Horizon Visa Signature Card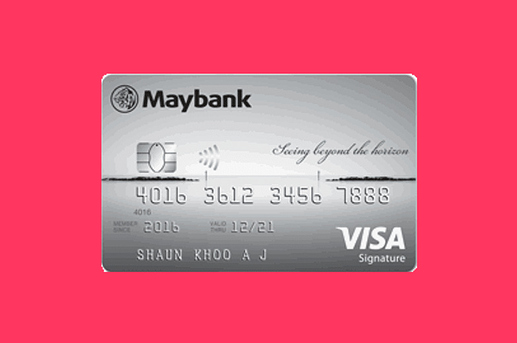 Key Features:
Annual Fee: $180/year, first three years waived. Subsequently automatically waived with minimum spend of $18,000 per annum
Earn rate:

3.2 MPD for all dining, petrol, and transport spending (incl. ridehailing)
2.0 MPD for all air ticket booking, travel agency, and foreign currency spending
0.4 MPD for all other spending)

Minimum monthly spend of $300/month to qualify for bonus 3.2 and 2.0 MPD earning rates
Minimum age: 21
Minimum income: $30,000/year
Amongst the various major banks that have credit cards in Singapore, Maybank credit cards seem to be much less well-known amongst Singaporeans, with not many people I know personally having any Maybank cards. This is quite a waste because quite a few of their cards are honestly quite good and can be solid options for someone who wants to get good credit card rewards. Today, lets take a look at the Maybank Horizon Visa Signature Card which I personally have been using for some time now and have found quite useful to get bonus miles in many situations.
The Maybank Horizon offers bonus earning rate across a slew of common spend categories: 3.2 MPD on all restaurant dining, petrol stations, and transport (incl. ride hailing) spending, and 2.0 MPD for air ticket and travel package (e.g. with a travel agency) bookings .
With the bonus 3.2 MPD earn rate on both dining and transportation (whether you drive and pump petrol or take bus/mrt/taxi/ride hailing), it should be able to cover a large part of your regular monthly spending - the only major exception being the lack of bonus miles for the Groceries and categories. However, do note there is a minimum monthly spend of $300/month to get the bonus award rate.
The way it is structured, Maybank is clearly aiming for this card to be a miles rewards version of the usual category-based cashback cards such as the OCBC 365 and CIMB Visa Platinum. This card would work well for those who spend significantly on the Dining and Transport categories monthly.
Why We Love the Maybank Horizon Visa Signature
1. Insurance payment eligible for miles
With so many other credit cards having been nerfed recently, including UOB One card not counting insurance premiums as an eligible spend, it is honestly a rarity to find any credit cards that still give rewards on insurance premiums. This card is one of the few that allows you to get rewards for your insurance expenses (MCC 6300) albeit at 0.4mpd.
2. Rare miles card that offers bonus earn rate for Dining category
While dining is often listed as a bonus category for cashback cards - for some reason not many miles cards offer bonus rewards rate for Dining category. More hardcore optimizers might make use of cards such as the UOB PPV that gives 4.0mpd on all contactless spend, but many casual miles card users I know end up simply using their regular DBS Altitude, Citi Premiermiles cards to get 1.2mpd on dining.
With the Maybank Horizon, you can get up to 3.2mpd on all your dining spend, which is significantly higher than the 1+ mpd you might be getting when you swipe your DBS Altitude/Citi Premiermiles/UOB PRVI/Amex Krisflyer at restaurants.
3. Automatic first 3 years annual fee waiver
Those worried about forgetting to waive credit card annual fees after the first year will definitely like this card - the Maybank Horizon comes with a very generous upfront automatic 3 years annual fee waiver, which means that you can readily sign up for this card and whether you actually end up use it much or not, you do not have to worry about annual fees for a good many years.
Limitations of the Maybank Horizon Visa Signature
1. Spending outside of bonus categories only gives you 0.4mpd
While the card definitely has a strong set of categories that offer bonus 3.2mpd, do note that anything outside of these bonus categories will get you a paltry 0.4mpd. This includes things like general retail spending at stores as well as all kinds of general online shopping.
For these other categories, you are definitely better off getting another credit card to put the spending on instead of using Maybank Horizon for everything. Even the most general miles cards like the DBS Altitude/Citi Premiermiles will give you a much more reasonable 1.2mpd.
2. Minimum monthly spend of $300
Unlike most other miles cards, the Maybank Horizon card is also unique in that it has a minimum monthly spend of $300 before you are eligible for bonus miles. While a monthly minimum $300 is relatively small compared to cashback cards, it is still important to take note of especially if you are planning to use the card only for infrequent dining out expenses. If you drive regularly and use the card for petrol expenses as well then you probably do not need to worry about the minimum monthly spending.
Summary
With its strong set of bonus categories, decent 3.2mpd bonus earn rate, and eligibility for Grab transactions (except for Grabpay top-ups) for bonus miles, I have honestly found the Maybank Horizon card to be a decent card that somehow doesn't seem to be getting as much traction with Singaporeans as it deserves.
This is maybe because Maybank is less aggressive in pushing their credit cards as compared to the other big banks in Singapore, and being a foreign bank Maybank is also less well-known and trusted as compared to the usual DBS/OCBC/UOB.
But if you do have regular spending for dining/petrol/Grab transactions, I would definitely encourage you to get the card as a way to clock up significant miles on these categories. The only other limitation to note for the card is that bonus rewards is capped at a very large ~$4,300 per month - which definitely should not be an issue for regularly spending, but do take note if you are planning to use the card for a large one-off transaction!
Let us know in the comments below which card you would like us to review for our next #WCOTW!
---

If you would like to get the maximum rewards from your credit cards, do consider integrating WhatCard into your lifestyle to help you optimize your credit card rewards, and follow us on Facebook to stay updated on the latest tips, tricks, and hacks (like this article!) to get the most out of your credit cards
If you enjoyed this article, you may also be interested in: