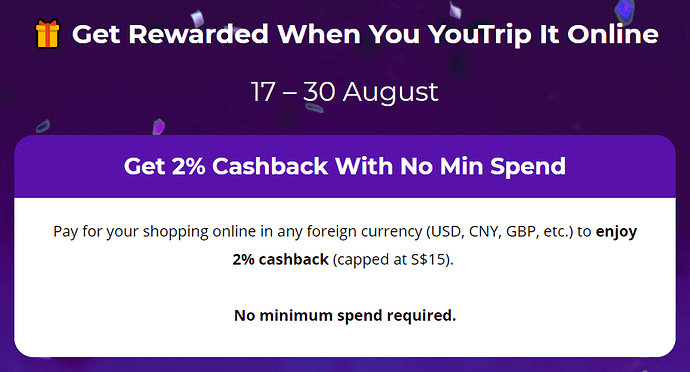 YouTrip is at it again; they have launched another cashback promotion, this time offering the 2% cashback with no minimum spending.
The no minimum spending part made it slightly better than YouTrip's previous promotion from 27 May - 9 June, although we noted that they have decided not to give the additional 2% cashback (4% cashback in total) for foreign spending of S$300-S$400 equivalent, which was included their previous promotion. We also noted in the terms and conditions that the cashback is applicable only to groceries and shopping merchants based on the MCCs on this list (to check if your merchant qualifies, you may use WhatCard's MCC search engine here).
If you have some foreign currency expenses such as a Netflix subscription or Coursera courses, it may make sense to charge those expenses to a YouTrip Card and take advantage of the 2% cashback now, because on top of the cashback, YouTrip gives rather competitive exchange rates among their peers, and much better rates than if you were to charge these to you credit card which charge ~3% foreign transaction fees. (we wrote about this here).
To get the 2% cashback, simply be among the first 3000 card applicants to register here.
If you don't already have a YouTrip card, you may apply for the card in advance and patiently wait for the next cashback campaign (this is YouTrip's third promotion this year). You may be able to register for the next promotion and get cashback from your spending and a discount on goods priced in foreign currencies!

If you are signing up for a YouTrip account, do remember to use the promo code WHATCARD5 to get a $5 welcome cash credit - you will lose this one-off chance during registration if you sign up without using a promo code.
---
If you would like to get the maximum rewards from your credit cards, do consider integrating WhatCard into your lifestyle to help you optimize your credit card rewards, and follow us on Facebook to stay updated on the latest tips, tricks, and hacks (like this article!) to get the most out of your credit cards
If you enjoyed this article, you may also be interested in: