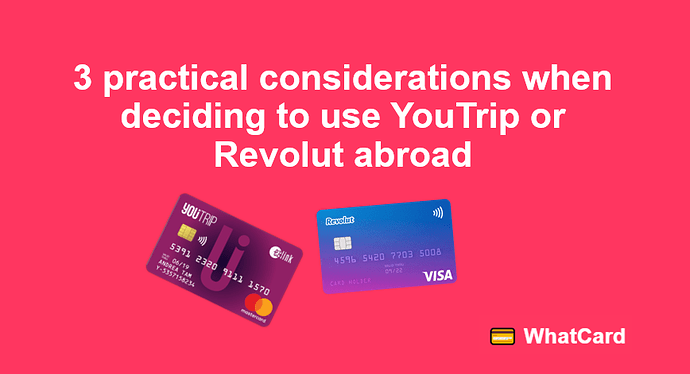 Hi everyone, I'm happy to share that I am finally back in Singapore, after a 4-month stint abroad in Europe!

:
On that trip, I went to France

and to the United Kingdom

:for my studies and internship respectively. Readers of WhatCard know that I have been a loyal YouTrip fan from the inception of the community; that's not all! This time, I also applied for a Revolut card before I went on the trip, so that I can do provide a more comprehensive comparison between these two from a user perspective (beyond just writing about FX fees). Here is an older article about the pros and cons of cash versus card spending as well as an older article on multi-currency accounts.
If you are signing up for a YouTrip account, do remember to use the promo code WHATCARD5 to get a $5 welcome cash credit - you will lose this one-off chance during registration if you sign up without using a promo code.
I have been using both YouTrip and Revolut quite extensively for my EUR and GBP expenses. I thought that it might be useful to share with the community some little-known features of each card:
1) YouTrip automatically converts your SGD deposits (in your wallet) whereas Revolut requires a manual FX conversion
I usually don't convert my SGD to EUR/GBP until I absolutely have to. I found that for Revolut, I have to repeatedly go to the app to ensure that I have sufficient funds in my EUR/GBP wallet before I can transact. This could be an issue if you do not have internet connection / your phone runs out of battery. In contrast, YouTrip just does a smart FX conversion when they detect that I have insufficient balance in my FX wallets, by deducting from my USD wallet first, followed by my SGD wallet.
However, this obviously doesn't work if you don't have sufficient funds (across all FX wallets) for the purchase though; when that happened to me twice on this trip and when I didn't have internet reception, I had to use my Singapore credit card to bail me out

2) Revolut allows you to easily send money to friends with a Revolut account or bank account
YouTrip has a "send" button in the app, but it is really complicated to send money to a friend's wallet. In contrast, Revolut is absolutely amazing because you can send funds to any other friend as long as you have their username (for the first transaction with a 3rd party, the recipient needs to acknowledge receiving the funds before it can be successfully transferred). It also works with bank account details because I know some friends who receive their salary from their companies directly in their Revolut wallet (there is a small transaction fee to bank accounts whereas there are no transaction fees between Revolut wallets).
This means that if you accidentally have too much money stuck in your Revolut wallet, you can easily transfer it back to your own bank account. I used this very extensively for making rental payments for my accomodation

3) YouTrip allows you to automatically add funds without going through OTP verification
Whenever I want to add funds to my Revolut wallet, they always prompt me for an OTP. I get that it provides better security, however it becomes an issue when I don't have my Singapore SIM card near me (I inserted it in another mobile phone that I bring along so that I don't accidentally enable data-roaming and get hit with hefty fees). YouTrip is superior in this regard because after the intiial OTP during the set-up phase, it doesn't prompt you for an OTP when you subsequently add funds from the same credit card.
What both cards could do better
I wished I was able to earn some interest on the funds that I deposited with YouTrip / Revolut. Even for bank deposits, you get a 0.05% base interest rate on your deposits. I guess we pay too little transaction fees (only the FX spread, and then again it is at a really competitive exchange rate compared with the wholesale rate these days) and they need to earn revenue somehow; just like how Starbucks is the biggest bank today, they are earning the interest income on our deposits.
Therefore, if you are prudent in personal finance, you should always keep the deposits in your wallet low!
The YouTrip app crashed?!?!
I was pretty annoyed that in August 2021, the YouTrip app crashed. Perhaps they were rolling out an app update? They never got back to me. In any case, I was unable to click through to my wallet to add funds because when I clicked "update", it re-directed me to the app store to download the app.
Evidently, I already have the app, so it prompted me to open the app, and then I was faced with the same problem again (it went full circle). I left a one-star review on the app store; hopefully, the developers fix this and it doesn't re-occur, otherwise, I might just become a loyal customer of Revolut/Wise…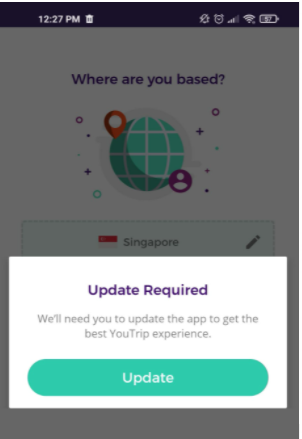 Summary
My personal experiences abroad using YouTrip and Revolut cards have led me to understand that (1) YouTrip is a lazy man's option for FX conversion (because you don't have to manually convert it and ensure you have a sufficient balance in your wallet), (2) Revolut is a great way to make payments (including bank transfers in foreign currencies), and (3) YouTrip is great for me because they don't do as much OTP for fund top-ups, which is inconvenient if I am outside because I don't carry around my Singapore-registered SIM card to avoid hefty data-roaming fees.
And now a shameless plug for YouTrip (because YouTrip is our affiliate partner). Click on the picture below to signup with promo code WHATCARD5 to get free $5!

If you would like to get the maximum rewards from your credit cards, do consider subscribing to regular updates and follow us on Facebook to stay updated on the latest tips, tricks, and hacks (like this article!) to get the most out of your credit cards
---
If you enjoyed this article, you may also be interested in: