As the founders of WhatCard, our users often ask us what credit cards we ourselves use. Hence, we decided to start this new weekly credit card feature where we will be taking turns to share about a card that we ourselves own/use and talk about how we use it and potential limitations. Share with us in the comments below which card you would like us to feature for next weeks #WCOTW!
This is not a sponsored post, and all opinions are from the WhatCard team's personal experiences with the card
DBS Woman's World MasterCard (DBS WWMC)
"The go-to card to cover all online spending"
Key Features:
Annual Fee: $192.60/year, typically waivable
Sign up bonus: N/A
Local earn rate: 0.4 Miles Per Dollar Spent (MPD)
Overseas earn rate: 1.2 MPD
Online Spend earn rate: 4.0 MPD
Minimum age: 21
Minimum income: $80,000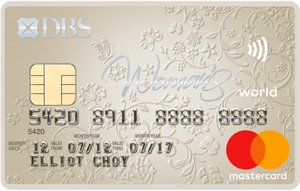 Before we dive into the details, it is important to differentiate between the DBS Woman's Card and the DBS Woman's World MasterCard (DBS WWMC); they have pretty similar features, with the DBS WWMC acting as the slightly more exclusive of the standard Woman's Card. Crucially the DBS WWMC gives 4.0 MPD for online spending while the DBS Woman's Card only offers 2.0 MPD. We will only be reviewing WWMC here because of the significantly higher online rewards rate that makes it such a good card to have.
Overall, the DBS WWMC is a pretty typical mass market credit card - it does have a slightly higher than average minimum income of $80,000, but otherwise the typically waivable annual fee of $192.60 is in line with other usual cards.
Regular readers of our blog will know that the DBS WWMC is a favourite of ours, and we consistently recommend it whenever there is a need for a specialist online-only credit card because of it's market-leading 4.0 MPD for ALL online spending
Why We Love the DBS WWMC
1. It is one of the best online spending miles cards available, with the broadest range of accepted online merchants
There are other cards available that offer 4.0 MPD for online spending, such as the Citi Rewards Card, OCBC Titanium, and UOB Preferred Platinum Visa (PPV). However, each of these other cards have some limitation on which categories of spend count under its online bonus, generally covering only online shopping spend. For example, each of the cards above give bonus rewards if you shop online at regular shopping platforms such as Lazada and Qoo10, but they do not give bonus rewards for online travel spending as places such as Agoda and Airbnb.
DBS WWMC is rather unique in offering its bonus 4.0 MPD rate across all regular online spend categories (except for specifically excluded merchants, more details later), which makes it a fantastic single go-to card for all your online spending. For example, in addition to my online shopping I also use the DBS WWMC for my New York Times, Netflix, and other monthly subscriptions without having to worry if it falls under one of the "accepted bonus categories" for other cards.
2. Men can get the card too! (despite the confusing name)
In spite of it's name, the DBS WWMC is actually available to both men and woman - yay to gender equality! The marketing of the card (see its floral patterns on the card) and many of the ongoing promotions/discounts are targeted at women, but there is no restrictions on men applying for the card. This makes it different from other similar cards such as the UOB Lady's Card, which is explicit in being only eligible for the women.
3. DBS Points are pooled with other DBS cards
For those who are already users of DBS Cards, such as the ever popular DBS Altitude Card, there is the added benefit that any DBS Points earned are pooled across a single DBS account. What this means is that DBS Points earned from both DBS Altitude and WWMC are shown as a single number in your DBS online banking account and can be withdrawn together in a single redemption.
This is especially helpful as the redemption of miles for DBS is in blocks of 5,000 DBS Points (or 10,000 miles), hence being able to combine DBS Points across different cards makes it less likely that you will end up with "orphan miles" - leftover miles of less than 10,000 that can't be withdrawn because of the minimum withdrawal bucket
Pooling miles will also help you to save on the charges of $26.75 per redemption since you can make a single redemption to withdraw your miles across all DBS cards.
Limitations of the DBS WWMC
1. Miles expire after 1 year
The biggest limitation of the DBS WWMC is its relatively short miles expiry of 1 year, similar to the OCBC Titanium. In contrast, DBS Altitude miles never expire, while Citi Rewards miles last for 5 years and UOB PPV lasts for 2 years.
Note: After your withdraw your DBS miles to lets say Krisflyer, they have a further 3 year lifespan in Krisflyer before expiry
With a 1 year lifespan, this means that to avoid any losing any miles to expiry you will have to make at least one miles redemption per year. This is a small issue if you have significant online spending each year such that you can accumulate enough miles to make an annual redemption worthwhile, but if you are only spending $1,000-2,000 per year online then it may not make sense to get the DBS WWMC as you will be spending too much on redemption ($26.75 per redemption) to make the bonus miles worthwhile
2. Bonus miles for online spending capped at $2,000/month
The bonus 4.0 MPD rate for online spending is capped at $2,000 of spending per month, which is large enough that it should not be a issue most of the time. However, do take note of this when using the card to make major purchases, for example online purchases of air tickets + hotels that can easily take you past the monthly cap.
3. Exclusions for online spend rewards
While the DBS WWMC does offer bonus rewards on almost all online merchants, there are certain exceptions to take note of. Most notably, payments to CardUp, iPaymy, Mileslife, Grab wallet topup, utility bills and insurance premiums are all excluded. Several of these are standard exclusions that apply across other cards/banks as well, and you can always check out our WhatCard tool to find out which cards work where. You can also check out the latest DBS WWMC T&Cs here for the full details on exclusions.
Other benefits
In addition to the 4.0 MPD bonus earn rate on online spending, the DBS WWMC does offer some other benefits in line with it's women-focused branding, for instance a whole suite of promotions on beauty spa packages and shopping discounts at Dorothy Perkins, G2000, Reebonz and more.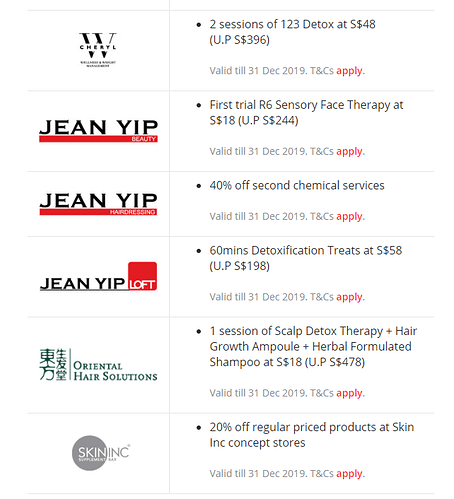 Some of the other benefits as listed on the DBS WWMC website
However, most of these benefits are only so-so, and the only reason you should be considering this card is because of its bonus online earning rate
Our Summary
The DBS WWMC is a simple but very effective card that has a place in any miles optimizer's wallet. With the broadest online spending bonus, it is the perfect specialized card for putting all your online shopping (fashion, groceries, electronics and more), food delivery orders, travel bookings and online subscriptions.
Personally, my strategy with the DBS WWMC is to put all my online spending on it up to it's cap of $2,000 per month. If i foresee that I may exceed the cap that month (e.g. going to be making large travel bookings), I will try to split the spending across other cards that have applicable bonus earn rate as well, such as DBS Altitude's 3.0 MPD for Agoda/Expedia/Airbnb to ensure bonus miles award rate on the full amount of spending
With more and more types of spending being able to be done online (e.g. buying groceries via FairPrice Online instead of visiting a physical store), the DBS WWMC is the perfect companion for getting 4.0 MPD for an even bigger portion of your spending, with the only drawback being the $2,000/month bonus cap and the one-year miles expiry rule.
Let us know in the comments below which card you would like us to review for our next #WCOTW!
---

If you would like to get the maximum rewards from your credit cards, do consider integrating WhatCard into your lifestyle to help you optimize your credit card rewards, and follow us on Facebook to stay updated on the latest tips, tricks, and hacks (like this article!) to get the most out of your credit cards
If you enjoyed this article, you may also be interested in: