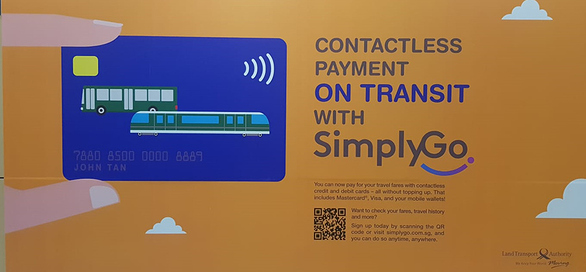 More Payment Options: From EZ-Link to SimplyGo
The humble EZ-Link card has been a staple of many Singaporean's lives since it was first launched back in 2001 - I personally remember getting my first EZ-Link card and thinking that it was so much more convenient that paying with coins on the bus!
Its been awhile since then, and in 2019 LTA launched what is probably the biggest and most underrated change to public transport payments since EZ-Link was launched - SimplyGo was announced, a new scheme enabling commuters to directly tap their contactless (PayWave) credit cards at MRT/bus gantries to pay for their rides.
In addition to not having to carry an EZ-Link card around anymore, SimplyGo's biggest advantage is that you can now earn credit card rewards with your public transport payments, something that was not readily available before - topping up your EZ-Link using your credit card at the ticketing machine unfortunately doesn't give any rewards.
Given that an EZ-Link card doesn't give any rewards while you can get cashback/miles with credit cards, it seems like a no-brainer for people to swap to using their credit cards - however when I did a quick informal observation at a CBD MRT station during morning peak hour (where most people would be working adults able to apply for credit cards), I found that of the 80 people observed tapping in/out of the MRT station, only 15 of them were using a credit card for payment - less than 20% of the whole sample!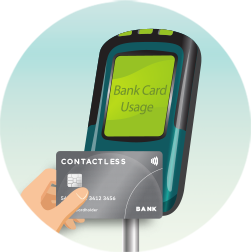 It's pretty easy to spot because for people using credit cards the gantry displays "Bank Card Usage" rather than showing the remaining EZ-Link card value
What Credit Card Rewards can you get with SimplyGo?
While not all credit cards are accepted and give rewards for SimplyGo, the banks have been very helpful in creating webpages (e.g. DBS, UOB, StanChart) that explicitly market their applicable cards and rewards when used. You will be glad to know that there are a good selection of credit cards to choose from whether you prefer to collect cashback or miles. Some of the best rewards we have seen are:
You may notice that there are no Citibank cards here at all, thats because they explicitly exclude rewards on SimplyGo across all their cards
We have written additional deep dive articles on the best cashback and miles cards to use with SimplyGo for those who want more detailed information on which cards to use:
- Best cashback credit cards to use with SimplyGo for paying Bus/MRT fares
- Best miles credit cards to use with SimplyGo for paying Bus/MRT fares
Double-dipping using your credit card with a mobile wallet app for maximum rewards
What we have seen works best for SimplyGo is to add the relevant credit card to your preferred mobile payment app (e.g. Samsung Pay/Apple Pay) and get BOTH credit card as well as payment app rewards with your transport payments. For example, with every payment using Samsung Pay (including for transport payments) you get reward points that can be redeemed for food and shopping vouchers.
Besides giving additional rewards, using a mobile wallet app also means you don't have to physically carry your cards around anymore (thinner wallets!) and you are much less likely to easily misplace your phone as opposed to an EZ-Link/credit card. Once it is set up, all you have to do is tap your phone directly on the MRT/bus gantries, no more worries about topping up your EZ-Link card as well!
More info on Samsung Pay and Apple Pay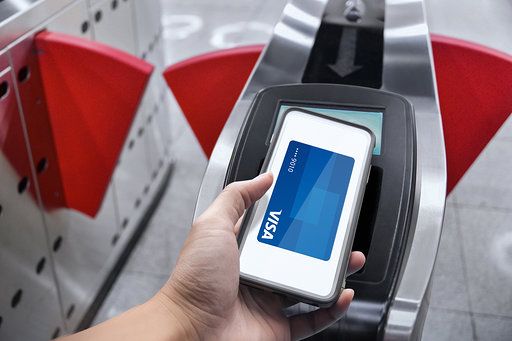 With mobile wallet set up you can directly tap your phone on the MRT and bus gantries
How much are you giving up by not using SimplyGo?
An average Singapore adults who takes public transport twice daily would spend between $85-$125/month, or around $1000-$1500/year on public transport. At 5% cashback, using SimplyGo could work out to savings of $50-$75/year. This may not sound life-changing, but given that it takes no additional effort or cost to use SimplyGo as opposed to an EZ-Link card, this is the closest you are getting to "free money" with this simple change.
However, depending on your total monthly transport spending, you may also be better off getting a monthly unlimited concession pass instead if your transport costs are >$120/month - you will end up saving more that way that by using SimplyGo. For everyone else, we are not sure why adoption for SimplyGo seems pretty low, perhaps people are just happy with the status quo and have not done much reading up on the benefits of SimplyGo - if you are one of these, its time to ditch your EZ-Link card and start SimplyGo-ing!
---
If you would like to get the maximum rewards from your credit cards, do consider subscribing to our upcoming newsletter and follow us on Facebook to stay updated on the latest tips, tricks, and hacks to get the most out of your credit cards.
If you enjoyed this article, you may also be interested in:
---
Common questions and concerns on using SimplyGo
Do you need to do any registration before using SimplyGo?
No; while you can create an account for SimplyGo on their site, there is no requirement to do so. Any of the SimplyGo-enabled cards can be directly tapped at the MRT/bus gantries or added to mobile wallets and used.
Are there any fees involved with using SimplyGo
No; there are no additional fees for using locally-issued credit cards. However, if you do use a foreign-issued (non-Singapore) card there will be a fee of 50 cents per transaction.
Is SimplyGo only applicable for Mastercard?
No; you can also use Visa credit cards (such as the DBS Altitude) for SimplyGo transactions - this is a common misconception as SimplyGo was first launched in April with Mastercard, but has since come to include Visa as well. However, Amex cards are still not accepted yet.
How are transactions shown on your credit cards?
For Visa credit cards, fare charges are consolidated daily and you will get billed a single transaction for all your rides during the day.
For Mastercard credit cards, fare charges will be accumulated for up to 5 days or after a total of $15 is spent on transit fares, after which it will be billed to the card.
One of the drawbacks of this is that you no longer get your fares broken down by transaction/ride. However, you can sign up for the SimplyGo account if you want to view the fares for individual rides
I added a credit card to my mobile wallet app, but nothing happens when I tap my phone on the gantry
We have encountered a few common problems when setting up your mobile wallet app to use SimplyGo. If none of these fixes the issue for you, you want want to check out the FAQs of mobile wallet app you are using for more information:
make sure you have added your credit card to your mobile wallet app as the "Transport Card"
make sure your phone's NFC (Near Field Communication) functionality is turned on
make sure the phone screen is turned off before tapping it on the gantry
What happens if my phone runs out of battery?
If you are using SimplyGo with a mobile payment app and your phone runs out of battery during the day, you can always still directly tap the relevant credit card on the gantry, or if you are really worried you can keep a spare ez-link card in your wallet/bag for these situations
You can also check out the full set of FAQs on the SimplyGo website here