In a unique limited time promotion available from 16-31 October 2019, you will get $100 in cash (transferred via PayNow) if you apply and are approved for the UOB PRVI Miles American Express® Card via SingSaver. To qualify for the promotion, you simply have to apply for the card via the link and be approved within the promotion period - given that it is a short 2 week promo it is better to apply earlier than later as there may always be unexpected delays in approvals, especially likely if application volumes are high due to this promotion.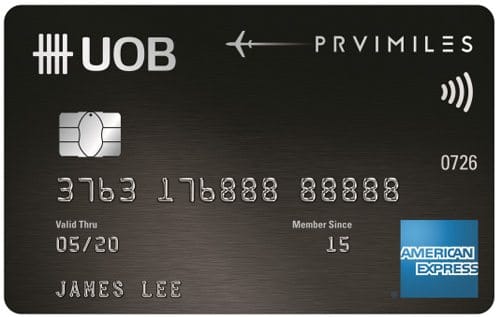 The UOB PRVI Miles American Express® Card
We are really excited to share this promotion because it is one of the easiest offers to qualify for: no minimum spend required, no annual fee cost (first year fee is waived), and even existing UOB cardholders are eligible as long as you don't currently hold this exact card - which is not difficult at all since the The UOB PRVI Miles American Express® Card is not a very commonly owned card.
What does the UOB PRVI Miles American Express® Card actually do?
The UOB PRVI Miles American Express Card is the Amex version of the UOB PRVI Miles card, a mass-market airline miles card that offers a solid local miles earning rate with no minimum spend and no spending cap. Slightly confusingly, the card also comes in Mastercard and Visa versions that you can see in the above image; the cards are not significantly different and we will only focus on the Amex version here as the promotion only applies to the UOB PRVI Miles American Express® Card:
Key Features:
Annual Fee: $256.80/year, first year waived
Sign up bonus:

$100 cash (via PayNow) if sign up via our affiliate partner SingSaver
$150 cash credit for new-to-UOB principal cardholders if amongst first 1,000 eligible new applicants who spend minimum of $1,500 within first 30 days from card approval

Minimum age: 21
Minimum income: $30,000/year
Local earn rate: 1.4 MPD (Miles Per Dollar spent)
Overseas earn rate: 2.4 MPD
Bonus earn rates:

3.0 MPD for bookings on Klook
6.0 MPD on major airline and hotel bookings
While the $100 "free money" sign up bonus is worth the effort even if you don't intend to use the card and just cancel it later in the year - the UOB PRVI Miles is actually a pretty decent basic miles card that you can consider keeping if you are looking for a simple miles cards that covers all spending categories.
The card competes directly against other basic miles cards like the DBS Altitude, Citi PremierMiles, and Amex Krisflyer, but if you compare them head-to-head it's local earn rate of 1.4 MPD is actually quite a bit better than the 1.1/1.2 MPD offered by these competing cards.
A technical but important caveat we will point out is that the UOB PRVI Miles has a worse rounding policy than competing cards, which means that for smaller transaction amounts of less than around $20 its effective earning rate can be lower than competing cards. It generally is not a significant difference, but those interested in the nitty gritty of credit card rounding policies can read this detailed article by the Milelion
To make the sign up bonus even more attractive, on top of the $100 cash bonus for being approved, new-to-UOB principal cardholders also qualify for an additional $150 credit, applicable for the first 1,000 eligible new applicants who spend at least $1,500 within the first 30 days from card approval - making a total potential signup bonus of $250 with a comparatively small minimum spending requirement.
The only major drawback of the UOB PRVI Miles American Express® Card is that Amex is relatively less widely accepted in Singapore as compared to Visa and Mastercard, which means that you may not be able to use your card as much as you would like to. From our experience, Amex is typically accepted at most major brands and large national chains, but often not at smaller stores, especially small food places/restaurants.
Summary
The UOB PRVI Miles American Express® Card is honestly a pretty decent card by itself, which makes it's generous and easy to qualify for $100 sign up promotion a really good deal when you consider that the most generous sign up bonuses are generally reserved for cards that are not that useful otherwise (anyone interested in a plastic X Card?

).
Not many promotions offer this combination of :
Cash in your bank account - as opposed to physical vouchers you have to collect and spend, or a cash credit in your card that has to be spent using the card itself
No minimum spend
Existing UOB cardholders also qualify
Also, do note that this is a unique SingSaver promotion, so you will not get the bonus $100 if you sign up for the card directly on the UOB website. It only lasts for a short two week window (until 31 Oct), so do sign up now to take advantage of it while it lasts!
IMPORTANT: Do take note of your application reference number after you have submitted all your details to UOB; you will need it to submit the redemption form to Singsaver (they will email you a redemption form) to collect your rewards. If you want to know specifically where it is in the UOB page after you have submitted your details, click here.
---
We are currently running a user survey for better understand your feedback, participate today and stand a chance to win $10 in cash!! (transferred via PayNow)
If you would like to get the maximum rewards from your credit cards, do consider integrating WhatCard into your lifestyle to help you optimize your credit card rewards, and follow us on Facebook to stay updated on the latest tips, tricks, and hacks (like this article!) to get the most out of your credit cards
If you enjoyed this article, you may also be interested in: