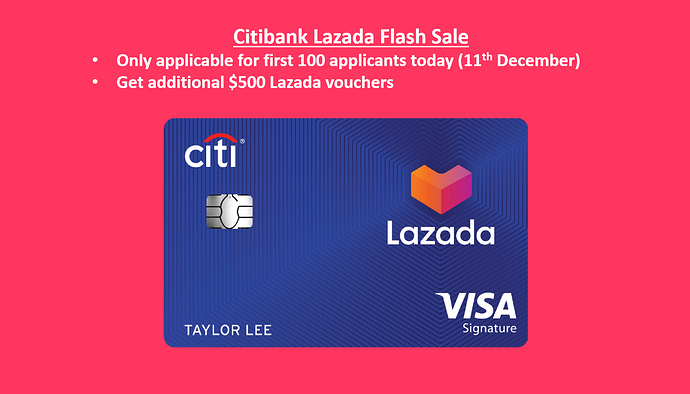 Click
here
to apply for Citi Lazada Credit Card with our referral link

Citi Lazada Credit Card
Key Features:
Annual Fee: $192.60/year, first year waived
Miles earn rate: 4mpd on Lazada; 2mpd on dining, travel, entertainment, commute
Sign up bonus: $150 Lazada Vouchers
Limited time promotion: Additional $500 Lazada Vouchers today; 4.8mpd from now till 29th Feb 2020
Minimum age: 21
Minimum income: $30,000
Why We Love the Citi Lazada Credit Card
#1

High miles earn rate for Lazada and welcome bonuses

The current miles earn promotion is 4.8mpd; which is the highest in the market currently. According to our merchant search tool, the next highest earn rate is 4mpd. There are a handful of other cards doing this, including several of Citibank's existing cards (see below). There is also a sign-on bonus of $150 Lazada vouchers, as well as an additional $500 Lazada vouchers if you sign-up today.

If you are a big Lazada shopper and have several hundreds of dollars to spend this christmas, you can consider applying for this card for an additional 20% miles for your christmas shopping!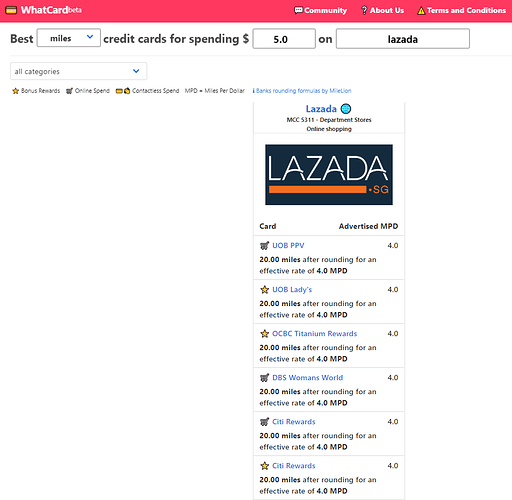 The best miles earn rate currently in the market is 4mpd
#2

Free 1 year LiveUp membership

This is a pretty good free perk that comes with the card! The membership is worth $60/year, and there are a handful of useful applications. I can personally foresee myself using the discounts from Grab, additional 2 months of Netflix subscription and free Foodpanda deliveries.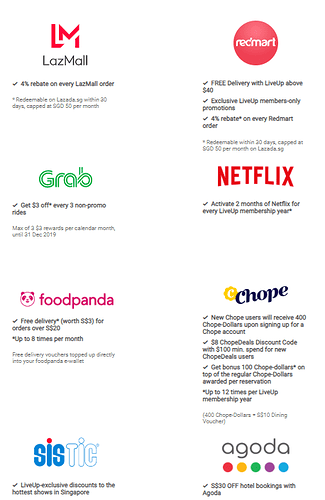 Key concerns
#1

Low spending cap

There is a monthly spending cap of 10,000 Citi points, which works out to a cap on spending $833/month on Lazada from now till 29th February 2020 ($1000/month on Lazada thereafter) or $2,000/month on Dining, Entertainment, Travel, and Commute. Hence, the promotional 4.8mpd does not work for large Lazada expenses (e-commerce resellers, say goodbye to the dreams of earning a free flight while doing business).
#2

Miles expiry 3 year from the date of the account opening

This seemingly innocent detail in the terms of conditions have large ramifications; essentially, if you backload your spending on this card 1-2 years later, you will feel a pressure to spend more in order to not forfeit the miles earned in the first year.
Summary
If you are an avid Lazada shopper and have not purchased your christmas gifts, do take advantage of the sign-up promotions, as well as the free LiveUp membership. Other than that, it may make more sense to consider other credit cards as part of your long-term credit card strategy, as the promotional miles earn rate ends on 29th February 2020.
If you are thinking of applying for this card, do apply through our affiliate links here. WhatCard was started as a passion project and all proceeds enable us to continue operating the website and generating useful insights for you readers here

---
If you would like to get the maximum rewards from your credit cards, do consider integrating WhatCard into your lifestyle to help you optimize your credit card rewards, and follow us on Facebook to stay updated on the latest tips, tricks, and hacks (like this article!) to get the most out of your credit cards
If you enjoyed this article, you may also be interested in: