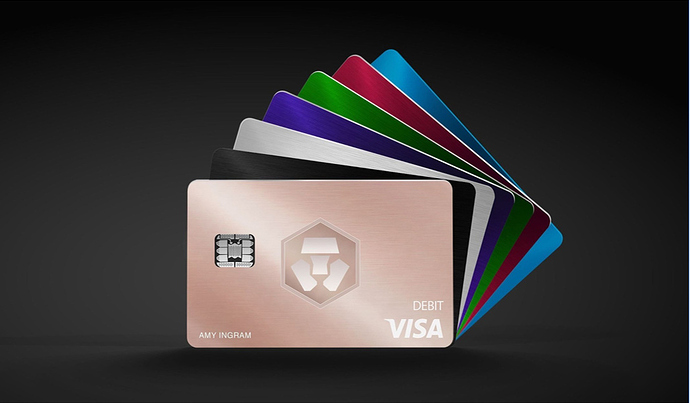 The MCO card comes in the a number of different tiers to pick from, with a different colour each
Among the newer, unconventional cards that are available for Singaporeans today (e.g. GrabPay Mastercard, YouTrip, and Transferwise card) the MCO Visa Card is probably still quite a bit less well-known, and yet we have also seen and heard quite a bit of interest about it, with its really impressive marketing of up to 5% cashback, 10% rebates on Airbnb & Expedia, and 100% cashback (you read that right) on Netflix on Spotify.
Some of the headlines on the MCO Card, you can smell the sponsored posts are just from reading the headlines…
Yes, each of these are sponsored posts (we checked) that have lots of good stuff to say about the MCO Card – but beyond the (sponsored) hype, how exactly does the MCO credit card work and is it actually any better than the usual bank credit cards available out there? Lets do a deep dive on the MCO card and find out together.
So…. What exactly is the MCO Card??
First off, the MCO Card is NOT a typical credit card. It is a mobile wallet with an attached Visa card that can be used to make payments; in essence it is very similar to the MCAs (Multi-Currency Accounts such as YouTrip, TransferWise, Revolut cards) that are all the vogue these days, for those who are familiar.
To take the comparison with MCAs another step further – the MCO Card also allows you to hold multiple currencies in your wallet, with one key difference being that while YouTrip and the like are primarily branded as foreign currency wallets , MCO Card is a mobile cryptocurrency wallet , allowing you to buy, hold, and convert between various cryptocurrencies as well as national currencies such as the Singapore Dollar.
The wallet can hold various cryptocurrencies, including well-known ones such as Bitcoin and Ethereum, and also other less less prominent ones. Importantly, MCO itself is also a cryptocurrency, that was created by Crypto.com, the company behind the MCO Card.
As we are a credit card-focused company first, we will be reviewing the use of the MCO card primarily for making payment transactions and getting cash rebate rewards as opposed to its alternative use for cryptocurrency/foreign currency speculation, a topic which has been well documented by cryptocurrency-focused sites.
5 Different MCO Card Tiers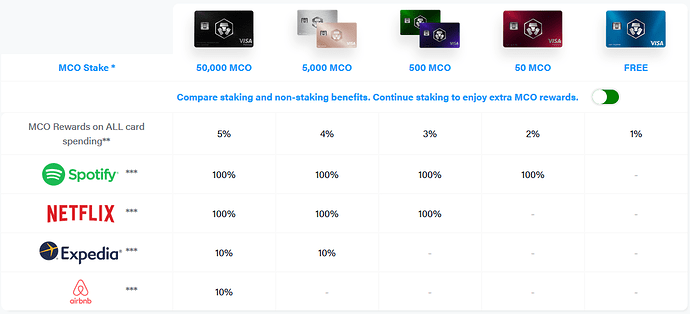 List of MCO tiers with advertised rewards (with MCO staking)
MCO Card Tiers (highest to lowest)
Obsidian Black
Frosted Rose Gold / Icy White
Royal Indigo / Jade Green
Ruby Steel
Midnight Blue
The MCO Card comes in 5 different tiers, with escalating rewards as your "MCO stake" increases. But what is the MCO stake? Simply put, it is a minimum deposit of MCO (the cryptocurrency) that you have to hold in the wallet in order to get the promised rewards. Sticking to our credit card comparisons, this is similar to the StanChart Unlimited Combo, where you can get up to 5% cashback on your Unlimited Card (instead of the regular 1.5%) IF you are willing to keep $100,000 in a linked StanChart deposit account.
As of the writing of this article in early January, the price of 1 MCO is fluctuating around USD4.30, or SGD 5.80, hence the minimum stake for the better cards range from around SGD290 to a whopping SGD290,000 for the Obsidian Black Card that gives the advertised 5% cashback reward rate.

List of MCO card tiers with rewards (without MCO staking)
If you do not hold the appropriate MCO stake, you will instead get the "non-staking" rewards rate as per the screenshot above. If you compare against the staking benefits, you will see that all the great rebate options on Netflix/Spotify/Expedia/Airbnb go away, and the MCO reward rate drops to a paltry rate of between 1-2%, nothing to shout about given that the StanChart Unlimited card already offers 1.5% cashback.
Staking = making an involuntary investment in MCO
The staking concept makes it quite hard to cleanly evaluate the value of the rewards you will get from this card because you are also "investing" in MCO when you hold it as a stake to get the card. Initial MCO stakes have to be held for at least 6 months, which means you are 'locked in' as an investor of MCO for at least that time period.
Even for those of us who are not cryptocurrency investors, you probably already know that cryptocurrencies prices tend to be very extremely volatile. I pulled the historical pricing of MCO, and you can see that it has been as high as USD 26 in Aug 2017 and as low as USD 1.70 in Dec 2018, just slightly more than a year ago.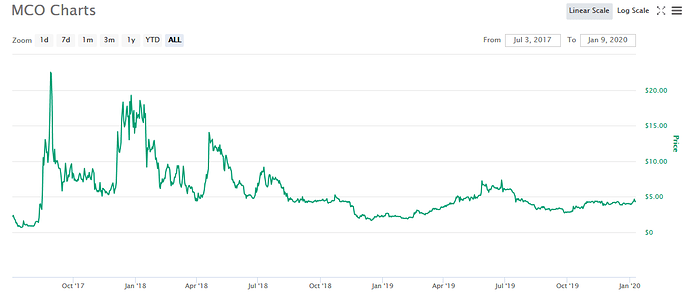 So, which MCO Card should I be considering?
1. Obsidial Black, Frosted Rose Gold, Icy White, Midnight Blue - "stay far far away"
| MCO Card | Required MCO Staking | Approx. SGD Value (at US$4.3/MCO) | MCO Reward |
| --- | --- | --- | --- |
| Obsidian Black | 50,000 | 290,000 | 5% |
| Frosted Rose Gold | 5,000 | 29,000 | 4% |
| Icy White | 5,000 | 29,000 | 4% |
| Midnight Blue | - | - | 1% |
Putting down SGD 290,000 on MCO just to get the Obsidian Black card is clearly absurdly risky unless you are currently already a seasoned crypto investor and want to go (very very) long on MCO – in this case any benefits you would get from your MCO Card is probably far outweighed by your potential cryptocurrency trading profits anyway.
We will make a similar argument for the Frosted Rose Gold/Icy White cards that involve a staking amount of 5,000 MCO/SGD 29,000 - too much risk for too little reward.
At the other end of the spectrum, the no-staking required Midnight Blue card offers a paltry 1% reward rate, which is worse than what you would get on even basic cashback cards such as the StanChart Unlimited and Amex True Cashback cards that give 1.5% cashback.
The potentially more reasonable staking options are the Jade Green/Royal Indigo (500 MCO stake) and Ruby Steel (50 MC stake) Cards. These offer relatively low staking amounts at current MCO prices – SGD 2,900 or 290 respectively, and offer reasonable rewards rate of 3% and 2%.
2. Jade Green / Royal Indigo - "additional rewards do not justify the risk"
| MCO Card | Required MCO Staking | Approx. SGD Value (at US$4.3/MCO) | MCO Reward |
| --- | --- | --- | --- |
| Royal Indigo | 500 | 2,900 | 3% |
| Jade Green | 500 | 2,900 | 3% |
Considering the Green/Indigo cards - 3% rewards rate on all spending sounds pretty good when compared to the Unlimited Card's 1.5% cashback rate. However, with an effective cashback card strategy today it is honestly not that difficult to get an overall 3-5% cashback using regular credit cards such as the UOB One Card or DBS Live Fresh.
Sticking with regular cashback credit cards also means that you do not have to worry about MCO price fluctuations based on your staking amount. MCO prices may increase and give you a nice extra payout, or it may conversely also decrease and wipe away any extra rewards you are getting from using the MCO card.
Being both avid investors as well as credit card users, our view is that investment and credit card decisions should be kept separate. If you believe that MCO prices will go up and want to make a bet on it, please go ahead and invest in it, but if you do not have such a view that it is not worth the risk and volatility to buy into MCO (500 MCO / SGD 2,900 worth of staking for the Green/Purple cards) just to get a slightly higher reward rate
3. Ruby Steel - "hmmm… might be worth considering in some circumstances"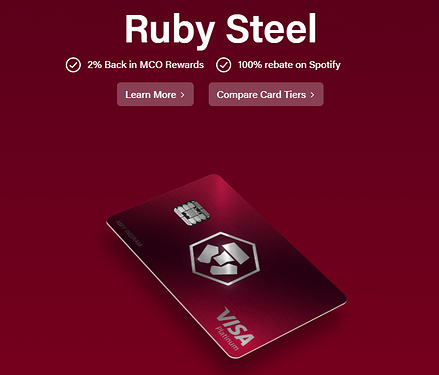 | MCO Card | Required MCO Staking | Approx. SGD Value (at US$4.3/MCO) | MCO Reward |
| --- | --- | --- | --- |
| Ruby Steel | 50 | 290 | 2% |
The Ruby Steel Card is where we can potentially see value for users who are seeking an alternative to their existing unlimited cashback cards such as the StanChart Unlimited/Amex True Cashback. With only 50 MCO (SGD 250) at stake, it offers a reasonable improvement in overall cashback rate to 2%, and also provides a 100% rebate on Spotify.
Sounds good, but are there any other hidden T&Cs?
We initially thought that there would be many more sneaky constraints/T&Cs behind these benefits, but to MCO's credit it seems like they put most of it into the MCO staking requirement already. That said, one major condition to point out is that the MCO rewards for spending on the card is given in the form of MCO Tokens (the cryptocurrency), which then have to be converted back to SGD if you prefer it in cash. This is a small extra step that has to be taken, but does not fundamentally affect the value of cash rebate you get.
For the Spotify 100% rebate, it also sounds too good to be true so there was always going to be some limitation. The maximum reward amount is capped USD 9.99/month which is the subscription cost for a single person – still a pretty decent benefit if you are an existing Spotify subscriber.
That said, a 2% reward rate is still nothing to really shout about when compared to regular cashback credit cards. Since there is no cap on the reward rate for the MCO Card, it may make sense for those who are for various reasons currently making large monthly spending on Unlimited/Amex True Cashback cards and want to increase the reward rate slightly. For most people though, you would be better off optimizing with cards such as the UOB One/DBS Live Fresh to get an even higher reward rate.
Summary
With its unique set of bonus rewards merchants (Spotify, Netflix, Expedia, Airbnb) and a mysterious-looking card that comes with fancy names and multiple colours, the MCO Visa is clearly trying to target savvy millennials and who have dabbled with cryptocurrency investments in a bid to lure them over from conventional credit cards offered by one of the boring banks (as compared to young and sexy MCO).
Supported by a whole host of sponsored posts, the MCO Cards promises to change the way that we live and spend our money, right until you realise that most of the benefits promised in these articles only apply to the higher tier cards that involve you putting in tens to hundreds of thousands of SGD worth in MCO stake.
Our recommendation is for you to stay far far away from these cards unless you already have a very good reason and want to invest in MCO. If you are considering it purely for the card's rewards (as opposed to for its cryptocurrency wallet), there is no reason to choose this over regular cashback credit cards.
---
If you would like to get the maximum rewards from your credit cards, do consider subscribing to regular updates and follow us on Facebook to stay updated on the latest tips, tricks, and hacks (like this article!) to get the most out of your credit cards
If you enjoyed this article, you may also be interested in: