Last year, we shared that there was a way for you to get a 10% cashback on your income tax expense back when Grab had a tie-up with AXS. Alas, this arrangement did not last long, resulting in us scrambling to find alternative ways to optimize the rewards from paying our taxes.
Today, we are happy to share a legit way to get back some rewards from your tax payments! This can be done via using a payment services company such as ipaymy. We have a promo code for first time users: to get a $20 off the ipaymy fees on your first transaction, type "WHATCARD20" and apply the coupon code.
What is ipaymy?
ipaymy is a fintech company that provides a service enabling you to turn your non-credit card transactions into a credit card transaction, for a fee. Similar to CardUp, they aim to disrupt the traditional methods of payments (cash or bank transfer) with the value proposition of cashflow management and eligibility for credit card rewards.
Why should I use this service?
ipaymy's services target B2B and B2C customers. It serves SME businesses that needed help with cashflow management (i.e. turning a $10,000 expense into a $10,200 expense, payable in 30 days time); a reasonable cashflow tool for business owners, especially in this Covid-19 credit crunch!
Secondly, ipaymy also serves consumers like you and I, who want to get our credit card rewards from certain transactions such as rental payment and income tax payments. For example, if I have to pay an income tax bill of S$500/month using Giro, wouldn't it be a no-brainer to use it if I could:
Delay this payment, allowing me to earn a 2% interest from my DBS Multiplier Account for an additional month
Receive S$20 back (or 1.33% cashback)
Every dollar must be optimized!
What are the limitations to this service?
The main drawback of this is the additional hassle to set up a new payment channel (vs Giro payment); to some, this effort is not worth the 1%+ net cashback (because you will need to offset the UOB One card's cashback with ipaymy's admin fee).
Another drawback is that you will have to play by the rules of the UOB one card (i.e. make transactions in S$500, S$1000, S$2000 buckets continuously over a period of 3 months).
How does it work?
We have a very simple diagram below that lays out exactly how ipaymy is superior to paying for your income tax via Giro: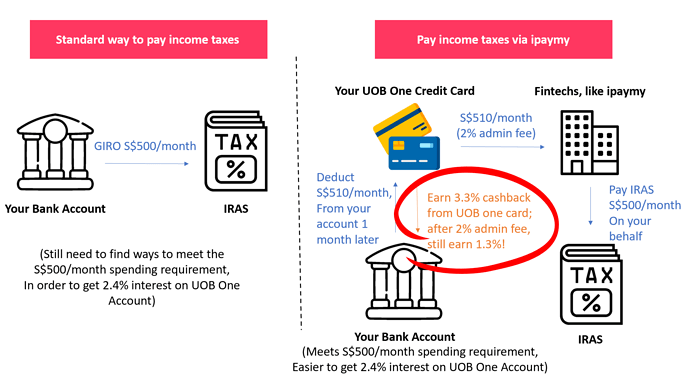 While technically ipaymy works across all credit cards, our house view is that the best credit card for this to work is the UOB One card. If you use a card that provides air miles as a reward instead, you are essentially buying miles (you are paying 2% admin fees to get miles).
Summary
If you are willing to take the hassle of setting up your ipaymy account for your income taxes, you will most likely be able to get cashback of 1% via the UOB One card (after ipaymy's admin fees) as well as achieve a better cashflow cycle for your personal finances. We have also gone into the platform to see how it works; screenshots are provided below. Do take note to use the promo code "WHATCARD20" on your first Visa / Mastercard transaction upon signing up to be eligible for a discount of $20 discount on the fees.
Interested to set up ipaymy to receive cashback from your IRAS tax payments? Check out this second article that goes more in-depth on how to set up ipaymy and also answer some common questions
---
If you would like to get the maximum rewards from your credit cards, do consider integrating WhatCard into your lifestyle to help you optimize your credit card rewards, and follow us on Facebook to stay updated on the latest tips, tricks, and hacks (like this article!) to get the most out of your credit cards
If you enjoyed this article, you may also be interested in: