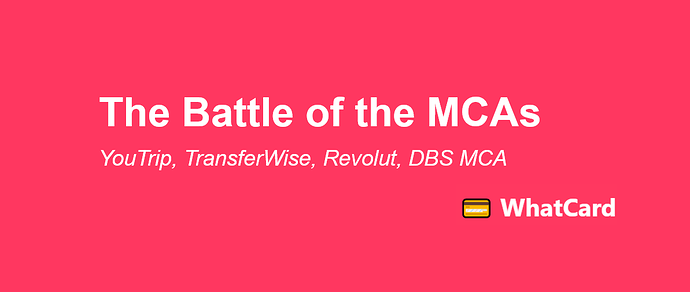 Singapore is one of the most well-travelled countries globally, with Visa research showing that an average Singaporean traveller takes more than four leisure trips a year, compared to the global average of 2.5. While the numbers are huge, this is probably no surprise given that we are a tiny country surrounded by relatively lower cost travel destinations that make for great vacation getaways!
Given this, Singaporeans often need to keep and transact in foreign currencies, whether that is by changing money at a moneychanger at The Arcade or simply swiping your credit cards while travelling overseas. However these all have costs, whether its the time taken to go down to Raffles Place to get a good exchange rate or the foreign currency charges for using your credit card overseas.
Starting last year, a new option has emerged for travelers in the form of Multi-Currency Accounts (MCAs). MCAs allow you to conveniently hold and manage different foreign currencies via a mobile app and also easily spend in foreign currencies by giving you a physical debit card linked to the mobile wallet.
Note: We are using "MCA" as an umbrella term for the various multi-currency products available out there, this encompasses different terms used such as Multi-currency Travel Wallet, Multi-Currency Account, Borderless Account, etc.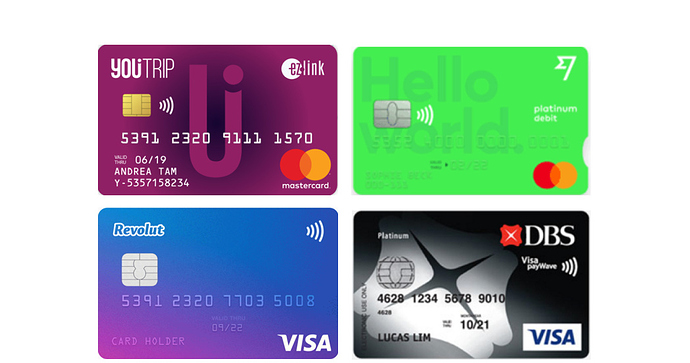 Clockwise from top left: YouTrip, TransferWise, DBS, and Revolut MCA products
YouTrip was the first major MCA player in Singapore, but we have seen many other alternatives pop up recently, from global FinTech players such as TransferWise and Revolut, and even local banks like DBS's Multi-Currency Account with linked debit card for overseas spending.
With so many different options, how do you know which one to choose? We take a look at these 4 most popular MCAs across a few aspects that are most relevant to regular Singaporean travelers to figure out which MCA would work best for you!
Exchange rate and Conversion Fees
Currencies covered
Withdrawal fees
Revolut offers its MCA in three different tiers, starting from a free Standard account to a Metal one that costs $19.99/month. For our comparisons we will use the free Standard one as a reference against the other MCAs which are free to own.
We have previously written a more in-depth article comparing the use of Cash vs Credit Cards vs MCAs for those who are interested to find out more - it also comes with a more detailed description of how MCAs work. TL;DR: MCAs are usually a better and cheaper option that either cash or credits cards.
So, how do YouTrip, TransferWise, Revolut & DBS MCA differ?
1. Exchange Rates and Conversion Fees
The exchange rate and any currency conversion fees are clearly the most important issue when it comes to evaluating any MCA product so we will start with this:
| MCA Product | Exchange Rate Used for Transactions | Additional Fees |
| --- | --- | --- |
| YouTrip | Mid-market rate | None |
| TransferWise | Mid-market rate | 0.35-2.2% conversion fees depending on currency |
| Revolut | Mid-market rate | Multiple, read below for more details |
| DBS MCA | DBS forex rates | DBS forex spreads have in-built fees of ~1% |
For starters, YouTrip, TransferWise and Revolut each offer currency conversions at the real-time Mid-Market Rate, which the mid-point between BUY and SELL rates that you might see at a local moneychanger or bank. This is basically be the "best case" exchange rates that you find when you check online at Google/Yahoo Finance/XE.
On the other hand, DBS offers currency conversions at their daily updated forex rates, where as you can see from below screenshot there is already a built in difference between the Buying and Selling rates (similar to moneychangers) that is usually somewhere around 1% worse than the mid-market rate.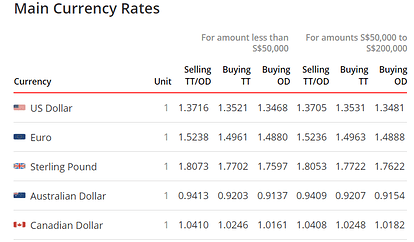 Screenshot of DBS daily published forex rates
Quite surprisingly, while TransferWise and Revolut each launched MCA products marketed to help people save on bank charges when transacting foreign currencies, they each also have some fees to take note of. TransferWise charges a fee of between 0.35-2.2% for currency conversions, depending on which currency pair you are looking at. They shared some common SGD currency pairs on their website: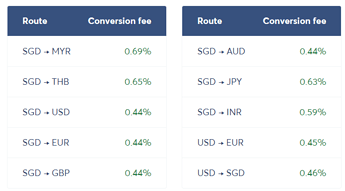 Conversion fees listed on TransferWise website
Revolut is the messiest one with several layers of fees to take note of… As a starting point they offer currency conversions without any fees, but with 3 major exceptions that you need to take note of:
First, any transactions above SGD 9,000 per 30 day period will be charged a fee of 0.5%. This should not be a problem if you are using it primarily for personal travel, but might be an issue if you are planning to use the MCA as a way to speculate/invest in currencies and hence need to transact in large volumes.
Second, there is a 1% fee for two specific currencies, the Thai Baht and the Ukrainian Hryvnia. I doubt many Singaporean travelers would be affected by the Hryvnia (I didn't even know what it was called before writing this ), but the fees on Thai Baht is probably hard to avoid for many Singaporeans who can't live with out their weekend shopping/massage trips to Bangkok.
Third, during the weekends in LONDON TIME, there is an additional 0.5-1% markup, with 0.5% for "major currencies" (such as the SGD, USD, GBP, EUR, AUD, JPY, HKD), and 1% for other less used currencies.
We get that Revolut is a UK-based company and hence levies fees based on their timezone, but this would just be such a big pain to keep track of if you plan to avoid fees while using the card on a regular basis. For the weekend of Friday past midnight till Sunday midnight London Time, you would have to adjust accordingly based on which country you are in when making the transactions; e.g. for Singapore that means from 8am Saturday till 8am Monday.
WhatCard Verdict: When it comes to exchange rates, YouTrip clearly stands out by having the most straightforward and lowest fees and rates. While each of the other services has its own set of fees and conditions, YouTrip simply charges the mid-market rate with no additional caveats, so you do not need to worry about any fees as compared to when using the other products.
If you are wondering why they are able to go without fees and still earn a profit, YouTrip states on their FAQs that instead earn their profit from transaction fees charged to the merchant/stores, at no additional charge to users. We had also previously written about how these merchant fees work (from a credit card user perspective)
Our own view is that this difference came about as YouTrip was launched first and foremost as an MCA targeting travelers, and hence it was important for them to offer the most competitive exchange rates with minimal/no fees. On the other hand, TransferWise and Revolut already have really successful online remittance services that traditionally made profit through transaction and currency conversion fees; albeit at much lower rates than banks - hence when they launched their MCA products they naturally fell back on making their money through currency conversion fees
2. Currencies Covered
| MCA Product | Hold and Manage | Transact in |
| --- | --- | --- |
| YouTrip | 10 currencies - SGD, USD, EUR, GBP, JPY, HKD, AUD, NZD, CHF, SEK | 150 currencies |
| TransferWise | 28 currencies - SGD, USD, MYR, HKD, AUD, NZD, EUR, GBP, JPY, CAD, THB and others | 150 currencies |
| Revolut | 50+ currencies - SGD, USD, THB, CAD, AUD, HKD, GBP, EUR, JPY, NZD and others | 150 currencies |
| DBS MCA | 13 currencies - SGD, USD, HKD , AUD, NZD, EUR, GBP, JPY, CAD, THB, RMB, NOK, SEK | 12 currencies (RMB excluded) |
In terms of currencies covered, the 4 players work in similar ways. There are a set of predetermined currencies that you can freely hold and manage at any time using the app. For example, DBS MCA allows you to hold SGD, USD, and HKD, amongst 13 selected currencies. This means that at any time using the app you can hold and convert between any of these 13 currencies, allowing you to make transactions whenever you think the rates are most favourable. Think of it as a virtual moneychanger you can access at any time.
In addition to being able to convert and hold a limited set of currencies, for YouTrip, Revolut and TransferWise you can also freely spend (using your linked debit card) across any of 150 currencies, with them charging you the real-time mid-market rate (plus any applicable fees for Revolut and TransferWise) - similar to what happens when you swipe a Singapore credit card overseas.
The DBS MCA is significantly more limited, only allowing you to spend within the 12 selected currencies. You can also store and hold RMB in the DBS wallet (none of the other MCA products support RMB), but unfortunately cannot spend it using the card.
WhatCard Verdict: TransferWise clearly wins here, offering 50+ currencies that you can hold and exchange between as compared to only 10+ for the others. Especially relevant for Singaporeans, TransferWise is also the only one that offers the Malaysian Ringitt as one of it's selected currencies, allowing you to load up on Ringitt in advance whenever rates are good in preparation for your weekend JB shopping trips

3. Withdrawal Fees
In many countries and especially developing ones, card acceptance is not that high yet and usually restricted to more established outlets, hence there is always still a need to have some amount of local currency in cash form while travelling. Thankfully, all the MCAs allow you to withdraw foreign currency at overseas ATMs, with some fees:
| MCA Product | ATM Cash Withdrawal Fee Policy | Fees for a $300 withdrawal | Fees for a $1,000 withdrawal |
| --- | --- | --- | --- |
| YouTrip | $5 per transaction | $5 | $5 |
| TransferWise | First $350 per 30 days free, 2% charge after that | None | $13 |
| Revolut | First $350 per month free, 2% charge after that | None | $13 |
| DBS MCA | $7 per transaction | $7 | $7 |
For withdrawing cash, the MCAs are split into two camps: YouTrip and DBS have flat ATM withdrawal fees of $5 and $7 per transaction respective, while Revolut and TransferWise have the same policy of free withdrawal of up to SGD$350 worth a month, with a 2% fee levied after that.
Since YouTrip/DBS have a flat withdrawal fee per transaction, they really lose out if you are making small withdrawals, but conversely work out better if you are planning to use them for large withdrawals.
WhatCard Verdict: Since you would already have an MCA debit card and presumably use the card directly to pay whenever you have the opportunity to, any cash withdrawn from an ATM should be a relatively smaller amount and only for smaller transactions (e.g. paying for something at a street market or small food store). Hence, we really like TransferWise and Revolut limited free withdrawals as SGD$350 should already be more than sufficient for many shorter trips.
The MCA Era is Upon Us
For Singaporeans who have always had to exchange and carry large amounts of currency while travelling overseas, the emergence of Multi-Currency Accounts with attached debit cards has been a huge boon, making it easier and cheaper to spend while overseas.
We ourselves have been using various MCA products for some months now for our personal travels, and can personally attest to the greatly increased convenience and also exchange rate savings from using an MCA against traditional credit cards.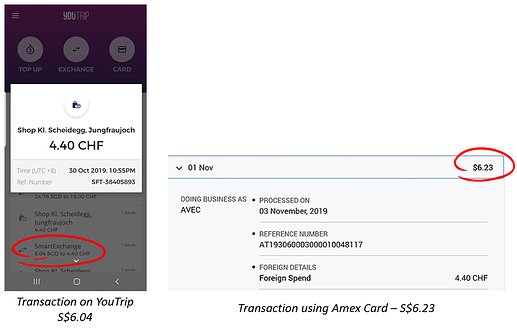 Sample from using an MCA vs Credit Card while travelling in Europe
As users, it can only be a good thing that competition in the MCA space is starting to heat up rapidly (and with really strong, well-funded players as well) - this can only mean more benefits and rewards for us! Just think back to those good ol' days when Grab and Uber were still going head-to-head and discount vouchers were dropping from the sky every week …
---
If you are interested to sign up for any of the above MCA products, you can use our links and promo codes below for YouTrip and Revolut for more freebies (we unfortunately do not have anything for TransferWise/DBS MCA). We run WhatCard as a passion project, and affiliate revenue helps us to keep the site running and keep bringing new content to you.

YouTrip (mobile-only), use the promo code WHATCARD5 and get $5 cash credit in your account when you start.
Revolut. From now till 30th June 2020, get $5 back by doing the following:
a) Sign up through the code
b) Complete identity verification
c) Top up minimum amount into the account S$20
d) Order a physical card
---
For limited period only from 20-31 Dec, SingSaver is running a one-off $300 cash (via PayNow) sign up promotion for new-to-bank Citibank cardholders - one of the highest amounts that you will see for such promotions. If you are not currently holding a Citibank card, there is no better time to get one while the promo lasts!! Read more about the promotion HERE


If you would like to get the maximum rewards from your credit cards, do consider subscribing to regular updates and follow us on Facebook to stay updated on the latest tips, tricks, and hacks (like this article!) to get the most out of your credit cards
If you enjoyed this article, you may also be interested in: