For all our readers who had applied for the X Card during when it launched with its massive 100,000 miles sign up bonus, the wait is finally over as we have just confirmed that the additional 70,000 bonus miles from the $6,000 spend requirement have FINALLY been awarded as of this morning.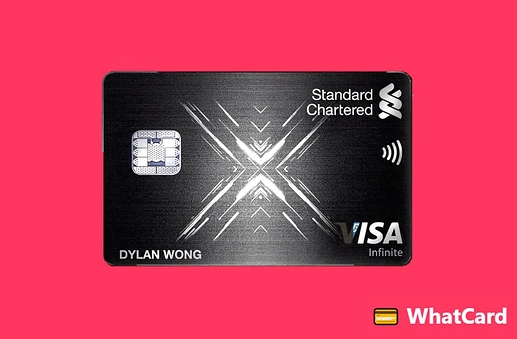 If you have always wondered if the X Card promo is secretly a scam and whether you would actually get all the promised miles, now is the time to login to your SC Online Banking and confirm it with your own eyes.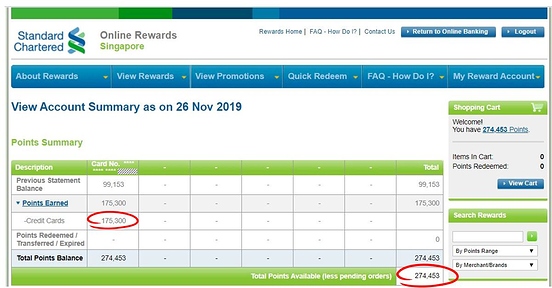 As you can see from the screenshot above from my own account as of today, there is a new "Points Earned" of 175,000 awarded today, giving me a total of 274,453 points. At the exchange rate of 2.5 points to 1.0 Krisflyer miles , that means my points are currently worth a total of 109,781 miles. If you are like me – seeing the points in my account is a huge relief, and it means that its time to start planning for my next redemption flight!

Redeeming your miles
You will be able to redeem your miles to your Krisflyer account (or other preferred frequent flyer program) via the desktop SC internet banking interface, where you will be able to select the preferential Visa Infinite Cardholder rates as the X Card nicely happens to be a VI Card.
However, do note that because the redemption system only takes points in buckets of 25,000 points (or 10,000 miles), to avoid leaving behind 'orphan miles' you should try to get your points balance to just above 275,000 , allowing you to make a withdrawal for exactly 110,000 miles to minimize the redemption fee of $26.75 per transaction.
If you check the StanChart rewards site, you will also see a separate redemption option of 2,500 points for 1,000 miles, unfortunately that is capped at a max of 247,500 points per redemption, which is insufficient to get all your points out in a single transaction
What happens after I redeem my miles?
Once you have successfully redeemed your miles from the card, its time to leave it to collect dust in a drawer as the X Card is honestly not that useful as a daily use card. The T&Cs of the promotion did say that you should hold on to the card for at least 6 months ( till around Feb 2020 for those who signed up during the initial launch period in July ) so I wouldn't cancel it yet to avoid any unnecessary complications with StanChart that may put all your bonus miles at jeopardy.
However, since we have all already paid the hefty $695 annual fee, I don't see any harm in holding on to the card at least till middle of next year before the next annual fee cycle to see if StanChart makes any major improvements or new promotions that make the card worth using – something definitely plausible given that I don't think many people are actually currently using this card on a daily basis post the initial promotional period.
For those of you who did get your bonus miles, its now time to start planning for your next trip! 110,000 miles is already sufficient to get you on a return SQ Business Class flight to nearby Asian locations such as Japan or even New Zealand (with some additional miles required), so its time to go enjoy

---
If you would like to get the maximum rewards from your credit cards, do consider subscribing to our upcoming newsletter and follow us on Facebook to stay updated on the latest tips, tricks, and hacks to get the most out of your credit cards.
If you enjoyed this article, you may also be interested in: