Edit: As of 16 Dec AXS has stopped accepting GrabPay and GPMC as valid payment methods via their mobile app, read our full update on the latest situation HERE
From our experience running the WhatCard credit card consultation and community forum over the last two months - without fail the most popular question posed to us has been around which best credit card to use for unavoidable monthly bills such as telephone bills, utility bills, insurance, and tax payments.
This has always been a tough one to address because most of these organisations don't accept credit card payments, instead making you pay your bills either via AXS/SAM machines or internet banking bill payment. Even if they do accept credit cards, payments made to government entities such as HDB, LTA and IRAS, are typically excluded from all credit card rewards.
However, just a few days ago the AXS mobile app had a small but very important update that is a major gamechanger for anyone who has previously made all their usual bill payments via GIRO/AXS/Online banking bill payment that do not give any credit card rewards - the AXS app now accepts GrabPay as a valid payment mode.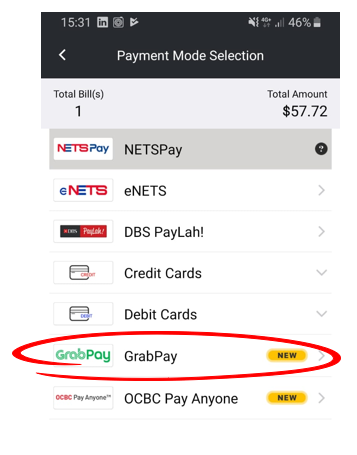 Screenshot from AXS app payment mode selection screen
For anyone who uses credit cards and Grab, you will know that GrabPay has been a blessing for getting additional rewards from your credit cards. Certain credit cards offer bonus miles and cashback rewards on GrabPay top up, enabling you to get up to 10% cashback or bonus miles by topping up GrabPay with your credit card and then using GrabPay to make payment at the store. The addition of GrabPay as a payment method for AXS opens up an opportunity to get bonus credit card rewards on all the usual AXS payment organisations like IRAS, Singtel, HDB, SP Services, Town Councils.
So what can you pay with GrabPay using the AXS mobile app?
After some of our own testing as well as clarifications with AXS customer service, we can confirm that GrabPay can now be used across all AXS payment organizations EXCEPT credit card and loan payments. Not sure why loan payments are excluded, but credit card bill payment exclusion is to be expected otherwise it would be too easy to abuse this by topping up GrabPay using your credit card and then in turn using GrabPay (via AXS) to pay that same credit card bill.
Notwithstanding these exclusions, GrabPay via AXS can be used for payment to many of Singapore's largest billing organisations:
Internet/Telephone bills: Singtel, Starhub, M1
Electricity bills: SP, Keppel Electric, iSwitch, Geneco, Sembcorp power, etc.
Insurance: AIA, Great Eastern, Prudential, Aviva, AXA, etc.
Government-related: taxes, season parking, polytechnic school fees
Public hospitals bills: NUH, KK Hospital, Khoo Teck Puat, Tan Tock Seng, etc.
Fines: LTA, Traffice Police, NEA, etc.
Others

Scoot air tickets
Condo management fees
Country club membership fees
Private carpark season parking
DHL, UPS, and more…
So how do you get the best credit card rewards for your bills?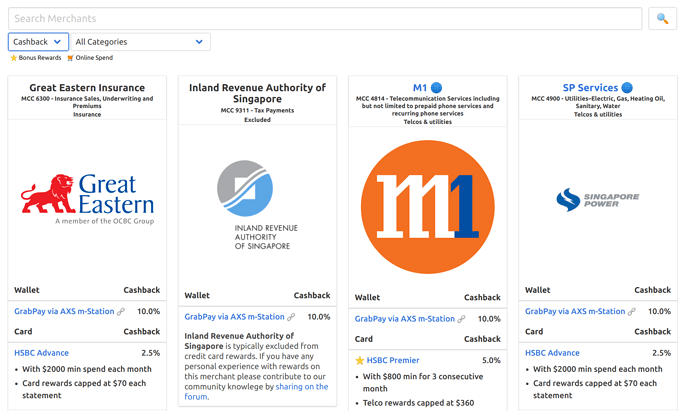 Based on this change, we have already updated WhatCard to accurately reflect this new opportunity to get rewards on AXS payment merchants that were previously tagged as 'excluded', so our users can continue to use the WhatCard search engine as per usual to check for the best payment option by merchant.
For Cashback Cards:
For those who prefer cashback, the best approach that gives up to 10% cashback is to use the UOB One Card, taking advantage of the UOB x Grab promotion that gives additional 5% cashback on Grab (including GrabPay topup). We have a separate detailed article discussing how this would work, but the short story is that the addition of AXS as another way to spend GrabPay credits makes it even easier to achieve the minimum monthly spending of $500/$1000/$2000 while at the same time getting up to 10% cashback on your telephone, utilities, and insurance bills.
For Airline Miles Cards:
For miles chasers, unfortunately the best cards that used to give 4mpd (miles per dollar spent) on GrabPay topups in the past have now stopped doing so, for example the DBS Womans World Mastercard stopped awarding from December and Citi Rewards seems to be on its way out with multiple users reporting to us that it longer gives the bonus miles.
If you are seeking bonus miles, there are still two good options. The Amex Krisflyer card is a decent option that gives 3.1mpd on up to $200/month spend on Grab + GrabPay topup, and 1.1mpd for all other spend. While this is a rather low monthly cap, the Amex Krisflyer can actually be a good card used specifically for your monthly bill payments because it has an easily waivable annual fee, generous sign up promotion (5,000 miles on first spend if this is your first Amex card), and the miles credit automatically to your Krisflyer account monthly so there is no need to pay the ~$25 transfer fee that others card charge for miles withdrawal nor worry about having a small amount of 'orphan miles' leftover on this card after withdrawal since there is no minimum number of miles for transfer.
Otherwise, for bigger spenders the Maybank Horizon Visa card gives a similarly high 3.2mpd on Grab as long as you spend a minimum of $300 on the card monthly, but with no cap on the bonus rate of 3.2mpd. However note that the Maybank miles (TREATS points) expire after 1 year so this card works best if you have large amounts of spending per month, otherwise the Amex Krisflyer would probably be better for smaller spenders, with no minimum monthly spend requirement.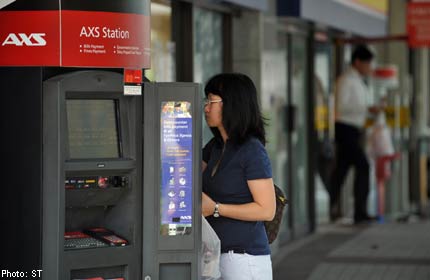 And you can now make all your bill payments from the comfort of your home
instead of having to find and stand infront of an AXS machine. Its a win-win!
Conclusion
AXS allowing GrabPay as a new payment method definitely opens up a new way to get credit card rewards on many forms of monthly billing. Having said that, some additional points that you should take note of:
Grab Rewards points will unfortunately not be awarded for all AXS transactions. This means you don't get double benefits (credit card rewards + Grab Rewards points) when paying with GrabPay on AXS
For those of you thinking of going all out on GrabPay, there is an annual spending limit of $5,000 per year for unverified accounts and $30,000 per year for verified accounts, which works out to a maximum spend of $2,500/month.
From all the changes we have seen over the past year as GrabPay has become more accepted everywhere, it is almost guaranteed that credit card rewards for GrabPay top-up will keep going downhill - opportunities like getting up to 10% cashback using UOB One card with AXS will probably not last forever so make sure to take advantage of it while it lasts!
If you'll like to get the maximum rewards from your credit cards, do consider integrating WhatCard into your lifestyle to help you optimize your credit card rewards, and follow us on Facebook to stay updated on the latest tips, tricks, and hacks (like this article!) to get the most out of your credit cards
Your WhatCard Team
A huge hat tip to @Sherman_Chua for bringing to our attention this latest update of the AXS mobile app that enabled us to come up with these insights to be shared with everyone. Please feel free to share with us if you come across any interesting developments/updates such as these that could help everyone in the community get even more out of our credit cards!
---
If you would like to get the maximum rewards from your credit cards, do consider subscribing to our upcoming newsletter and follow us on Facebook to stay updated on the latest tips, tricks, and hacks to get the most out of your credit cards.
If you enjoyed this article, you may also be interested in:
---