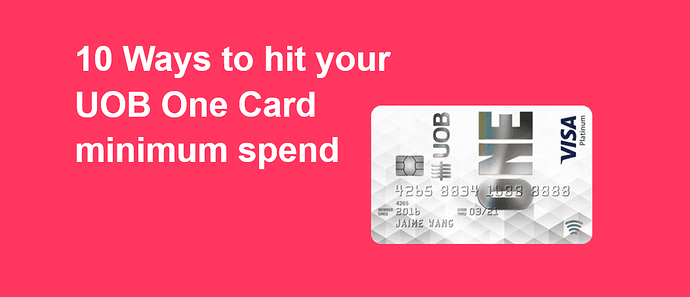 The UOB One card is one of Singapore's most popular cashback cards, and used by many of our readers (you told us in the WhatCard survey

). However, as the UOB One card awards a flat quarterly cashback based on hitting minimum spend amounts, it is very important to consistently hit the minimum spend each month to maximize your cashback rate .
For those who are unfamiliar with how the UOB One card works, you can read more in our detailed review of the card
It's a situation that I'm sure has occurred to many of our readers: you come to the end of a month having spent somewhat less than usual and end up slightly short of your minimum spending tier – resulting in you going around making some random purchases just to hit the minimum spend before the month ends.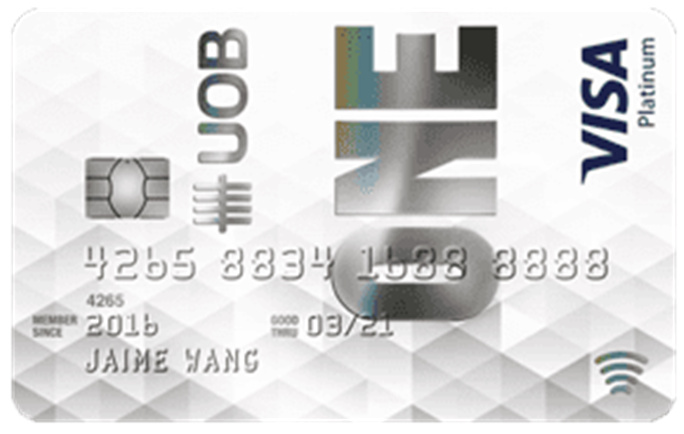 The UOB One Card is one of Singapore's most popular cashback cards
To help everyone who has ever faced these issues, we put together a list of strategies that we have seen (many of which we also personally use) that work well in helping to hitting the minimum spend requirements without making extra unnecessary spending. Share in the comments below if you have any other suggestions!
List of UOB One Card Cashback Tiers for Reference
| Minimum Spending Tier | Flat Quarterly Rebate | Maximum Cashback of Up To |
| --- | --- | --- |
| $500-$999 per month | $50 | 3.33% |
| $1,000-$1,999 per month | $100 | 3.33% |
| $2,000 and above per month | $300 | 5% |
Top up your GrabPay Wallet and spend the credits using GrabPay or via connected services

The ongoing UOB x Grab promotion that gives 5% extra cashback for all spending on Grab (including GrabPay wallet topups) makes topping up GrabPay by far the best way to make some additional spending required to hit your minimum spend, and get extra cashback at the same time!
As Grab gradually adds ever more ways to spend your GrabPay wallet balances, these days it has become extremely easy to spend your credits, even if you don't actually take any Grab rides. Some ways that you can spend your Grab wallet balance:
Pay for your meals. GrabPay is now directly accepted at many local eating places and food stores, and you should definitely use them where available instead of paying by cash. In addition, FavePay also accepts GrabPay as a payment method so you can also use your GrabPay balances at any store that accepts FavePay


The GrabPay QR code you can find at many outlets these days

Pay your bills (e.g. phone bill, utility bill, insurance premium, income tax) using the AXS mobile app. If you haven't already started to do so, using GrabPay to pay for all your AXS bills can be a nifty way to put some regular monthly spending on your credit cards. Just paying for regular bills like your phone and utility bills can add up to a few hundred extra spending each month.

Use the GrabPay Mastercard (GPMC) (if available) for your online shopping. Grab has been rolling out the virtual GPMC in a beta launch in waves to randomly selected Grab users. If you are one of the lucky ones to already have the GPMC, you can use it to make payments at any online place that accepts Mastercard, including for YouTrip topups - giving you an opportunity to get credit card rewards on your YouTrip topups.

Share the credits with friends/spouse/family members by transferring credits to them. GrabPay credits can be freely transferred between accounts, so you can topup your card and transfer credits to others in exchange for cash if they are willing. Another effective strategy we have seen is to always try to offer GrabPay credits to your friends when transferring money (e.g. when they paid first for a shared meal) instead of using PayNow/Paylah.
Purchase vouchers to prepay for future expenses
Buying vouchers with your credit card at places you normally already spend money at is a really common way to bring some spending forward, storing the value in the form of vouchers that you can then spend in the next month. Just take note that if you are accumulating an ever-growing pile of vouchers every month then you might want to re-evaluate your credit card strategy as you are likely aiming for a minimum spend that is higher than what you can comfortably spend on average!
Buy NTUC Vouchers . Since NTUC vouchers can be purchased using credit cards and they have branches all over Singapore, this is a good way to have the value stored in another medium. We can also vouch that if you thick-skinned enough, NTUC vouchers can be used to replace the monthly allowance that you give to your parents


NTUC Vouchers can be easily spent and so make a good store of value

Buy IKEA Gift Cards . IKEA gift cards are another way of storing value for the future, particularly useful for those who plan to purchase some furniture from IKEA in the near future. The gift cards can be used at IKEA restaurant as well if you just have a small amount to spend.

Load up on Lazada Gift Cards . Lazada gift cards can be purchased in $10, $50 or $100 denominations. Since Lazada offers a huge selection of items and products sold on Lazada are usually cheaper than retail stores, loading up on some Lazada gift cards might not be a bad idea.

Store value on other merchant digital wallets. While many of the major digital wallets such as Dash are usually excluded from credit card rewards, you can often still get valid credit card spending when topping up merchant-specific wallets. For example, you could top up your Starbucks card in advance if you are just very slightly short of your minimum spend.
Other strategies
Use CardUp to make some large payments. This might not be suitable if you are just $50 or $100 short of your minimum spend, but can help if you want to gun for a completely higher tier. CardUp lets you use your credit cards to make payment to places that typically don't accept credit cards, such as for car loans and helper salaries. But it does come with a fee (1.9-2.6%) charged so you will have to carefully evaluate if it's worth it for yourself.

As a last desperate measure… ask your friends/family/colleagues out for a meal or drinks and offer to pay first (with your credit card). This can work quite well as long as you don't do it too often to be suspicious AND there are no other credit card-obsessed optimisers in the group that will always fight to pay the bill with their. If you do have such friends - it's time to stop going out with them and find new buddies instead
These are just some of the ideas based on our own personal experiences as well as some that we have heard about from others. If you have been using any other effective approaches please share in the comments below to help out others in the community!
---
If you would like to get the maximum rewards from your credit cards, do consider subscribing to our upcoming newsletter and follow us on Facebook to stay updated on the latest tips, tricks, and hacks to get the most out of your credit cards.
If you enjoyed this article, you may also be interested in: