WhatCard in August: Growing our user engagement
Between us 3 co-founders of WhatCard, August was always planned to be a slightly lower-key (in terms of development) month for us, with each of us having significant periods of absences this month due to extended personal holidays and other commitments.
As a result, we had not planned to complete major feature releases over this past month, but instead focused on stabilizing our rewards/credit card comparison tool and growing engagement across both our tool and our community forum/blog site while continuing to fix any further issues/errors as we prepare for formal launch of WhatCard sometime in the coming 1-2 months - remember we are still a beta phase product today!
Having said all of that, August was still another solid month for WhatCard, with consistent traffic growth, some functionality improvements, as well work on some cool unreleased new features that our users can look forward to seeing in September.
Key Stats for August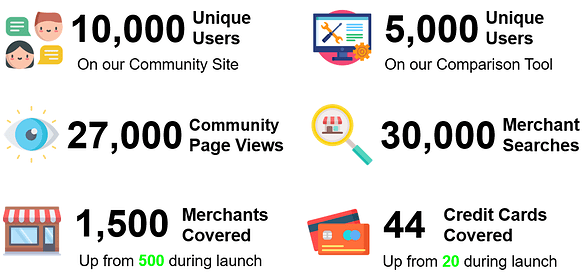 Glad to see that while we took some time off, our community of users and supporters of WhatCard continues to grow organically in spite of our continued absence of marketing spend. What we especially noticed was a significant increase in user engagement in August as compared to previous months, with big jumps in both the number of merchant searches and blog page views per unique user, indicating to us that our users are increasingly making use of WhatCard resources in their daily lives.
We have also been gradually increasing the number of merchants and credit cards covered by our rewards comparison tool based on actual user activity data - adding new merchants that users are searching for and new credit cards based on direct user suggestions to achieve our goal of meeting more than 95% of all search queries - one of the key stats we aim to achieve before formally launching WhatCard, with good news that we are finally getting very close to that threshold already.
New Developments in August

One key feature that we added in August is the function to calculate actual miles awarded based on different spend amounts and miles credit cards. We did this to address a relatively less well-known peculiarity surrounding miles cards - that different cards round down your spending differently when awarding rewards points, resulting in an effective MPD (Mile Per Dollar spent) rate that is different from the advertised rate (especially prominent for small spend amounts of <$30 or so). With this new feature added, WhatCard users can see the exact number of miles they will get from spending $XX at a certain merchant.
Those interested in learning the finer details of how exactly this rounding works can read this article by the Milelion for more information.
In the broader Singapore credit card market, two key developments occurred that we had reported on are worth pointing out here in case you are still unaware of these potentially useful changes:
AXS updated its mobile app to now accept GrabPay as a valid payment mode, creating an avenue for getting credit card rewards from paying for your regular bills (e.g. telephone, utilities, insurance, and even IRAS taxes). In combination with the UOB One Card, this offers the potential to get up to 10% cashback on all these tricky monthly bills which are often excluded from credit card rewards. If you are not a cashback fan, this development still offers you a way to get miles on payments such as tax payments to IRAS that are typically excluded from all credit card rewards.

OCBC launched the 90°N Card, its first mass market miles card that competes directly against the other entry-level miles rewards cards such as the DBS Altitude, UOB PRIV Miles, Citi PremierMiles, and Amex Krisflyer. While the base reward rates of the 90°N Card are similar to its competition, the promotional launch rates (that last till Feb 2020) are pretty attractive, especially the market-leading 4 MPD rate on overseas spending and 8 MPD on hotel bookings via Agoda, Expedia, and Airbnb amongst others. Definitely worth checking out for those looking for a one-size-fits-all miles card to pair with your OCBC 360 account.
Web Coverage
In August, we continued to actively engage with the personal finance community in Singapore, again being featured by various small and large blogs/sites. In particular, we were delighted to be spotlighted by Dollars & Sense (D&S) in an article discussing the relevance of MCC codes to credit card rewards. D&S is one of of Singapore's most established and trusted personal financial media sites that we personally have come to trust for always having insightful and objective financial news, and this article really helps to establish WhatCard as a legitimate and trusted source of information in the community.
As part of expanding our online presence and distributing our articles to a wider audience, we are also excited to now be included as a contributing writer to the prominent personal financial news aggregator TheFinance.sg. TheFinance.sg aggregates posts from a wide variety of sites, both individual amateur blogs as well as larger professionally run sites, and is a fantastic one-stop resource with thoughtful content covering all facets of personal finance - perfect for discovering new useful sites/blog/resources that you may not otherwise come across.
Looking Ahead
We already have some plans in the works for September - most excitingly the development of a credit card recommendation engine leveraging on our experience of having run our free WhatCard 1-1 Credit Card Consultation Service (now changed to a waitlist) over the past 2 months. Drawing from our learnings, we are currently developing a scalable tool that can provide our users with personalised, objective recommendations on which credit cards give the best rewards based on their lifestyle and spending patterns.
In response to community feedback, we are also putting additional effort into writing longer, more thoughtful and insightful blog articles to share detailed analyses and strategies with our users to continue growing as a trusted resource in the Singapore credit card space.
If you have any feedback or suggestions for where we should be spending our limited time (since we all still have full-time work/study commitments), please let us know so that we can focus our time and energy on developing what would be most useful for our users!
Your WhatCard Team

If you would like to get the maximum rewards from your credit cards, do consider integrating WhatCard into your lifestyle to help you optimize your credit card rewards, and follow us on Facebook to stay updated on the latest tips, tricks, and hacks to get the most out of your credit cards
---
If you enjoyed this article, you may also be interested in: