TLDR; Since the X Card launched, we have been getting multiple questions from our readers about whether their miles on the X card can be redeemed to Krisflyer, hence decided to write this as a PSA of sorts. Yes, you can withdraw the miles to Krisflyer - just login to SC mobile banking using a web browser rather than the mobile app
Back in end-July, Standard Chartered launched its newest credit card targeting affluent millenials with a huge 100,000 miles signup bonus that was a great windfall (milefall?) for many credit card users who were able to meet the main requirement of spending $6,000 in the first 60 days after card approval and willing to pay the $695 annual fee, still a really great deal overall
However, due to unexpectedly large interest in this card (who wouldn't be with such an amazing sign up bonus?), the bonus promotion was cut to 60,000 miles after the first week, and currently it seems that they have temporarily stopped accepting applications for the card and have changed it to a waitlist instead. This is probably for them to reassess the costs of the sign up promotion and make some changes before relaunching applications again.

It was fun while it lasted, but we are guessing it is going to be re-launched with a much poorer sign up bonus now that they have hit their sales targets
Redeeming your miles to Krisflyer
We had many friends, family, and WhatCard readers who did manage to get the card in those heady few days where the 100,000 miles promotion was ongoing, and they have been happily spending on their credit cards to hit the spend requirements, and some have now started to look forward to withdrawing their miles. With this came a question that has been posed to us many times…
"Eh, the X card bonus miles cannot be withdrawn to Krisflyer is it??? Don't see it as a miles redemption partner on the app leh"
In the interest of any of our readers who may have similar question with the X card, we are here to reassure you (in case you didn't read the title) that yes, you can withdraw your X Card miles to the Krisflyer program
The issue here stems from the fact that if you check on the SC mobile app, Singapore Airlines/Krisflyer is NOT listed as a redemption partner, while other airlines loyalty programs such as Emirates Skyward, Etihad Guest, Qantas Frequent Flyer are readily listed. We would include a screenshot here of the app interface but unfortunately the app does not allow screenshots due to "security", but you can check for yourself.
However, if you instead login to your SC mobile banking via a desktop interface and search for "Singapore Airlines", you will see the option right there, as per the screenshot below from my own account (yes… i am still working to hit the $6,000 spend myself)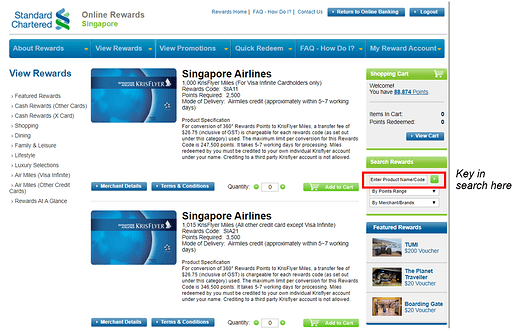 Mindblown… about the inconsistency of a billion dollar company
Singapore Airlines is still a really popular option for Singaporeans, and especially so if considering flights on premium cabins - I'm sure that many Singaporean's first choice would be to experience SQ Business/First class, so its hard to imagine SC not including Krisflyer as a redemption partner for such a high profile launch campaign.
However, as this drags on without any changes from their end, this is starting to reflect really badly on SC's overall management of this "premium card" launch - starting all the way from their mishandled 100,000 miles promotion that lasted all of 1 week when it was supposed to go for 1 month plus, downgrade to 60,000 miles promotion, and then now having completely stopped accepting applications.
For those who are interested in following the drama of the X card (or other credit card news), remember to follow us on Facebook on link below to stay updated!
---
If you would like to get the maximum rewards from your credit cards, do consider integrating WhatCard into your lifestyle to help you optimize your credit card rewards, and follow us on Facebook to stay updated on the latest tips, tricks, and hacks (like this article!) to get the most out of your credit cards
If you enjoyed this article, you may also be interested in: