20 Jan update: You unfortunately can no longer topup YouTrip with the GrabPay MasterCard hence the opportunity listed below to get credit card rewards is no longer applicable. We will continue to keep everyone updated if there are further changes to this or if new opportunities emerge.
---
For those of you frequent travellers out there, you probably have heard of or are already currently using the YouTrip card for all your travelling expenses. For those who haven't heard of YouTrip, we'll do a brief summary on the company and why getting the YouTrip wallet and card can be an important personal finance tool in your arsenal. For everyone else you can jump straight into next section to learn more about which credit card you should be using to top up your YouTrip card.
Brief Summary of YouTrip
YouTrip is a multi currency mobile wallet + debit card designed to help travellers with their foreign currency transactions while overseas, and was developed by Hong Kong-based You Technologies Group, EZ-Link and Mastercard. The product is fairly straightforward; after registering, you will be given a login ID to access your account on the YouTrip mobile app, with a digital wallet as well as a bright purple Mastercard debit card like the one below.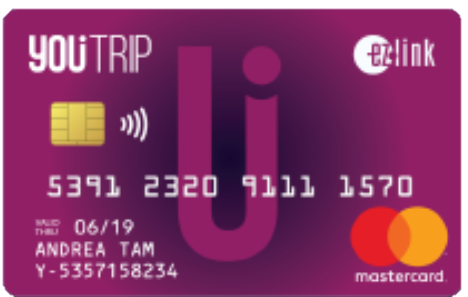 Photo Credit: YouTrip
To use the YouTrip card, there are just two simple steps:
Top up your YouTrip wallet (up to 3,000 Singapore Dollars) with any Singapore credit/debit card
Use the YouTrip card directly at stores in the foreign country (e.g. use the card to pay for a purchase you make in Malaysia)
Note: You are not just limited to transacting on the 10 other currencies supported in the YouTrip multi currency wallet. You can still transact in >150 countries supported by YouTrip overseas.
Why should I apply for a YouTrip card?
Favourable exchange rate - when you exchange money at your nearest moneychanger there is always a difference between the BUY and SELL rates because the moneychanger earns their profit from the exchange rates. YouTrip offers very competitive exchange rates because they instead earn their profit from the card transaction fees charged to merchants

No foreign transaction fees - when you use a local credit card overseas, you are charged an additional foreign transaction admin fee on top of the cost of the item you are buying.
For example:
Before YouTrip, when you are in Italy using your regular credit card to shop for a pair of Salvatore Ferragamo shoes and did not have so much foreign currency cash on hand, you would maximize your value per dollar spent by choosing to pay in local currency (euros). However, you would still incur foreign transaction admin fees upwards of 2% as well as a relatively unfavorable exchange conversion rate if you use your bank issued card.
Enter YouTrip. By using your credit card in Singapore to fund your digital wallet in Singapore Dollars and then use your YouTrip card overseas to transact, you can now do so at wholesale exchange rates, with no admin fees incurred.
If you would like to apply for a YouTrip account, you download the app via this link (mobile only), and use the promo code WHATCARD5 when registering your account - the promo code will give you a bonus $5 welcome credit so make sure to use it for some free money! Otherwise you get nothing if you sign up for an account without using a promo code
Here is how to get rewards from topping-up your YouTrip card
While it is very easy to top-up your YouTrip account using any regular credit card - users of YouTrip will likely already know that almost all credit cards exclude rewards for YouTrip top-ups - which means that you are not going to be getting your usual cashback and miles when topping up YouTrip directly using these cards.
However, we have found out that you can get (really good) credit card rewards by topping up YouTrip using …drumroll…



The GrabPay Mastercard (GPMC)!
Photo Credit: Grab
What is the GrabPay Mastercard? (GPMC)
Launched in 2019 and currently in a limited release (i.e. it is gradually being rolled out nationwide to Grab users), the GPMC is Grab's first foray into starting a digital bank in Southeast Asia. In simplest terms, it is a virtual debit card that is tied to your GrabPay wallet - so any spending you do with the card is directly taken from credits in your GrabPay wallet.
While GrabPay is already quite widely accepted and can be used by Singaporeans to pay at many merchants either directly with the GrabPay QR code, via FavePay, and even to pay for any of your AXS bills (e.g. phone/electricity bills, income tax), the GrabPay Mastercard greatly expands on the number of places where you can spend your GrabPay credits by enabling payment at any place that accepts Mastercard.
The ubiquitous GrabPay QR payment code that has sprung up in many shops around Singapore
How do I get the GPMC?
Grab has been gradually rolling out the GPMC to selected users in a 'beta test' phase before it launches nationwide for everyone. For those of you who do have it (if you are unsure), you can find a digital debit credit card tied to your GrabPay wallet under the "Settings" of the Grab app.
How to view your GrabPay Card (if your account currently has one)
For those of you lucky people who already have access to GPMC, you can use it to top-up your YouTrip digital wallet - allowing you to get credit card rewards from topping up GrabPay and then using GrabPay (via the GPMC) to top up YouTrip. We have illustrated how it works in this simple image:
For those of you who currently do not have GPMC, you are actually required to register via MyInfo as a pre-requisite and wait for 2 business days to be approved. Unfortunately, as Grab is still doing a limited release of the card, I haven't received the GPMC myself, despite having registered via MyInfo. However, I did manage a simple workaround by coordinating with one of my friends who already has the GPMC using these 3 steps:
Top up my own GrabPay wallet
Transfer my Grabpay credits to a friend who already has the GPMC (hence adding to his GrabPay wallet)
Top up my YouTrip wallet using his GPMC (deducting from his GrabPay wallet)
Through this rather simple process, I am able to get my credit card rewards while topping up my YouTrip account.
Best credit cards for topping up GPMC:
Now that we have established that YouTrip can essentially be funded by Grabpay via the GPMC, the new question to ask is what is the best credit card for topping up the GPMC instead. Fortunately, this is where our merchant search engine tool comes in handy!
Best cashback cards for GrabPay top-up
See the full list of eligible cards here - toggle at the top to see cashback vs miles cards
For cashback cards, the UOB One card is the clear winner here with potential for up to 10% cashback capped at $2000 monthly, because of the ongoing UOB x Grab promotion that gives an additional 5% cashback on any spending on Grab/GrabPay. I've written an earlier detailed post about how the UOB One card works and some of its merits and drawbacks that you can read about here to find out more.
Best miles cards for GrabPay top-up
For miles, three cards offer an impressive 3.1-3.2 MPD on GrabPay topups. However, do note that for the Amex Ascend and Amex Krisflyer (detailed review) cards, this higher MPD earning rate is only awarded on the first $200 of spending each month, anything above that will only get you 1.2/1.1 MPD respectively.
The Maybank Horizon Visa is much better option, offering the higher earning rate with a minimum spend of only $300 and bonus miles award capped at 12,000 miles/month (more than enough usually, unless you are making some huge purchases).
Our Summary:
On a standalone basis for overseas transactions, YouTrip is one of the best channels for maximizing the value of your transactions, because it helps you to save on bank transaction admin fees and gives you a very competitive wholesale exchange rates.
Now with the ability to top-up your YouTrip wallet with Grabpay Mastercard, you can even get even more rewards for the previous optimum strategy, by using credit cards that give rewards for funding GrabPay, such as the UOB One, Maybank Horizon Visa, Amex Ascend and Amex Krisflyer cards. This means that you can get:
credit card rewards +
no admin/bank fees +
competitive exchange rate,
all by using a YouTrip card topped up via GPMC - which is definitely much better than the current options for foreign spending of either using a Singapore credit card overseas (with bank fees, bad exchange rate), or changing a large stack of notes at the Arcade to bring on your trip (which doesn't give any credit card rewards, even though you get better exchange rates).
You can use our affiliate links below if you are interested to apply for any of these cards listed above. WhatCard was setup to help the community get the most from their credit card rewards. We have been delivering objective commentary with no ads or sponsored content, and affiliate links help us to keep the site running

If you are signing up for a YouTrip account, do remember to use the promo code WHATCARD5 to get a $5 welcome cash credit - you will lose this one-off chance during registration if you sign up without using a promo code.

If you would like to get the maximum rewards from your credit cards, do consider subscribing to our upcoming newsletter and follow us on Facebook to stay updated on the latest tips, tricks, and hacks to get the most out of your credit cards.
If you enjoyed this article, you may also be interested in: