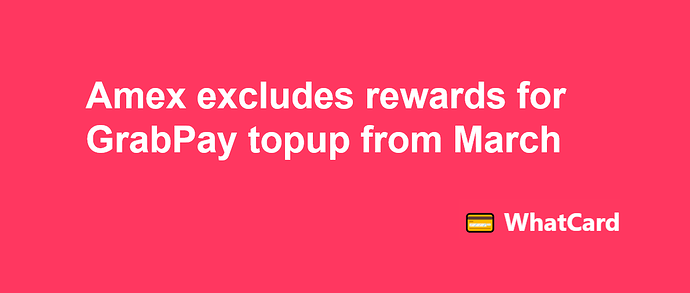 When Grab announced at the end of last year that it was launching a physical GrabPay MasterCard, it seems like that would mark the beginning of the end of the era of getting easy credit card rewards from various opportunities of using GrabPay to pay for daily expenses.
Last week we had reported that GrabPay can no longer be used to pay for AXS bills, and this week more bad news arrived - Amex cards will no longer give rewards for GrabPay topup starting 1 March 2020.
This change comes together with other updates to the T&Cs that Amex is making effective 1 March 2020, that they sent via email to cardholders this morning: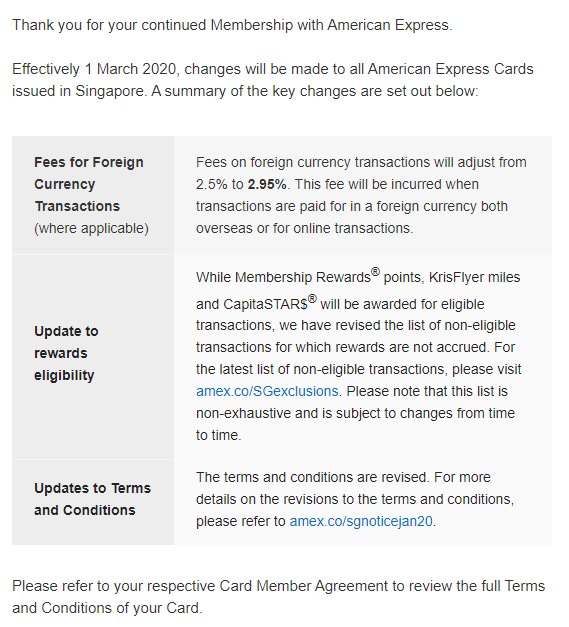 Email notification that was sent to existing Amex cardholders on 20 January
While the notification didn't mention GrabPay, I went straight to look through the updated exclusion list once i saw this email and it unfortunately confirmed my worst fears in extremely explicit wording…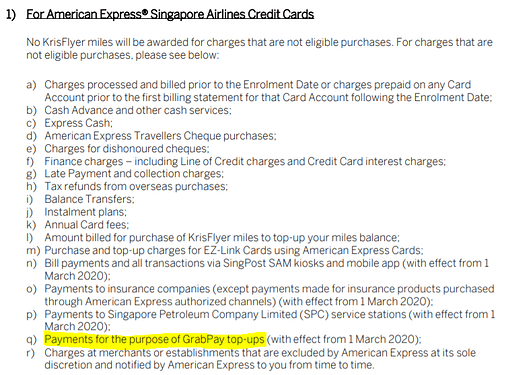 Above screenshot is for the Amex Singapore Airlines Cards which includes the regular Krisflyer Blue card as well as the Krisflyer Ascend, but the same exclusion was also added to Amex cards under the Membership Rewards program.
On the plus side, the same GrabPay exclusion term was not added to Amex True Cashback card, which means you can continue to get 1.5% cashback if you are using that card.
Based on the exact wording of the text, it would appear that only GrabPay top-ups would be excluded, and you can continue to get rewards if you use your credit card to directly pay for Grab rides on the app. This seems to be the case as there is no mention of any change to the policy of giving bonus 2.0 MPD for the Amex Krisflyer cards on the first $200 per month spent on Grab.
As predicted from last year, it was really a matter of time before credit card rewards from topping up GrabPay would be nerfed since GrabPay expanded to become an all-in-one super mobile wallet as opposed to simply a way to pay for Grab rides/GrabFood orders.
We fully expect to share more similar news in the coming weeks, will definitely keep you guys updated so you can continue to optimize your GrabPay topups on whatever opportunities are still remaining!
---
If you would like to get the maximum rewards from your credit cards, do consider subscribing to regular updates and follow us on Facebook to stay updated on the latest tips, tricks, and hacks (like this article!) to get the most out of your credit cards
If you enjoyed this article, you may also be interested in: