1 August update:
Due to strong demand StanChart ended its 100,000 miles signup promo on 31 July instead, a month earlier than originally announced - and changed the promo amount going forward to 60,000 miles instead. While the terms are not as eye-popping as before, our opinion is that this is still a really good offer worth taking up as long as you are able to meet the minimum spend requirements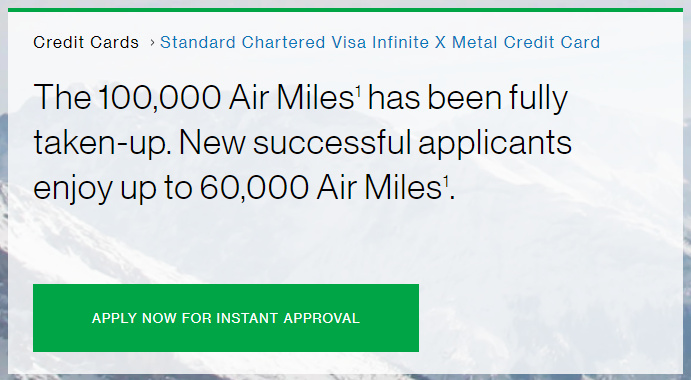 updated screenshot from updated application page
---
Limited Time Offer to Buy 107,200 Miles for $695.50
An insanely good credit card deal was launched today that allows you to fly on Singapore Airlines Premium cabins at a small fraction of the cost. The Standard Chartered X Card that launched today is offering customers 107,200 miles for $695.50 as long as they meet the following requirements:
30,000 Miles - Credit Card approved by 31st August 2019 and payment of $695.50 annual fee.
70,000 Miles - Spend $6,000 within 60 days of card approval and no later than 31st Oct 2019.
  7,200 Miles - From $6,000 spend @ 1.2 miles per dollar.
For those that are not familiar with the credit cards miles game, 107,2000 miles are worth approximately $4,000 - $5,000 when used to redeem for Suites class flight tickets on Singapore Airlines and roughly $2,000 when used on economy cabins. This is a rare opportunity that doesn't come by often and we honestly don't know how it makes economic sense for Standard Chartered to be offering this. Therefore, I did not hesitate dropping $695.50 on the X card's annual fee when it was launched today and I think everyone should quickly take advantage of this offer as well.
Singapore Airlines Suite Class Krisflyer Redemption
With a budget of 107,200 miles, here are some of the popular routes for flying the Singapore Airlines Suite Class:
| Route | Dates | Miles Required (Saver - One Way) |
| --- | --- | --- |
| Singapore to Shanghai | Most Dates | 53,000 |
| Singapore to Osaka | 27 Dec 2019 to 6 Jan 2020 | 70,000 |
| Singapore to Tokyo Narita/Haneda | Most Dates | 70,000 |
| Singapore to Seoul | All | 70,000 |
| Singapore to Sydney | Most Dates | 85,000 |
For a full list of Singapore Airlines Suites class route, you can refer to this excellent article by MainlyMiles. If Suites class is too atas for your liking, Business class redemption tickets on Singapore Airlines provides an excellent experience as well. The only caveat with flying premium cabins is that you might not want to fly economy again in the future.
Hacks to Spend $6,000 within 60 days
Unless you are lucky to have a major expense coming up in the next 60 days, here are some hacks that you can consider to meet the $6,000 spend:
Buy NTUC Vouchers. Since NTUC vouchers can be purchased using credit cards, this is a good way to spend $6,000 and have the value be stored in another medium. I can also vouch that NTUC vouchers can be used to replace the monthly allowance that you give to your parents.

Buy IKEA Gift Cards. IKEA gift cards are another way of storing value for the future. In fact, the gift cards can be used at IKEA restaurant as well if you're looking to feed the family on meatballs for a year.

Load up on Lazada Gift Cards. Lazada gift cards can be purchased in $10, $50 or $100 denominations. Since products sold on Lazada are usually cheaper than retail stores, loading up on some Lazada gift cards might not be a bad idea.
Do note that Standard Chartered has provided a list of transactions that will not be considered as qualifying transactions for the rewards promotion. Unfortunately, common hacks like using Cardup, ipaymy, RentHero and topping up stored value facilities like GrabPay will not be viable.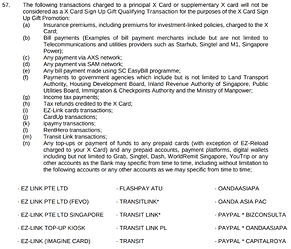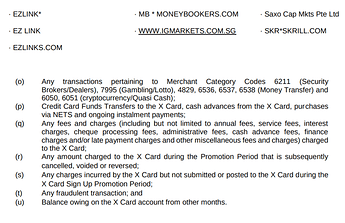 Conclusion
The Standard Chartered X Card is a good miles buying opportunity at an incredible value of 0.65 cents per mile. However, it is not a credit card that we recommend keeping after the first year considering that the annual fee is $695.50 for a card that only awards 1.2 miles per dollar spent without any other benefits. If you'll like to get the maximum rewards from your credit cards, do consider integrating WhatCard into your lifestyle to help you optimize your credit card rewards.
Your WhatCard Team
---
This December only, get $200 in cash (via Paynow) when you sign up for a Citibank card , with no spending required and first year annual fee waived. Only for new-to-bank customers, defined as those who have not owned a Citibank card in the past 12 months. Find out more about this promo HERE .
If you would like to get the maximum rewards from your credit cards, do consider subscribing to our upcoming newsletter and follow us on Facebook to stay updated on the latest tips, tricks, and hacks to get the most out of your credit cards.
If you enjoyed this article, you may also be interested in:
---