WhatCard in July: Two Months In, 2x the Impact?
WhatCard is now two months old, and across every metric this has been an incredible period as compared to where we were just 30 days ago when we had penned our first month summary. When we first launched WhatCard as an MVP in June, much of our effort in that first month was spent on fixing bugs/errors and making basic improvements such as adding new cards and merchants to build it into a more complete product.
With that being mostly completed in June, July was an opportunity for us to focus on growing our traffic (without a marketing budget) and adding other features such as the free credit card consultation service and our WhatCard Community blog posts/articles. The goal of these efforts is to not just help us reach more users, but also to deliver even more personalised and customised advice to our users to help them even better optimize on their credit card rewards.
Speaking of our blog, July 2019 will be well-known in credit card communities for the launch of the StanChart X Card, a premium miles card targeting affluent millenials that launched with an eye-popping 100,000 miles sign up promo that we reported on in our most successful article thus far, generating over 8,000+ views and 750+ click-throughs to the X card website. Hopefully most of our users have already read through the requirements and signed up for it if able to, but even if you have not yet heard about the X card, now is still a good time to find out more and apply as the revised sign up promotion of 60,000 miles is still a rather good deal!
Key Stats for July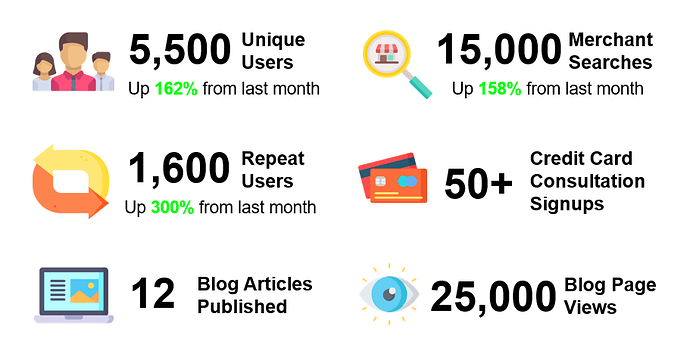 On every key metric we are tracking (e.g. uniques, sessions, page views, merchant searches, clickthroughs) we are recording >100% growth from June to July, an amazing rate for us considering that we are still working with no marketing budget (unless some kind and rich soul reading this wants to donate to us

).
The goal for us at WhatCard has always been to build useful products to solve genuine problems that people faced, and we are happy to see our strong month-on-month organic traffic growth as one source of validation for our approach and the real user problems that we are addressing.
Web Coverage
Critical to our growth has been the warm reception of the numerous personal finance websites and bloggers that have written about WhatCard (non-sponsored) to share our service with their readers. Highlighting here some of the coverage that we have received:
MoneySmart and SingSaver are the two juggernauts of the financial product comparison space in Singapore - there is no way you have not seen their articles and ads plastered all over Facebook/Google, and we were thrilled to have been featured in separate articles by them (MoneySmart article | SingSaver article), especially exciting was the opportunity to be interviewed by SingSaver where we got the chance to share more about the idea and thinking behind WhatCard as well as what we have planned for going forward.
Besides the two major sites, we were glad to have been featured by the finance bloggers/personalities (link to the relevant articles) SG Budget Babe, EarlyRetirementSG, Investment Stab, KPO & CZM, REIT-tirement, Turtle Investor, and Financial MTC, amongst others. These are each amazing people - many of whom we have met up with in person, who cover various topics in personal finance with their own unique brand of knowledge, insights, and personality, and we would definitely encourage all our readers to check out these blogs to learn more tips and tricks about managing your money.
What We Worked on In July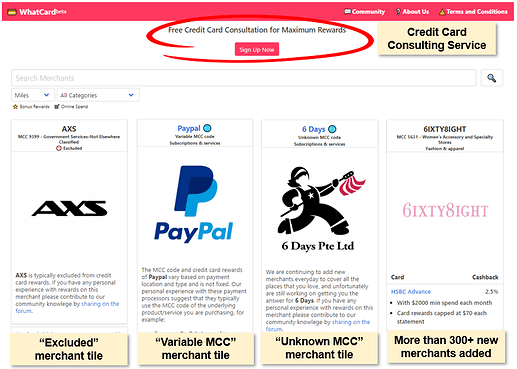 In July, many of the changes we worked on were backend functionality to improve the efficiency of the site as well as data accuracy. From a user point of view, what would be visible is our implementation of special display tiles to address some unique merchant situations as per above. Many of these came about in response to user feedback on how best to display the relevant information, so would definitely encourage everyone to share any feedback you have with us!
Going forward, we plan to continue to experiment with adding new tools and offerings and also beef up on our blog articles as we have realised that the long-form prose article format is still the most effective way to share about credit cards while including sufficient details around the various T&Cs and fine print nuances that inevitably accompany every attractive offer.
Given that WhatCard is very much still a work-in-progress, what exactly we actually work on is pretty much up in the air and fully honestly, figured out on a daily basis depending on what comes up from user feedback/shower thoughts/discussions with each other. If you have any ideas or thoughts about what would help make WhatCard more helpful to you please feel free to share them below to let us know!
Your WhatCard Team


---
If you enjoyed this article, you may also be interested in:
---
Want to get the maximum rewards from your credit cards? Check out WhatCard before you make a spend to see which credit card will give you the best rewards, and follow us on Facebook to stay updated on the latest tips, tricks, and hacks to get the most out of your credit cards.
For a limited period, WhatCard is offering free credit cards consultation service where we will work with you one on one to recommend the right credit cards based on your lifestyle to maximize your rewards