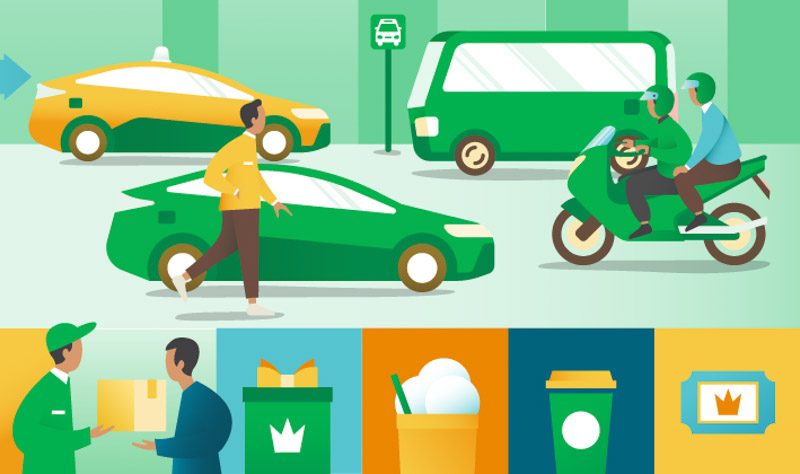 TLDR; Apply for a UOB One Card and top up your Grab wallet with 5 transactions of $100 every month. Purchase a Commute Plan to cover all your monthly Grab rides. Share Grab credits with a friend if $500 is too much to spend a month. Save on your Grab rides and maximize your casback!
Step 1: Use the UOB One Card for Grab top-ups to get up to 10% cashback
The UOB One Card was revised in January this year to award an additional 5% on ALL Grab transactions including Grab Wallet Topups. Getting bonus cashback on Grab topups is an exciting opportunity because many banks have excluded payments to stored value facilities from being awarded bonus rewards leading to low rebates.
The UOB One Card's generous rewards for Grab transactions is great news for regular Grab users (whether Grab rides, GrabFood, GrabPay at stores), but its important to note that the card doesn't award a cashback at the end of each month like other cards, and instead awards a cashback amount on a quarterly basis provided that you hit the minimum monthly spend for all 3 months of each quarter and have at least 5 transactions each month. Together with the additional Grab bonus cashback, UOB One Card total cashback looks like:
| Spending Tier | Base Cashback of Up To | Additional Grab Cashback | Total Cashback of Up To |
| --- | --- | --- | --- |
| $500-$999 per month | 3.33% | 5% | 8.33% |
| $1,000-$1,999 per month | 3.33% | 5% | 8.33% |
| $2,000 and above per month | 5% | 5% | 10% |
In addition, because the 5% bonus only applies for Grab transactions, the maximum cashback of 8.33% or 10% listed above can only be fully realized if the entire spend is made to Grab. The strategy then for maximum cashback is to exclusively use the UOB One card to top up your Grab wallet each month. For each spending tier, the optimal Grab top up strategy will look like the following:
| Spending Tier | Cashback Received Per Quarter | Effective Cashback Per Month |
| --- | --- | --- |
| Top-up Grab Wallet with $100 5 times per month | $125 | $41.7 |
| Top-up Grab Wallet with $200 5 times per month | $250 | $83.3 |
| Top-up Grab Wallet with $400 5 times per month | $600 | $200 |
Step 2: Subscribe to a Grab Commute plan for bulk discount off Grab rides
The $3.00 to $5.00 off Grab promo codes that we used to see in the past have essentially been replaced by Grab Commute Plans, a subscription plan where you pay a fixed amount per month in exchange for a set of vouchers to be used on your Grab rides.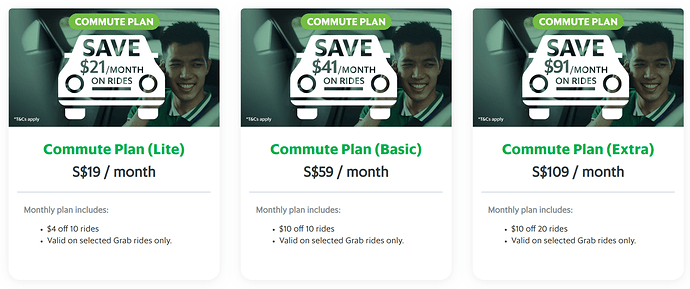 For anyone that uses Grab on a regular basis, the Commute plans are a must have because the discounts are very significant as shown by the following table:
| Commute Plan | Amount Paid | Total Grab Vouchers | Total Savings |
| --- | --- | --- | --- |
| Lite | $19 | $40 | $21 |
| Basic | $59 | $100 | $41 |
| Extra | $109 | $200 | $91 |
If you take Grab rides at least 2-3 times per week, it is a no-brainer to purchase a Commute plan to get massive savings, but even if you are not able to use up all the vouchers each month, it may make sense for you to purchase the commute plan to cover even 8, 9 rides a month because the savings on your rides taken more can more than offset the cost of the unused vouchers.
Example
To illustrate how this would work, let's take the example of a fictional Singaporean Sally, who takes 10 Grab rides a month at an average price of $20 per ride. Without using the UOB One Card or a commute plan, she would be paying a total of $200 for these 10 grab rides.
Having read an early draft of this article, Sally now follows the two-step approach outlined above to save on her Grab rides. Each month, she tops up $500 Grab credits using her UOB One card, and purchases the Commute Plan (Basic) for $59 that gives vouchers for $10 off 10 rides. Using these vouchers to offset her Grab rides, she now only pays $159 for her 10 grab rides, and in addition receives a cashback of $125 per quarter ($41.7 per month) from the UOB One Card.
What to do with the balance in Grabpay Wallet?
Readers might realize that following the strategy above means having to spend an additional $300-400 leftover ($341 left in Sally's case) through Grabpay every month. It is usually not too difficult to spend this as Grabpay and FavePay (that you can pay using Grab Credits) are now accepted at so many different stores around Singapore. However, if you do face difficulties there are two strategies that you can adopt to make it easier to do so.
Split the $500 Grabpay credits with someone - Instead of trying to spend all $500 by yourself, try to find someone you trust to share the Grabpay credits with. Grabpay credits can be transferred between peers so all you have to do is to transfer $250 Grabpay credits to your buddy in exchange for cash. For one of our co-founders, him and his wife both are heavy Grab users so he top-ups his Grab wallet and transfers half the credits to her.

Spend the balance online with Grabpay Virtual Mastercard (Coming Soon) - The Grabpay Virtual Mastercard is expected to roll out to the public in the last quarter of 2019. In fact, certain users have reported being invited to the beta launch and is currently utilizing the virtual card to make payment online without being restricted to Grabpay merchants like how it is for the retail space. That means you can easily spend the balance in your Grabpay wallet by buying groceries through FairPrice Online or by shopping on Lazada.


Source: Image from hardwarezone
Conclusion
By combining the UOB One Card bonus rebates with discounted rides through the Grab Commute Plans, users can achieve up to 50+% total discount on their Grab rides, which is pretty amazing savings considering this does not yet include other Grab Rewards benefits from the spending.
Let us know in the comments below any thoughts about this strategy as well as any other tips and tricks you have used to get even more value out of your credit cards!
Your WhatCard Team
Sign up for the UOB One Card today
Learn more about Grab Commute plans
---
If you would like to get the maximum rewards from your credit cards, do consider subscribing to our upcoming newsletter and follow us on Facebook to stay updated on the latest tips, tricks, and hacks to get the most out of your credit cards.
If you enjoyed this article, you may also be interested in: