Lets face it, we Singaporeans love online shopping - whether its buying fashionable clothes from our favourite blogshops, electronics from Qoo10/Lazada, groceries from Redmart, and even food from Deliveroo/GrabFood, we can get by our lives without ever needing to step into a physical store!
With online shopping being so popular with Singaporeans, we spoke to experts and scoured the internet to share with you tips and tricks to help you save more money and get more value out of your online shopping:
1. Use Incognito/Private Mode on your web browser
More and more online retailers are moving to dynamic pricing (just think about the constantly varying online air ticket and hotel prices), whereby prices are adjusted based on supply/demand information as well any data that they may have collected from you - for example browsing history, past purchases, other products viewed, and other websites visited.
Using the built-in incognito/private mode on your web browser prevents retailers from accessing data that may be available on you and adjusting their prices based on that. Of course this has limitations as many online shops make you create and login to user accounts so they still have your shopping history with them - but at least you can restrict what they know beyond that.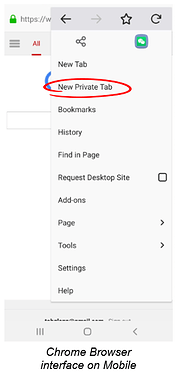 Quick tip: for those using Google Chrome browser on PC, the hotkey for incognito mode is Ctrl+Shift+ N
2. Use any and all available promo codes/coupons/vouchers available
If you are one of those people who always leave the Optional "Promo Code" box empty when checking out your shopping cart, then you have been neglecting a golden opportunity to get some additional savings. Promo codes are typically used for advertising campaigns that the retailer is running and may be published in magazines, physical brochures or promotional emails - but just because you didn't read any of those materials doesn't mean you can't take advantage of them!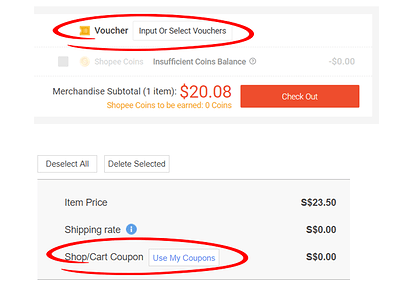 As a rule of thumb, ALWAYS do an online search for promo codes before making any purchase. Almost all online shopping sites have these promo code input boxes, and there are entire websites that exist to share these promo codes, prominent ones include SingPromos, CupoNation, SGDTips, Picodi that are always worth checking out. You will often discover promotions you didn't know of that you can use to get a discount on your purchase.
3. Use new customer/referral promotions
Most online sites are really aggressive in growing the number of people who their site, and will often have new customer or referral bonuses to be taken advantage of. If you are purchasing something on a site for the first time, chances are there will be a promotion you can take advantage of. If there is referral program it usually gives additional rewards for both parties, so you can ask a friend to refer you or simply post on your FB/Instagram and from our own experience there will almost always be someone who will respond.
4. Use cashback site (e.g. Shopback)
Cashback sites give you additional cashback for any amount that you spend at selected retailers, so there is no harm using them to get a few % of cashback if you have already decided to make a purchase. Shopback is the most prominent cashback site in Singapore, but depending on where you shop there are also international equivalents that may have a better cashback rate so always do a quick search online beforehand to make sure you are getting the best deal!
5. Pay with the right credit card
Once you have decided on what to buy and are about to make payment, using the right credit card to pay can often make the difference between getting nothing and getting 5-6% of your purchase value back as credit card rewards, typically either as airline miles or simply cashback.
To figure out which card to pay with, WhatCard provides you with a simple search interface that lets you lookup retailers (both online and offline ones) to see which credit cards give the best rewards. This is ideal if you have multiple cards in your wallet and are wondering which one to make the payment with, or if you want to figure out what new credit card to sign up for based on where you usually spend at.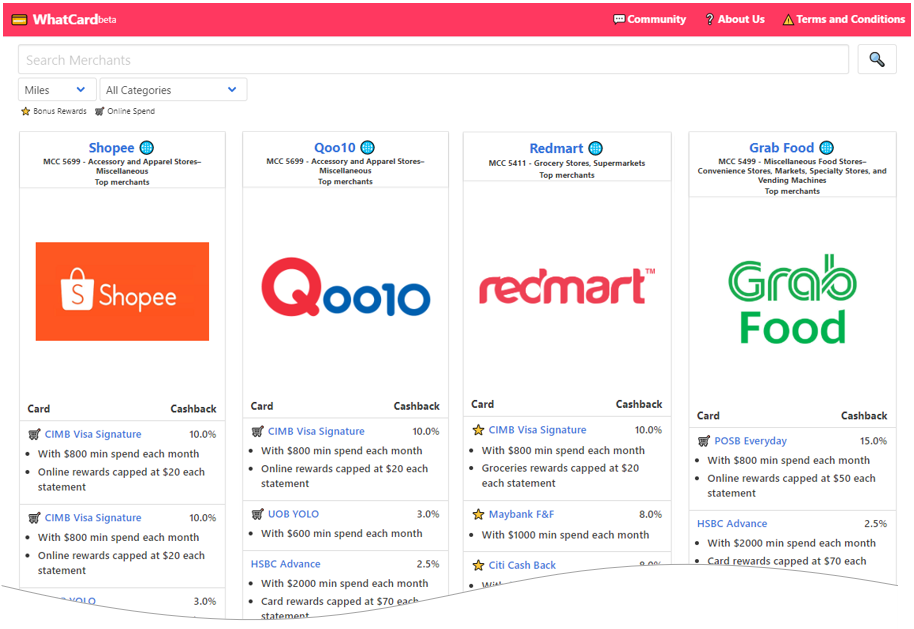 Quick tip: For most online spend we usually recommend either the Citi Rewards Visa (scroll left to find it) or DBS Womans World Cards (Men can get it too!) that each give 4 miles per dollar for online shopping
Conclusion
By taking advantage of all these tips and resources, you will be able to get all your online shopping done for even cheaper while at the same time getting the most rewards from the amount spent. Share any other tips and tricks you have with everyone else in the comments below!
Happy Shopping!


---
If you enjoyed this article, you may also be interested in:
---
Want to get the maximum rewards from your credit cards? Check out WhatCard before you make a spend to see which credit card will give you the best rewards.
For a limited period, WhatCard is offering free credit cards consultation service where we will work with you one on one to recommend the right credit cards based on your lifestyle to maximize your rewards
Follow WhatCard on Facebook to stay updated on the latest tips, tricks, and hacks to get the most out of your credit cards.