Regular cashback credit card users will know that while many cards advertise an attractive 5%, 6%, or 8% cashback, hidden in the T&Cs are various restrictions on applicable send categories as well as caps on the cashback amount. For example, the DBS Live Fresh Card offers a 5% cashback on online and contactless spending, but total cashback is capped at S$60 per month hence any spending above S$1200 does not earn you any more rewards.
From our own experience running WhatCard's free credit card consultation service, we know that many of our users have questions about how to get the best cashback on lump sum purchases - whether it be a wedding venue deposit, new house furniture/appliances, group flight ticket bookings, or any other one-off spend that exceeds the usual $1-2k limit on other cashback cards.
So what is the best cashback card for lump sum expenses?
There are 2 main cards that offer unlimited cashback that we would recommend, the Amex True Cashback Card and the Maybank FC Barcelona card
1. American Express True Cash Back Card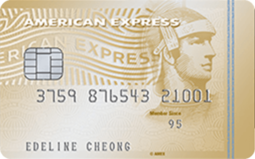 The Amex True Cashback Card would be our top choice card - primarily for its very generous sign up bonuses that give up to $135 bonus cash on top of the regular 1.5% cashback with no minimum spend that the card offers. Amex is currently running a new card applicant promotion that gives $60 CapitaLand voucher with $500 spent within the first month, and 3% cashback on the first S$5k of spending for the first 3 months, with no minimum spend requirement. Combined with the first year fee waiver that Amex is offering, this is an easy opportunity to get a 'free' $135 ($60 CapitaLand voucher + $75 bonus cashback on first $5k spend)
The only caveat we would highlight is that Amex is generally not as widely accepted as Visa/Mastercard, especially at smaller retailers and dining places. However from our experience it is accepted at most major stores and websites, so should not be an issue for most large purchases.
2. Maybank FC Barcelona Card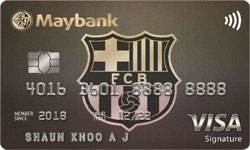 The Maybank FC Barcelona is a less well-known card in Singapore that anyone can apply for as long as you can stand the shame of pulling out a card that bears the logo of a competitor, but hey - money is money! FC Barcelona branding aside, the main draw of this card is its flat 1.6% unlimited cashback with minimum spend, making it that bit better than the 1.5% unlimited cashback offered by the Amex True Cashback Card or StanChart Unlimited Card.
Maybank is also offering an auto two years annual fee waiver on the FC Barcelona Card, making it an easy choice to be used as a backup card (without worrying about annual fees) to cover any one-off lump sum and other spending that doesn't fall under your other credit cards.
Conclusion
Unlimited cashback cards are a very useful and convenient addition that can help everyone get even more cashback on their large purchases that would typically hit the monthly cashback caps on other cards.
The other advantage of these unlimited cashback cards is that they also do not have any minimum spend, hence you can use them easily without having to worry about hitting a cetain $600/$800 minimum spend before getting any cashback.
Even if you already one of these cards (such as the StanChart Unlimited), we would still strongly recommend signing up for the Amex True Cashback Card to take advantage of the sign up bonuses since it is basically $135 of 'free' money on top of the base 1.5% cashback rate.
Sign up for the Amex True Cashback Card today
Sign up for the Maybank FC Barcelona Card today
Your WhatCard Team
---
If you would like to get the maximum rewards from your credit cards, do consider subscribing to our upcoming newsletter and follow us on Facebook to stay updated on the latest tips, tricks, and hacks to get the most out of your credit cards.
If you enjoyed this article, you may also be interested in:
---