Updated on 20 Jan 2020
Note: As the founders of WhatCard, our users often ask us what credit card we ourselves use. Hence, we decided to start this new weekly credit card feature where we will be taking turns to share about a card that we ourselves own/use and talk about how we use it and potential limitations. Share with us in the comments below which card you would like us to feature for next weeks #WCOTW!
This is not a sponsored post, and all opinions are from the WhatCard team's personal experiences with the card
Amex Singapore Airlines Krisflyer Credit Card (AMEX KF)
Key Features:
Annual Fee: $176.55/year, first year waived
Sign up bonus:

5,000 Krisflyer (KF) miles on your first spend - only if this is your first Amex KF card
7,500 KF miles with minimum $5,000 spend in first 3 months

Local earn rate: 1.1 Mile Per Dollar spent (MPD)
Bonus earn rate:

3.3 MPD on 9 'Daily Essential' merchants e.g. Starbucks, Mcdonalds, Deliveroo, Watsons
2.0 MPD for Singapore Airlines, Silkair bookings

Overseas earn rate: 2 MPD, only applicable in June and December
Minimum age: 21
Minimum income: $30,000/year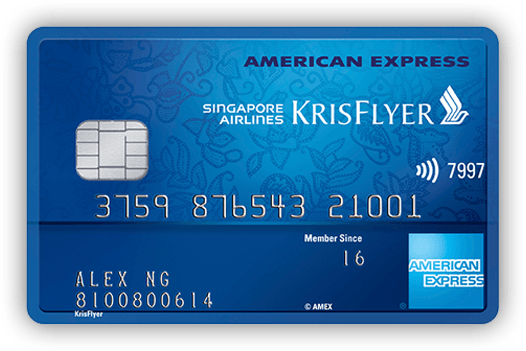 I will be the first to admit - the Amex KF does not have a very competitive earn rate, it's base 1.1 MPD for all local spending is lower than competing cards such as the DBS Altitude (1.2 MPD) and UOB PRVI miles (1.4 MPD), and even the bonus earn rate categories are rather limited.
However, what the Amex KF lacks in regular benefits, it more than makes up for by offering some great signup and ongoing promotions that make it a worthwhile addition for any miles chaser who has never owned this card.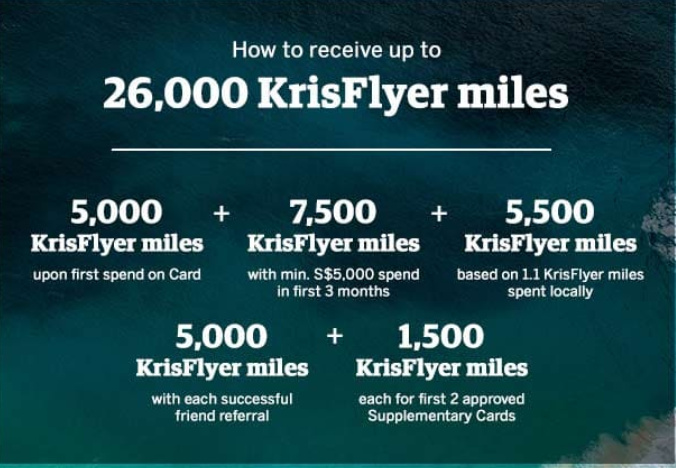 Promotional image taken from the Amex KF homepage
Why We Love the Amex Krisflyer Card
1. 5,000 miles just for getting the card
The single greatest benefit of the Amex KF card is that it gives 5,000 KF miles upon first spend on the card, with no hidden T&Cs/other requirements. Quite literally, all you need to do is sign up for the card for free (first year annual fee is waived), may any transaction on the card, and they will award you 5,000 KF miles.
If you value miles at lets say 2 cents/mile, thats 5,000 KF miles x $0.02 = $100 worth of miles just from signing up for the card for free - sounds like a fantastic deal if you ask me!
The only limitation of this is that the 5,000 KF miles is only awarded once ever per person. For most other banks, you can usually become eligible for their sign up promotions again as long as you have not owned their credit card in the past 6 or 12 months (depending on which specific bank), but for Amex KF they have been very clear that this bonus 5,000 miles is only given once per lifetime.
2. Attractive referral bonus that is win-win for both parties
Adding to the free miles party we have going on here, the referral bonus for the Amex KF is also top-notch: for each friend that you refer, You will get 5,000 KF miles awarded once they are approved, AND they will get a bonus 5,000 KF miles as well once $1,000 is spent in the first 3 months with the new card.
This referral bonus is separate from the initial 5,000 miles from your making first transaction, hence if you sign up for the card and refer a friend, you will each get 5,000 (first transaction) + 5,000 (referral bonus) = 10,000 KF miles just that like.
As this card is typically less well-known than other miles cards, there is a great opportunity if you are the first in your family/group of friends to get this card, and then you can refer others for them to get 10,000 miles for basically no effort, with you separately getting 5,000 miles for each referral - a fantastic win-win opportunity if you ask me since your friends would otherwise only get 5,000 KF miles if they apply for the card without a referral.
3. No worries about orphan miles as miles are directly credited to Krisflyer account
You may notice I have been calling them "KF miles" instead of just "miles". And that is because unlike other miles cards where you first accumulate their internal currency (e.g. DBS Points, StanChart 360° Points) and then make a redemption into miles at your chosen Frequent Flyer Program (e.g. Krisflyer), for the Amex KF card any miles awarded are directly credited to your Krisflyer account on a monthly basis
That is also why this card's full name is the 'Amex Singapore Airlines Krisflyer credit card', and you see the large Krisflyer logo on the card itself.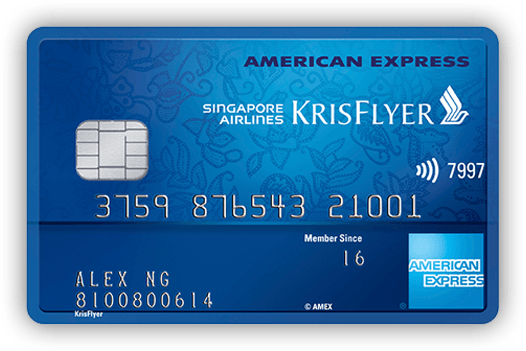 Reminder of what the card looks like
Compared to other cards, there are two main benefits from this: First, you don't have to pay the usual redemption admin charges of ~$26/transaction to withdraw your miles since they are credited to your Krisflyer account for free monthly. Second, you don't have to worry about orphaned miles - the leftover miles that don't fit into the minimum redemption size for that credit card. For example, for DBS Cards (Altitude, WWMC) you have to make withdrawals in buckets of 10,000 miles, any leftover under 10,000 miles will just left be left stuck in the card.
Limitations of the Amex Krisflyer Card
1. Miles credited to your Krisflyer account expire after 3 years
While directly crediting miles to your Krisflyer account has its benefits, it also means that your miles start the countdown to expiry earlier. Krisflyer miles have a 3 year expiry period, which starts counting down once Amex credits the miles to your KF account.
In contrast, for other cards you can accumulate your miles in credit card points initially (but do note that credit card points may also have their own expiry), and only when you actually make the redemption to your Krisflyer account does the 3 year expiry timeline begin for the miles.
2. Lower MPD than other competing general miles cards
As mentioned earlier, the Amex KF has a rather poor regular and bonus miles earn rates that are both lower than other competing cards. It may be worthwhile to make some large transactions on this card to take advantage of the other signup bonus of 7,500 KF miles with minimum $5,000 spend in first 3 months, but otherwise we would not recommend using this card for regular day-to-day spending beyond taking advantage of the initial sign up promotions.
On a regular spending MPD basis, you can do better with almost any other miles card out there - for example the DBS Altitude, UOB PRVI miles, or the newly launched OCBC 90°N
3. Not as generally accepted among Singapore merchants compared to Visa / Mastercard
If you do decide to use the card for regular daily spending, you should know that the Amex KF being a card issued by Amex, does not enjoy the same widespread store/merchant penetration as Visa and Mastercard in Singapore.
Amex would typically be accepted at major brands and large national chains, but is often not accepted at smaller stores, and you would usually need to pair this with another card that is a Visa/Mastercard to cover all your spending needs in Singapore.
Our Summary
With its great sign up + referral bonuses, the Amex KF Card is one of the best cards available to get miles for 'free'. Combined with first year annual fee waiver and auto-crediting of miles to your Krisflyer account, we would definitely recommend this card to any person who has not owned this card before since there is actually no costs to worry about at all to get your miles - just make sure you cancel the card before the second year annual fee arrives, or if you do end up using the card for daily spending you can usually request for waiver of the fee with no issues…
However, we will also readily admit that regular local/bonus spend rewards rates are on the lower-end, and you can definitely do better with some additional effort by using other available miles cards which we will be gradually covering in our future #WCOTW articles.
Let us know in the comments below which card you would like us to review for our next #WCOTW!
Sign up for the Amex Krisflyer card today here
If you would like to apply for the Amex Krisflyer card, please consider supporting the site by applying through the above affiliate link. WhatCard was set up to help the community get the most from their credit card rewards. We have been delivering objective commentary with no ads or sponsored content, and affiliate links help us to keep the site running

---
If you would like to get the maximum rewards from your credit cards, do consider subscribing to our upcoming newsletter and follow us on Facebook to stay updated on the latest tips, tricks, and hacks to get the most out of your credit cards.
If you enjoyed this article, you may also be interested in: