9 October Update: One of our users who has been in close contact with StanChart has shared with us that the CSO mentioned the target date for bonus miles award as 30 November, so look out for it then!
This article is an ongoing series of updates around the Standard Chartered X Card and its massive 100,000 miles signup bonus. For those who are not up-to-date, you can read our earlier reporting of the initial launch promotion (new signups now temporarily paused) as well as update on miles withdrawal partners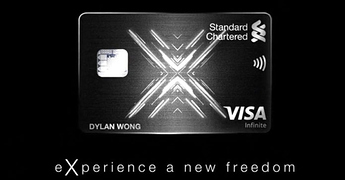 The X card launched slightly over two months ago now, and we have just about gotten to the end of the 60 day period (including the extra 10 days that some people such as myself got due to a delay in them sending out the X card after approval) for spending a minimum of $6,000 on the card to get the large bulk of the sign up bonus miles.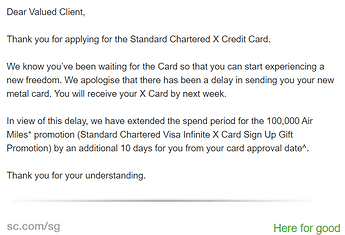 Email I received informing me of the additional 10 days I was granted
When will I be receiving the bonus miles for spending $6,000?
For everyone who got the card and dutifully spent $6,000 to qualify for the sign up bonus, you may be wondering why your StanChart rewards points balance is still only a paltry ~90,000 points (SC Points are converted to miles at a rate of 2.5 points to 1 mile), instead of the promised 250,000 points/100,000 miles.
We faced multiple questions about so we decided to call up StanChart directly and get an answer that we could share with everyone who is impatiently waiting for your miles:
Bonus points for the X Card sign up promotion will be credited to your account around end of November, assuming that you made $6,000 worth of eligible transactions within a 60 days of you getting approved for the card
After spending some time on the phone with the StanChart CSO, he eventually verified that I had indeed spent more than $6,000 on the card, however he also re-checked with me a whole laundry list of ineligible transactions that would not count toward the $6,000:
Any kind of card fees: the mandatory $695 annual fee, late payment, overdraft, etc.
Cash advances
EasyPay transactions
Any subsequently voided or cancelled transactions
Payments made via AXS/ATM
Payments to insurance companies
Payments for GrabPay topup
Most of these are pretty typical and were well-advertised by various blogs during the initial signup period so probably wouldn't take anyone by surprise. But given the large amount of miles at stake, if you do suspect that part of your spending may have been ineligible and you want to put your mind at ease, you might want to call up StanChart directly as the CSO will be able to check all your transactions to see if any of them are ineligible.
For everyone else, I guess its now a long one and half month wait to see when the bonus miles are finally credited into our accounts, and then given that the card is honestly not very impressive I suspect a large amount of metal across Singapore is going into the bin after that


We will make sure to keep you guys posted as soon as the bonus miles are credited!
---
If you would like to get the maximum rewards from your credit cards, do consider subscribing to our upcoming newsletter and follow us on Facebook to stay updated on the latest tips, tricks, and hacks to get the most out of your credit cards.
If you enjoyed this article, you may also be interested in: