Note: As the founders of WhatCard, our users often ask us what credit card we ourselves use. Hence, we decided to start this new weekly credit card feature where we will be taking turns to share about a card that we ourselves own/use and talk about how we use it and potential limitations. Share with us in the comments below which card you would like us to feature for next weeks #WCOTW!
This is not a sponsored post, and all opinions are from the WhatCard team's personal experiences with the card
BOC Elite Miles World Mastercard
Key Features:
Annual Fee: $190/year, first year waived
Earn rate: 1.5mpd on all local spend, 3mpd on all overseas spend
Minimum age: 21
Minimum income: $30,000/year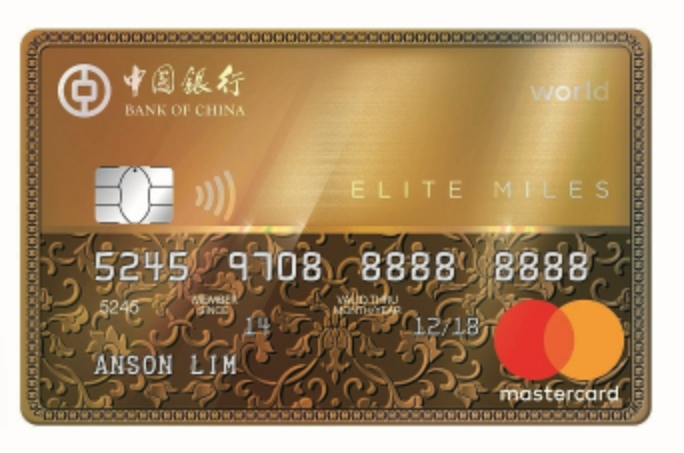 This Bank of China (BOC) credit card category belongs to the generic spend miles card, which includes DBS Altitude, Citi Premier Miles Card and OCBC 90°N. Expanding on an earlier analysis that we had done on OCBC 90°N, we provide you this comparison table below:
| | BOC Elite Miles | OCBC 90°N | DBS Altitude | Citi Premier Miles |
| --- | --- | --- | --- | --- |
| Minimum Annual Income | $30,000 | $30,000 | $30,000 | $30,000 |
| Annual Fee (First year waived) | $190 | $192.6 | $192.6 | $192.6 |
| MPD (Local) | 1.5 | 1.2 | 1.2 | 1.2 |
| MPD (Foreign Currency) | 3.0 | 4.0 / 2.1 | 2.0 | 2.0 |
| Miles Expiry | Yes | No | No | No |
| Minimum block for miles transfer | 10,000 (Krisflyer miles equivalent) | 1,000 | 10,000 | 10,000 |
| Miles redemption fee | $30 | $0 | $26.75 | $25 |
| Complimentary Lounge Access | None | None | 2x Priority Pass | 2x Priority Pass |
Launched back in 2018, the BOC Elite Miles World Mastercard had been extremely popular with Singapore users due to the promotional rate of 3mpd on local spend and 5mpd on overseas. Alas, BOC has since stopped this extremely lucrative miles earn rate. Nevertheless, we think there are some merits you can still consider when getting this card. Here's why:
Why We Love the BOC Elite Miles World Mastercard
.
1. Best MPD among generic spend cards, with no minimum spending requirements
Objectively, just looking at the 1.5mpd local spend and 3mpd overseas spend, it is the best miles card in our peer analysis, losing out only to the promotional 4mpd overseas spend on the OCBC 90°N,which, we think will not likely continue after the promotional period anyway. It is therefore 25% more efficient in clocking your miles, and on a $1666 monthly spending, you could earn a cool round trip economy class ticket to Hong Kong for yourself after just 1 year (30,000 miles)!
2 Combos well with the Smart$aver account
Smart$aver is BOC's bonus interest savings account. Similar to DBS Multiplier, UOB One and StanChart e$aver accounts, you will get bonus interest rate on your savings with BOC if you carry out certain number of transactions monthly, such as credit your salary of at least $2,000, spending at least $500 on your BOC credit cards and making 3 Giro transactions. You could treat this as a potential higher interest rate option; if you spend $500 in the month, you get a bonus 0.80% on your savings (bonus interest capped on savings of up to $60,000), making this card super synergistic for you if you are simultaneously trying to optimize the interest rates on your bank account! We will do an in-depth comparison of the bonus interest savings accounts in a later article.
Limitations of the BOC Elite Miles World Mastercard
1. Many negative details about the mechanics of redeeming miles
There are definitely many smaller negative details associated with the superior 1.5mpd on local spend card. Firstly, all miles earned will expire (by June of the following year). This will have the result of you deferring your upcoming purchases in May/June every year to July just to defer the expiry date by another year, whereas all other cards reviewed previously have miles that do not expire. Secondly, the miles transaction bucket for Krisflyer miles redemptions is very high at 10,000 miles /30,000 BOC points before you can redeem it, compared to much lower thresholds across BOC's peers. Finally and a more minor negative point is: BOC charges the highest redemption fee of $30 across its peers. BOC capping the transaction blocks to 100,000 miles is a red herring in our opinion, and is a very minor negative detail that no one is likely to encounter (who has that much miles to accumulate in 1 year!)
2. Need to go down to the branch to set-up online statements
BOC is relatively low-tech compared to local banks. When I applied for my BOC Miles Card, I had to physically go down to the Raffles Place in order to have access to the details of my transactions; if I did not do that, I would get an aggregated sum without being able to spot for any irregularities such as miles not credited for certain transactions. Whether you are a person that regularly tracks miles or someone that is very into the details of personal finance planning, tracking these details should be something you do and hence, I find that this is a very big drawback of the card.
Our Summary
If you are someone who can regularly spend a lot and can't be bothered to optimize your miles by categories, this is the most efficient generic miles earning card that is available today, particularly if you use the BOC Smart$aver account for bonus interest rates on your savings with them. However, do take note of the more subtle drawbacks such as miles expiry, higher miles redemption bucket compared to the card's peers and the fact that you have to go through the pain of visiting a physical branch in order to track details of your card expenses.
Let us know in the comments below which card you would like us to review for our next #WCOTW!
---
If you would like to get the maximum rewards from your credit cards, do consider subscribing to our upcoming newsletter and follow us on Facebook to stay updated on the latest tips, tricks, and hacks to get the most out of your credit cards.
If you enjoyed this article, you may also be interested in: