One month in… what have we done so far?
WhatCard was launched in beta (and still is!) in June 2019 with the simple goal of helping every Singaporean get the most out of their daily credit card spend. Being avid credit card optimisers ourselves, we struggled constantly to keep track of the best cards to use at each place, relying on solutions such as the HWZ forum shared credit card rewards compilation google doc and our own lists. WhatCard has been our attempt to bring these community-developed knowledge to a wider audience in a more user friendly interface.
Since our launch, we have been blown away by the community support and contributions that have helped us improve WhatCard for everyone. Endless feedback has been contributed and worked on that has helped make WhatCard a more useful and user friendly tool for everyone.
As we enter our second month, we wanted to share some highlights of our key stats, what we have been working on over the past month, as well as what we are planning to work on going forward. Please feel free to share any thoughts/feedback with us so that we can take them into account while continuing to improve on WhatCard!
Key stats for June
2,100 unique users

70% direct traffic - incl. WhatsApp/Telegram links
10% social media - Facebook, LinkedIn
10% referrals - primarily forums (shoutout to our HWZ forum supporters!)
10% organic search/others

6,400 page views
500+ users that visited more than once
5,800 merchant searches made

As a community-driven effort with no paid advertising/marketing whatsoever, we have been really excited to see the kind of organic traction that we managed to achieve within our first month itself.
Amongst all these figures, the number of merchant searches has been the most valuable for us. It shows us that people are truly engaging with the site and making use of it to guide their credit card decisions. Very importantly, it is also how we know what new merchants to add to our list based on the searches that turn up with no result - so if your search get no results initially you will probably see it fixed if you try again 1-2 weeks later!
What we worked on in June
It's may be hard to imagine, but what you see on the site today is actually already significantly improved from what we had when we first launched with a bare-bones site covering only miles cards in mid-May. A sample of some of the key features we managed to work on since then:
list of merchants covered has grown from 300 at launch to 1,100+ today
added cashback cards (all 20+ of them) and cashback reward listing
added merchant categories to make it easier to filter and search
added links to credit cards and merchants with online stores to make it easier for users to immediately go to the relevant sites
improved the search engine to deal better with common issues such as typos, spacing, punctuation (didn't realise before this how much Google's search engine autocorrecting wizardary has spoilt all of us!!)
and… correcting/debugging countless errors/issues/problems that people have brought up to us
Some of the stuff we have added since launch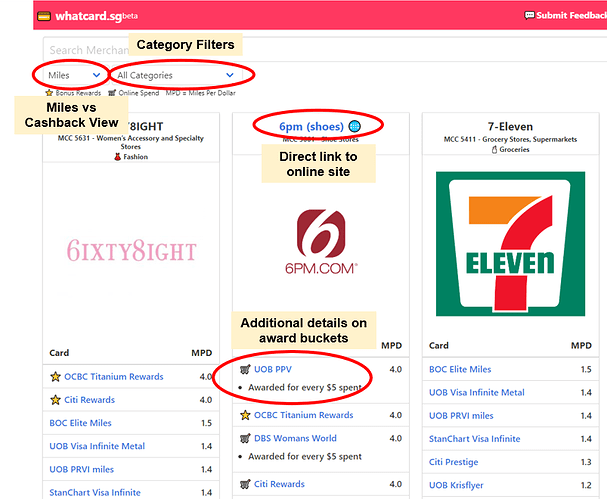 Whats upcoming for July
add User Profiles - this will allow users to share what cards they currently own, and then choose to see only rewards for those cards they own so that we improve the relevance of the results shown
continue to add to the list of merchants - there are still many merchants being searched for that don't currently exist, and our goal is to make sure that at least 95% of searches come out successfully
continue to fix errors in the rewards listed/MCC/excluded merchants as we constantly get feedback from our users
As you can see, we don't have too much planned in terms of new features as we are primarily working on correcting any errors so that our users get the closest true and accurate recommendations based on our data. But if you have any ideas or thoughts about what would help make WhatCard more helpful to you please feel free to share them below to let us know!
Your WhatCard Team