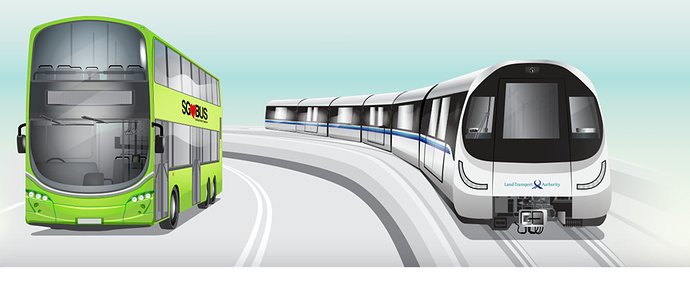 Photo Credits: TransitLink
Using Credit Cards To Pay for MRT/Bus
LTA launched SimplyGo in May this year, enabling commuters to use credit cards to pay for their MRT/bus fares as an alternative to the trusty Ez-Link cards which have been a part of people's wallets for more than a decade.
We had written about this new scheme in an earlier article, and it sparked some great discussions about the pros (you get credit card rewards, no longer have to carry an Ez-Link card around) and cons (you may drop your credit card, there is a short delay/lag when tapping) of using a credit card as opposed to Ez-Link to pay for your rides.
To add to this discussion, we thought that it would be good to do a more in-depth review of some of the best miles cards compatible with SimplyGo, as we had not devoted much space to it in our earlier article.
For those who prefer cashback, we had earlier written a separate similar article covering the best cashback cards for SimplyGo
Best Miles Cards for SimplyGo
We had shared this table in the earlier article:
| Best Miles Cards | Rewards (Miles Per Dollar Spent) |
| --- | --- |
| DBS Altitude | 4.0 MPD till 31 Dec |
| UOB Lady's Card | 4.0 MPD, need to select Transport as bonus category |
| Maybank Horizon Visa | 3.2 MPD |
| BOC Elite Miles | 1.5 MPD |
| UOB PRVI Miles | 1.4 MPD |
Amongst these cards, the BOC Elite Miles and UOB PRVI Miles are structured in a very similar way to the DBS Altitude. Furthermore, when it comes to developing a good miles card strategy, we should generally be targeting a bonus earn rate of around 3.0 - 4.0 MPD, hence we will focus our deepdive's only on the top 3 cards for SimplyGo - the DBS Altitude, UOB Lady's Card, and Maybank Horizon Visa.
1. DBS Altitude 4.0 MPD - The card is overall so-so, but take advantage of the promotion if you are already have the card today
The DBS Altitude is a really common starter/baseline card for people who have just started on the miles game. It offers 1.2 MPD on local spend and 2.0 MPD on overseas spend, as well as a bonus 3.0 MPD on selected travel merchants such as Expedia, Agoda, Airbnb, SIA, Cathay Pacific.
This puts it in the category of (barely differentiated) basic miles cards out there such as the Citi Premiermiles, UOB PRVI Miles, BOC Elite Miles, and OCBC 90N. To put it bluntly - these cards don't do anything especially fancy, but they work well enough if you just want to hold a single miles card since they award miles on all regular spending with no minimum spend and no monthly miles cap - very much similar to the unlimited cashback cards such as the StanChart Unlimited and Amex True Cashback.
If you are already using the card, the current DBS promotion offering 4.0 MPD on all transport spend (incl. SimplyGo) is a fantastic way to get some extra miles on your public transport spending. However do take note that registration is required and bonus miles are only awarded on up to $1,200 of spending from now until 31 December when the promo ends. After this promo period, it will go back to the usual 1.2 MPD earn rate for all transport spending
If you don't already own the card, there is probably no point getting it just for SimplyGo since the promotion ends in less than 3 months and you can get much higher MPD on your spending with other cards.
2. UOB Lady's Card 4.0 MPD - only for the women, great specialist card to get 4.0 MPD on a selected bonus category
First off, only the ladies are eligible to apply for the the UOB Lady's Card (unlike the similarly themed DBS Woman's Card) - so if you are guy you can go ahead give this section a miss

The UOB Lady's Card is a very unique offering in Singapore - you get to pick one (of seven) categories and you will get 4.0 MPD for all spend within that category, otherwise you get 0.2 MPD for all other spending. The categories are all major spending areas for most people, such as Dining, Fashion and Travel, and you get to change the selected category every quarter.
To get 4.0 MPD under SimplyGo, you have to select Travel as your chosen bonus rewards category, with this category covering not just SimplyGo, but also online/offline bookings (e.g. Agoda, Airbnb, Chan Brothers), airlines flight bookings, and Grab taxi rides.
Because of the category selection, this card is ideal as a "specialist" card to get 4.0 MPD on a selected category where you make significant spending but do not get bonus miles from your other existing cards - definitely a good choice for those who travel overseas regularly.
3. Maybank Horizon Visa 3.2 MPD - great for those who spend a lot on dining, petrol, and local transport
Like other Maybank cards, the Maybank Horizon Visa is relatively less well-known amongst Singaporeans, but it actually has some solid merits that make this a pretty decent card for covering multiple categories.
The Maybank Horizon offers 3.2 MPD on all restaurant dining, petrol stations, and transport (incl. ride hailing) spending, and 2.0 MPD for air ticket and travel package bookings. With the bonus 3.2 MPD earn rate on both dining and transportation (whether you drive and pump petrol or take bus/mrt/taxi/ride hailing), it should be able to cover a large part of your regular monthly spending - the only major exception being the lack of bonus miles for the Groceries and categories. However, do note there is a minimum monthly spend of $300/month to get the bonus award rate.
The way it is structured, Maybank is clearly aiming for this card to be a miles rewards version of the usual category-based cashback cards such as the OCBC 360 and CIMB Visa Platinum. This card would work well for those who spend significantly on the Dining and Transport categories monthly.
Summary
Given that miles earning rates typically range from ~1.2 MPD for general spending cards all the way up to 4.0 MPD for more specialised cards addressing specific spend categories, being able to get up to 3.2 - 4.0 MPD on your SimplyGo spending is actually pretty impressive.
However, as with cashback cards, which miles cards would work best for your SimplyGo strategy really depends on your existing set of cards and current spending patterns. As a regular commuter would only spend $100-$150 per month on public transport, you should only get a new card for SimplyGo if doing so would at the same time enable you to get higher rewards on other parts of your spending - e.g. upgrading to the Maybank Horizon Visa would make sense if you are now using a DBS Altitude or similar card for your Dining spend and only getting 1.2 - 1.5 MPD currently.
You can use our affiliate links below if you are interested to apply for any of the cards listed above. WhatCard was setup to help the community get the most from their credit card rewards. We have been delivering objective commentary with no ads or sponsored content, and affiliate links help us to keep the site running

---
If you would like to get the maximum rewards from your credit cards, do consider subscribing to our upcoming newsletter and follow us on Facebook to stay updated on the latest tips, tricks, and hacks to get the most out of your credit cards.
If you enjoyed this article, you may also be interested in: