Hi readers!
If you are tired of manually repeatedly keying in the www.WhatCard.sg URL every time you want to do a merchant search, there is a convenient solution for you! Simply add the website on your phone as a bookmark, such that it will now function like an app for you instead.
Step-by-step way of bookmarking:
Go to www.WhatCard.sg on your internet browser
Click on the three vertical balls on the top right corner of your phone. Below is a picture screenshot of where to navigate in your phone (the light blue circle)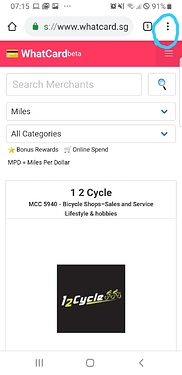 ---
Want to get the maximum rewards from your credit cards? Check out WhatCard before you make a spend to see which credit card will give you the best rewards.
For a limited period, WhatCard is offering free credit cards consultation service where we will work with you one on one to recommend the right credit cards based on your lifestyle to maximize your rewards
Follow WhatCard on Facebook to stay updated on the latest tips, tricks, and hacks to get the most out of your credit cards.