Don Don Donki (Donki) launched its first store in Singapore back in December 2017, and since then they have expanded to 6 outlets across Singapore that sell an huge variety of Japanese grocery products at relatively affordable prices.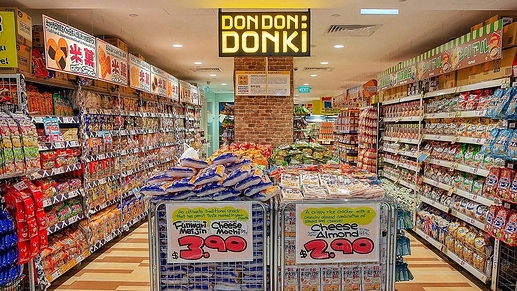 Photo credits: Today Online
I'll be the first to admit that I loveeeeee Donki - they carry an amazing variety of Japanese snacks, fruits & vegetables, many non-food items, and even cooked food. Visiting a Donki store is the cheapest and quickest way to be transported to Japan - complete with real Japanese shoppers around you!
The Don Don Donki Credit Card
When I visited a Donki store a few days back, I noticed this poster advertising the Don Don Donki Credit Card (I'm going to call it the "Donki Card") that they launched in partnership with Diners Club in March this year. We don't cover co-branded credit cards much on WhatCard since they are very merchant-specific, but Donki is growing to become quite a popular merchant in Singapore so I thought its worth looking into whether this card is actually worth your effort getting.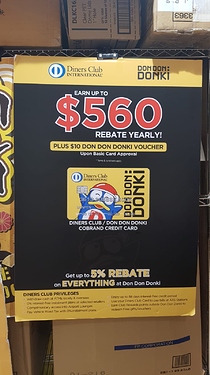 Poster advertising the Donki Card
So what does the Don Don Donki Credit Card do?
The main draw of the card is that it offers 5% cash rebate on your spending at all Don Don Donki outlets across Singapore, capped at spend of $1,000 per month. While this seems like a pretty decent cash rebate amount, we have to compare it against other credit cards to see if it actually makes sense.
Donki falls under MCC5411 (Grocery Stores), which means that it counts as eligible spending for cashback cards that give bonus rewards under the Groceries category which many cards have, such as the CIMB Visa Signature, Citi Cash Back Card and OCBC 365.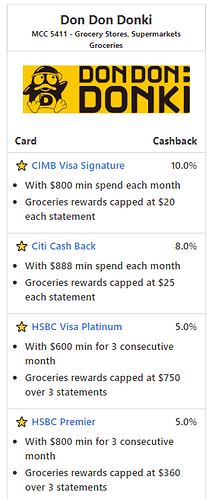 Some of the eligible cashback cards for Donki on WhatCard
Compared against these cashback rates above, the Donki Card doesn't seem that attractive anymore, especially given that it does not give rewards on any other store except Don Don Donki. Even if you did want to use the card elsewhere, it's co-branded with Diners Club and these days Diners Club is accepted in so few places (as opposed to Visa/Mastercard/Amex) that you will likely struggle to find other places where you can use this card.
To make things worse, I dug into the T&Cs and there are two major clauses in there that make this card unfortunately even less attractive…
Cash rebates are given on the gross total amount before GST. This means that if you paid a total of $100 at Donki, the 5% cash rebate is only given on your total before GST amount of $93.45, resulting in a cash rebate of $4.67. Effectively, you will only be getting a cashback rate of 4.67% on your total spending amount. (other credit cards advertised cashback rates are already on your total spending after GST)

Cash rebate given is in the form of REBATE$ that can be used to offset your bill the next time you shop at Donki, with REBATE$ expiring after 60 days. By giving you a cash rebate that can only be used at Donki and making it expire after 60 days, they are basically forcing you to shop with them at least once every 60 days, which is very constraining compared to regular cashback credit cards where you can spend your cashback anywhere and anytime you want.
Summary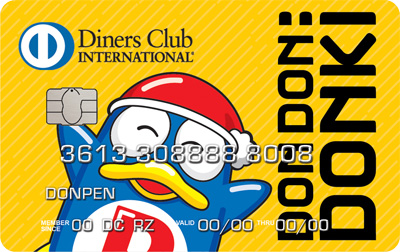 The visuals of the Donki credit card
Unfortunately, while the card itself visually looks great and I'm tempted to get it just to liven up my wallet, the card itself despite being specifically for use at Donki doesn't really provide value significantly better than other cashback cards available out there.
It might work for some users who don't typically use credit cards AND also spend significant amounts of money on Donki, but for most other people you are better off putting your Donki spending on another cashback card (helps with hitting minimum spend as well) that gives a higher cashback rate across a broader set of merchants.
---
If you would like to get the maximum rewards from your credit cards, do consider subscribing to our upcoming newsletter and follow us on Facebook to stay updated on the latest tips, tricks, and hacks to get the most out of your credit cards.
If you enjoyed this article, you may also be interested in: