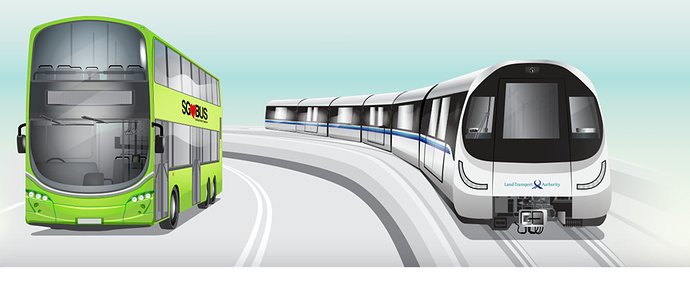 Photo Credits: TransitLink
Using Credit Cards To Pay for MRT/Bus
LTA launched SimplyGo in May this year, enabling commuters to use credit cards to pay for their MRT/bus fares as an alternative to the trusty Ez-Link cards which have been a part of people's wallets for more than a decade.
We had written about this new scheme in an earlier article, and it sparked some great discussions about the pros (you get credit card rewards, no longer have to carry an Ez-Link card around) and cons (you may drop your credit card, there is a short delay/lag when tapping) of using a credit card as opposed to Ez-Link to pay for your rides.
To add to this discussion, we thought that it would be good to do a more in-depth review of some of the best cashback cards compatible with SimplyGo, as we had not devoted much space to it in our earlier article.
For the miles lovers out there, a separate article for best miles cards will be coming soon as well!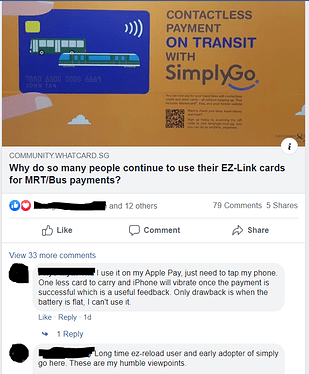 The volume of comments on just one Facebook group
Best Cashback Cards for SimplyGo
We had shared this table in the earlier article:
| Best Cashback Cards | Rewards | Minimum Monthly Spend |
| --- | --- | --- |
| CIMB Platinum | 10% Cashback | $800 |
| DBS Live Fresh | 5% Cashback | $600 |
| Maybank Friends & Family | 5% / 8% Cashback | $500 / $800 |
| UOB One Card | Up to 3.3/5% Cashback | $500/$1000/$2000, its complicated |
While these listed cards all give really high cashback rates, the thing with all cashback cards is, its all in the details. Here's what to look out for and our assessment of these cards:
1. CIMB Platinum - Highest headline of 10% cashback, but there is a $20 cashback cap for each of the 5 categories
The CIMB Platinum is well known for it's marketing of exceptionally high cashback rates (10%!!!) - far surpassing other cashback cards in the market which in comparison have paltry bonus cashback rates from 1.5% up to 5-6%. Furthermore, 10% bonus cashback is awarded across 5 really common spending categories:
Wine & Dine
Transport & Petrol
Health & Medical
Selected Electronics & Furnishing merchants (e.g. Harvey Norman, Best Denki, Challenger)
Foreign Transactions
HOWEVER, we almost never recommend this card because the T&Cs are one of the most restrictive in it's peer group of category cashback cards. Not only is there a rather high $800/month minimum spend, the biggest issue is that there is a cap of $20 cashback per category (or $200 spending on that category). Any spending above $200 per category gives a base 0.2% cashback. This implies that: to hit the minimum spend requirement AND maximise your 10% cashback, you have to split $800/month between 4-5 different categories, making sure to spend as close to $200 on each category
We can see a scenario where somewhere has quite regular spending across these 5 categories and able to optimise their spending well enough to take advantage of the 10% cashback, but for us it is just a tad bit too much effort to optimise spending to this level of detail. This card may suit you if you have the bandwidth to track expenses to be within a narrow $200 transaction range for each category consistently every month.
2. Maybank Friends & Family - 2nd highest headline of 5%/8% cashback, with a relatively higher $80 cashback cap across all the categories
The relatively less well-known Maybank F&F card went through a major upgrade in Sept 2019, and with that it has actually become a rather decent all rounded family spending card similar to the OCBC 360/BOC Family card. With a minimum monthly spend of $500 or $800, you get either 5% or 8% cashback across a wide range of common categories:
Dining
Telcos
Groceries
Petrol
Transport
Selected Learning & Retail merchants - Popular bookstore, Toys 'R' Us, Yamaha
The only thing to take note of is that there is an overall cashback cap of $80/month, regardless of whether you are getting the 5% or 8% cashback rate. That there is an overall cashback cap makes this a much easier card to optimize for than the CIMB Platinum and DBS Live Fresh (covered below) since you can get great cashback by more easily spending the full $500/$800 on whatever you are currently spending on, even if that is spending the full $800 on just Groceries and Petrol categories - for example for a family person who owns a car.
The bonus cashback categories are rather comprehensive and should cover most of your spending needs already, the only major category that it is missing is for Online Spending.
3. DBS Live Fresh - 3rd highest headline of 5% cashback, but again there is a dollar value cashback cap of $20 per category
The DBS Live Fresh card is very popular among Singaporeans who use cashback cards, and for good reason - it gives 5% cashback on two very common and easy to hit spend categories: Online and Contactless (which covers many offline places such as restaurants) spending. It definitely also does not hurt that any spending on this card helps with getting bonus interest rate on the DBS Multipler Account.
There are some limitations to note: On top of the minimum monthly spend of $600, cashback is capped is capped at $20 per month per category (i.e. you only get 5% cashback on up to $400 spending on each of Online and Contactless category)
For those whom we worked with for our free 1-1 credit card consultation service 2 months back (we have changed it to a waitlist now for those who are still interested), you already know that DBS Live Fresh is one our favourite cashback cards to recommend. This card works best for those who have relatively low and regular monthly spending that can be funneled to either online or contactless spending.
Spend at most $400 on each category (Online, Contactless) to this card to maximize the dollar cashback.
4. UOB One - Up to 3.33%/5% cashback, awarded on a quarterly basis based on hitting a minimum monthly spend each month for the quarter
The UOB One card works in a completely different way from other cards that give a percentage cashback of your spending amount. Instead, the UOB One Card gives a flat quarterly rebate based on you hitting the minimum monthly spending per month, for each month of the quarter. For example, to get the Q1 quarterly rebate you have to hit the minimum monthly spending in January, February, and March. There are 3 tiers of monthly spending which give different quarterly cashback amounts as below:
| Spending Tier | Quarterly Rebate | Maximum Cashback of Up To |
| --- | --- | --- |
| $500-$999 per month | $50 | 3.33% |
| $1,000-$1,999 per month | $100 | 3.33% |
| $2,000 and above per month | $300 | 5% |
Given these 3 tiers and the fixed quarterly rebate, the UOB One card gives the optimal cashback rate if you spend just above $500, $1,000, or $2,000 per month consistently. However, do note that if you miss the minimum spending for even 1 month in the quarter, you will lose the entire rebate for that quarter.
The big benefit of UOB One is that all spending counts, so you don't need to worry about where you are spending your money, instead only worrying about how much you are spending total each month. Works best for those who prefer to just track their total spending each month without worrying about which category to spend on.
Summary
Given all the T&Cs around cashback cards, we encourage our readers to never just focus on the headline percentage when choosing a cashback card - especially so for category cashback cards like CIMB Platinum and Maybank F&F.
Readers should take note of the dollar value of the cashback caps, and determine a strategy to charge at least the minimum required monthly spend and at most up to the cashback cap (for e.g. $400 spending on the online category with the DBS Live Fresh Card gets the maximum $20 or 5% cashback, but this must be coupled with another $200 of spending elsewhere to hit the minimum monthly requirements of $600 for bonus cashback to be awarded.
You can use our affiliate links below if you are interested to apply for any of the cards listed above. WhatCard was setup to help the community get the most from their credit card rewards. We have been delivering objective commentary with no ads or sponsored content, and affiliate links help us to keep the site running

If you would like to get the maximum rewards from your credit cards, do consider integrating WhatCard into your lifestyle to help you optimize your credit card rewards, and follow us on Facebook to stay updated on the latest tips, tricks, and hacks (like this article!) to get the most out of your credit cards
---
This December only, get $200 in cash (via Paynow) when you sign up for a Citibank card , with no spending required and first year annual fee waived. Only for new-to-bank customers, defined as those who have not owned a Citibank card in the past 12 months. Find out more about this promo HERE .
If you would like to get the maximum rewards from your credit cards, do consider subscribing to our upcoming newsletter and follow us on Facebook to stay updated on the latest tips, tricks, and hacks to get the most out of your credit cards.
If you enjoyed this article, you may also be interested in: